December 22, 2014 -
Dr. David Chao
Monday Morning MD
NFL athletes are not immune to everyday illness. Peyton Manning contracted the flu last week, Aaron Rodgers battled the flu this week. Dwayne Bowe missed three days of practice before recovering enough by Sunday to record six catches for 57 yards in a Kansas City loss.
When flu season arrives, it can hit teams hard. Contagious diseases can spread through locker rooms like it is passed around schools and workplaces. Manning's flu-like symptoms from last week spread to receiver Emmanuel Sanders and other Broncos teammates this week.
Several Detroit Lions players also caught the flu bug over the last two weeks. At least five players, including Ndamukong Suh, were sick enough to miss practice time. Even quarterback Matthew Stafford felt sluggish. All played through games.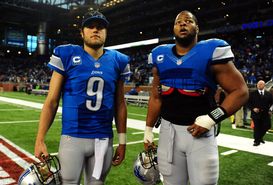 Both Stafford and Suh suffered bouts with the flu over the past few weeks.
Like any situation with close quarters, the flu bug can easily spread through a team, which, by nature, is in close contact in meetings and on the practice field.
Most NFL teams offer or require flu shots for their players and staff. The flu vaccine is medically recommended for the elderly, immunocompromised, medical personnel and those around young children. Professional athletes typically don't qualify by these standards to be vaccinated for the flu but almost all teams provide shots in the training room as part of the players routine care. NFL medicals staffs encourage or mandate the flu vaccine to help prevent the spread of seasonal illness.
Despite prevention efforts, it is inevitable that some teams and players will still contract the flu. Antibiotics are not typically effective or warranted for the flu. Hydration with intravenous fluid is often used. Hygiene protocols are reinforced with hand sanitizers throughout the team facility. With illness, it is routine for medical staffs to attempt to isolate sick players. On road trips, rooming assignments are changed as well.
Teams take all measures to prevent the flu and other illness; however, every December, it is inevitable that players will still get sick.
MMMD 1: Aaron Rodgers injures calf
The Packers quarterback was surprised to strain any muscle because he hydrated so well as he combatted the flu.
At first blush, Rodgers' ailment appears mild and nothing to worry about. He suffered the injury in the second series, but still led Green Bay to a road victory and tie for the best record in the NFC. The Packers did admit to adjusting play calls due to the injury.
Keep an eye on this injury as calf strains tend to linger. Medically, the gastrocnemius is a major power muscle that acts essentially alone in push off for the foot/ankle. There are multiple hamstring muscles to help flex the knee and extend the hip but only one major muscle for plantar flexion of the ankle, and this may be why calf muscles have a high re-aggravation rate.
Although reported as mild, the calf strain could tighten up after the game. Going forward it might affect Rodgers' mobility and throwing accuracy. The worry is the injury could linger into the playoffs beyond this week's battle with Detroit for the NFC North crown and a first round bye.
MMMD 2: How quickly a starting quarterback returns can make a difference.
Cam Newton returned quickly from injury and the Panthers remain in playoff contention. Nick Foles did not and the Eagles are now eliminated.
Newton's quick return isn't the only reason Carolina is still in contention. After all, it is quite unusual for a sub .500 team to be in position to win its division. However, Newton overcame a roll-over car accident and two transverse process fractures that happened only 12 days ago in order to lead his team to victory.
Foles prolonged absence isn't the only reason Philadelphia was eliminated, but back-up Mark Sanchez did have 13 turnovers in his seven games. This Saturday, he had two miscues including a late interception that led to the Washington upset with a game-winning field goal. I am not saying that Foles or the Eagles medical staff didn't do everything they could to get healthy. I am just observing that if there was a way to return earlier, it might have kept Philadelphia's playoff hopes alive.
MMMD 3: Lightning strikes and fans injured
The Tampa Bay Lightning is the local NHL team. In this case, real lightning struck after the Buccaneers game in the Raymond James Stadium parking lot. Fortunately, no one was hit directly by lightning but several fans were injured and knocked down by the indirect forces of the strike. Up to a dozen people suffered relatively minor injuries.
In 2012, a NASCAR fan died after being hit by lightning at Pocono. With most sports events in relatively open spaces, electrical storms pose unique dangers. When a thunderstorm approaches, suspension of games is not just for the protection of players, but it is for fans as well. The NFL has written policies and rules that allow for safety first. Even last season's Thursday opener was delayed by lightning.
MMMD 4: DeMarco Murray plays one week after hand surgery
The Cowboys star running back carried the ball 22 times to help Dallas clinch the NFC North title. Murray had a plate and eight screws inserted to stabilize a metacarpal fracture less than a week ago.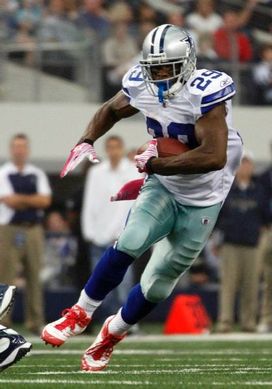 Despite his performance on the field, Murray was probably playing through some pain.
As I pointed out all week, a running back returning the week after hand surgery is not unprecedented. In fact, at least a dozen players at different positions have had similar surgeries and not missed games this season alone. One team has had three such players this year. As Dallas jumped out to an early 21-0 lead, the television announcers were suggesting Murray sit due to risk of injury. In today's NFL, that lead is not safe as, this Saturday, the Chargers overcame a 21-point 3rd quarter deficit to vault into playoff position.
If Murray risked permanent damage, he should not have been allowed to start the game, much less continue to play. Since there is no risk of that here, it becomes a player and coaching decision. Kudos to the Cowboys medical staff and Murray for the quick return. The whole point of surgery was to get him back to play early as most metacarpal fractures heal without surgery. Even though the fracture was stable, Murray undoubtedly played through some significant pain.
MMMD 5: Roster moves sometimes make a difference.
When C.J. Spiller broke his collarbone and needed surgery, Buffalo made the strategic decision to place him on Injured Reserve – Designated For Return (IR-dfr). This freed up a roster spot but also meant the earliest return was this week. Spiller did return Sunday after a mandated eight-game absence but that still was not enough to prevent the Bills from being eliminated from the playoff race.
I have not seen Spiller's X-rays or examined him but it is sometimes possible to return earlier. I have treated NFL running backs who have returned six weeks after clavicle surgery. Was it the injuring that mandated missing eight games or was it the IR-dfr status? Would Spiller have been able to play earlier if not placed on short term IR? I don't know the answer but sometimes roster decisions can impact a season.
MMMD 6: All quiet on the DEA front
A big splash was made when six NFL road teams were inspected over a month ago. As indicated then, the Drug Enforcement Agency (DEA) was simply doing its job and these were not drug raids. This headline story has since disappeared. The DEA has the power to act immediately if there are transgressions, but there is yet to be any indication of problems arising from the inspections.
Team physicians essentially make glorified house calls when they tend to NFL players at home and away games. Doesn't it make sense for physicians to have a full compliment of medication during a house call? To the contrary, the law does not allow for doctors to bring even one pill of Vicodin that is not already issued to a patient. No stock medications are allowed. Although the DEA may agree that this rule is impractical, they would say they only enforce the law and don't write the law.
In 2011, individual team physicians at the professional and collegiate level approached lawmakers to get the law updated to allow for the best quality care of athletes. Congressman Pete Sessions introduced a bill into Congress: Medical Controlled Substance Transportation Act HR 3724. Unfortunately the bill did not pass committe, thus doctors still cannot travel with narcotic medications.
MMMD 7: Medical Morsels
Johnny Manziel exited the game with an announced hamstring injury and the Browns were eliminated from the playoffs. After a terrible loss in his first start last week and an early exit this week, Cleveland may have to wait until next season to see the Johnny Football magic.
Ben Roethlisberger left for the locker room when he injured his knee on a touchdown pass. By video, there was no significant ligament injury, and he returned to finish the game. The injury appears minor and should not be an issue in next week's Sunday night showdown for the AFC North title versus Cincinnati.
Nick Mangold exited the Jets game on a cart after longtime Patriots nemesis Vince Wilfork inadvertently fell into the center's left ankle. By video, Mangold has a high ankle injury. Thankfully, x-rays were reportedly negative but that still doesn't rule out the possibility of a significant syndesmotic ligament tear. Regardless of the MRI findings, his season is done. Lets hope for an injury that heals quickly without the need for surgery.
Willie Young appears to have torn his Achilles tendon. By video, the Bears defensive end suffered a classic mechanism and is likely to need surgery and 6-9 months recovery. He will miss the offseason program but hopefully will return for the start of the 2015 season.
Marcell Dareus tried to return with his right knee taped/braced but could not return. Although I am not expecting a major injury by video, I anticipate his season, like the Bills playoff hopes, is over.
Russell Okung was inactive for the Seahawks' victory. Last week, he spit up blood and suffered a bruised lung. He will definitely be back for the playoffs and possibly the final week to help Seattle ensure a bye week.
Follow David on Twitter: @profootballdoc
Dr. David Chao is a former NFL head team physician with 17 years of sideline, locker and training room experience. He currently has a successful orthopedic/sports medicine practice in San Diego.