November 17, 2014 -
Dr. David Chao
Monday Morning MD
Headlines were made when media outlets reported that federal Drug Enforcement Agency (DEA) agents raided NFL medical staffs after games. These were not "made for TV" criminal drug busts, but rather orderly spot checks of at least three NFL teams. No arrests were made and there is no evidence or any irregularities discovered.
There is no question the investigation was spurred by the recent class-action "painkiller" lawsuit. Plaintiff attorneys were quick to trumpet their cause, but likely it was the DEA performing its job and doing its due diligence on investigating any potential improprieties. There is no indication of criminal misconduct. The initial hysteria is just not accurate.
Pro Football Talk has it right in that the DEA investigation "focuses less on abuse, more on technicalities." Team physicians are typically only licensed to practice medicine in their home state and thus, cannot prescribe or dispense controlled substances in another state.
Most patients, and even most doctors, do not realize that a narcotics prescription cannot be called into another state. For example, if I perform surgery on a patient who then travels out-of-state and needs more pain medication, the prescription can't be called directly into an out-of-state pharmacy. It needs to be called into an in-state pharmacy and transferred by that pharmacy to their out-of-state branch. In today's mobile society, that seems antiquated and unnecessary. However, the DEA would say they are here to enforce the existing rules, not re-write the law.
The issue of not travelling with medications across state lines is aimed at controlled substances which includes narcotics like Vicodin, Norco and Percocet, as well as sleep aids (Ambien) and muscle relaxers (Flexeril). Non-steroidal anti-inflammatories like Celebrex, Naprosyn, and Toradol fall outside the policy and can be brought with teams.
The norm around the country used to be for NFL doctors and even Olympic doctors to travel with narcotic medications. It made sense to be prepared for the inevitable injuries. When the DEA notified physicians that it was not proper to do so, teams ceased the activity in 2010.
Historically, it was common for teams to bring a supply of Ambien to assist in sleep with uncomfortable hotel beds, time zone changes and pre-game excitement/anxiety. That activity also ceased and now physicians consult with players ahead of time. When indicated, doctors will issue individual prescriptions and this allows the player to bring his own sleep aid supply on the road. One can argue that this puts more medicine in the hands of players and leads to illegal sharing, but this is what the law requires.
Injuries requiring narcotics are inevitable, but one cannot prescribe pain medicine to individuals just in case of new injury. Many teams adjusted by placing a home team limited pharmacy at the stadium, which could be accessed by visiting players if a good faith exam was performed by a local physician and narcotic medication was warranted.
In July, I described some of the ongoing four-year effort of the DEA to work with the NFL to ensure compliance with federal narcotics policy. Years ago, federal agents even made a presentation and answered questions at an NFL medical conference during the Combine. Sunday's inspection is likely a continuation and the DEA should be applauded for its diligence in enforcing the laws.
It is lazy journalism to assume that doctors would be bullied by team management or compelled by the personal desire for victory to push unnecessary medications on players. I detailed some thoughts on the "painkiller" issue this May and also pointed out that all team doctors derive only a small fraction of their income from their NFL jobs. It would be silly for any physician to put his or her livelihood in jeopardy to help win a game.
The NFL prescription drug abuse issue has been widely associated with the police finding 100 Vicodin pills in the car of then-San Diego Chargers safety Kevin Ellison. What wasn't widely reported is that the team and team doctors (of which I was one) never prescribed or dispensed a single Vicodin pill to Ellison. As a result of this 2010 incident, there was initial speculation that I had written over 100 pain prescriptions to myself. However, the DEA came out to say I was not suspected to be using the medications. Although not widely reported, it was determined that the pharmacy was in error to register the prescriptions in my name. Sportpharm, the number one NFL team pharmacy and the pharmacy for the USA Olympics at the time, subsequently surrendered its DEA license over the issue.
I am quite confident that no criminal laws were violated Sunday by visiting NFL teams. If they were, the DEA has the power to act immediately. I sincerely doubt we will hear of any immediate action, which would be the case if there were criminal violations.
The issue is technical compliance with narcotics laws. The DEA has done a good job to educate professional teams. If anyone is still not in compliance, it is on the individual at this point.
MMMD 1: Four Broncos offensive players knocked out of game
How was the potent Peyton Manning-led Denver offense held to single-digit production? Certainly, the St Louis Rams defense played a huge role, but four offensive injuries may have also contributed to the lackluster output.
Tight end Julius Thomas left the game with an ankle sprain. An MRI is pending, but it is not thought to be a high sprain and the hope is for limited missed time.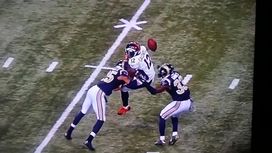 Caldwell was knocked out of action of this play, but was able to return to the game.
Running back Montee Ball re-aggravated his right groin and eventually was removed from the game despite his valiant effort to continue. He missed five weeks with an adductor tear, which is a hard injury for a running back to play with. If Ball's injury is tearing some scar tissue, he may have a chance to return soon. On the other hand, if it proves to be a re-tear, he could miss significant time. In any case, he is likely to miss at least next week.
Wide receiver Emmanuel Sanders was literally knocked from the game with a violent hit that resulted in a head injury. Concussions are like snowflakes, no two are the same. Therefore, Sanders' return is unpredictable at this point.
Wide receiver Andre Caldwell likely had the wind knocked out of him with a potential rib injury, but was able to return to the game.
Certainly, the Rams played a great game, but undoubtedly the offensive injuries had something to do with the Broncos only registering seven points.
MMMD 2: Key offensive line players suffer similar double injury
Both Washington offensive tackle Trent Williams and Seattle center Max Unger were injured as players rolled up on their planted leg. The typical injury from this mechanism is either a high ankle sprain or a knee MCL sprain. In these two cases, both ankle and knee were injured.
Williams suffered an MCL sprain and mild ankle injury. Fortunately, his ACL appears to be spared. With the significant MCL, he is likely to miss at least 2-4 weeks.
By video, I suspected Unger to have primarily a high ankle sprain, while others expected major knee injury. Fortunately, it was later confirmed to be mainly a high ankle sprain and only mild knee injury. This still likely means missing a minimum of 2-4 weeks, but that is better than ending his season.
Both ankle and knee are susceptible to injury when rolled up on, but one body part usually takes the brunt of damage.
MMMD 3: Ahmad Bradshaw suffers severe high ankle injury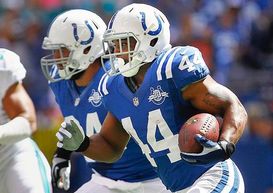 Bradshaw could be on the shelf for a significant amount of time.
In defeat to the Patriots, running back Ahmad Bradshaw exited with high ankle mechanism of injury by video. Little information was immediately released, but Bradshaw was seen in a boot and crutches after the game.
Now a report says that he may have fractured his ankle. A severe high ankle sprain can lead to complete syndesmotic ligament disruption and fracture. If true, this would mean the end of his season and surgery. Danny Woodhead had a similar injury earlier this season resulting in surgery and IR.
Here is another example of how a high ankle injury can be much more ominous than a traditional low sprain.
MMMD 4: Teams don't need to disclose all injuries
San Diego tight end Antonio Gates told the media after the Chargers game that quarterback Philip Rivers has been playing with a "severe" rib injury the last several weeks. Some might question if that were true, but how was Rivers not listed on previous injury reports?
By rule, players are required to be listed on medical reports if it does or could lead to missed time. If an injury does not pose a threat of absence, the ailment does not need to be reported.
In my time in the NFL, every week we routinely treated more injuries than were listed on injury reports. This is what happens on every team and it is not against the rules.
No one doubts Rivers' toughness. Remember, he played six days after knee surgery with a torn ACL in his only AFC Championship game.
MMMD 5: Karlos Dansby suffers unspecified knee injury
The Cleveland middle linebacker limped off in the second quarter with a left knee injury and did not return. No details were released by the Browns other than saying an MRI would be performed.
By video, the middle linebacker suffered an MCL sprain of mild (0-2 weeks) to moderate (2-4 weeks) severity. The hope is the MRI doesn't show any additional damage and the MCL sprain is mild.
Cleveland needs its defensive centerpiece to continue its push to a possible playoff spot.
MMMD 6: Rugby bumps the NFL again
USA Rugby held a sold-out match at Soldier Field featuring the New Zealand All-Blacks two weeks ago. That led to the Bears having a bye week to accommodate the date and to protect the grass.
Now the 2015 Rugby World Cup will affect the NFL's desire for more games in London next year. Original plans called for an increase from this year's three overseas games, but now the plan will be to stick with the three games due to Wembley Stadium scheduling conflicts.
MMMD 7: Medical morsels
Larry Fitzgerald left Sunday's game against Detroit right before halftime due to what appeared to be a mild MCL sprain. He returned to play in the second half and caught a key late pass to preserve the Cardinals' win. An MRI will hopefully confirm the minor injury and rule out any associated cartilage damage.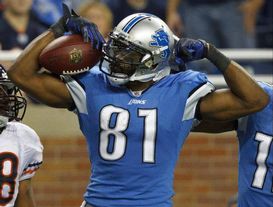 Johnson is now battling an elbow injury.
Calvin Johnson finished Sunday's game at Arizona, but emerged with a new injury unrelated to his ankle troubles. He received treatment for a new elbow injury after the game, but is not expected to miss time.
Giovani Bernard missed his third straight game with an unspecified hip injury. Hip pointers usually don't last this long, so I went back and looked at the video. Based on mechanism, Bernard could have a left hip posterior subluxation/bone bruise injury. This would explain the recent MRI that ruled out labral tear. Typically hip subluxations take 4-8 weeks to return. Next week will be week four.
Keenan Lewis posted of a picture of his knee after last week's game against San Francisco. The grotesque swelling led some to believe he would miss this week's game against Cincinnati. As expected, Lewis played on Sunday as his injury was to the knee bursa and not knee joint. Still, kudos go out to Lewis and the Saints medical staff for getting him ready to play with such an ugly looking injury.
Follow David on Twitter: @profootballdoc