December 16, 2013 -
Dr. David Chao
Monday Morning MD
Top national reporters have speculated on the Redskins' internal politics regarding head coach Mike Shanahan's benching of quarterback Robert Griffin III. By observing how the team has handled Griffin's medical news over the last year, one might see the first hints of this dysfunction.
Contrary to the unified messaging of most teams, Redskins personnel are responsible for a continuing stream of contradictory medical information regarding the team's star quarterback. I am not inside Washington's team walls and I make no judgments as to fault. I have not spoken to anyone involved, nor am I an investigative reporter. I certainly make no criticism of their medical care. As a 17-year NFL team physician, I simply make the observation that this mixed messaging is not something typically seen. Perhaps this gave us early warning signs as to the lack of cohesiveness that media pundits now outline.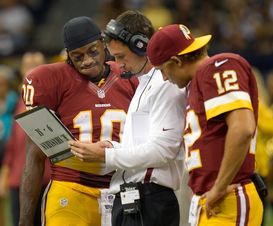 RG3 will spend the rest of the season on the sidelines after being shut down last week.
After RG3 was initially hurt late last season, Shanahan indicated that he got the "ok" from the team physician to put RG3 back in the game. This message was later publically contradicted by the Redskins' team physician. At the beginning of this season, a team physician cleared RG3 to play in the team's first regular season game against Philadelphia. This time, the head coach indicated the doctors had lingering concerns.
RG3's surgeon (a Redskins team physician) publically denied this concern. More recently, Shanahan indicated that part of his reasoning to shut RG3 down for the season was due to injury concerns. Griffin was cleared by a team physician for the first game of the season and that status hasn't changed. The team has not announced a new injury. So, what changed after Week 13?
Other NFL teams have handled their current starting quarterback injury messaging differently. The Bears handled the Jay Cutler injury without conflicting information. Even when some outside the team thought that perhaps Cutler came back too soon from a groin injury, thus injuring his ankle, team personnel delivered a consistent message. Cutler returned on Sunday to lead his team to victory over the Browns and the Bears remain in playoff contention.
The Packers are still dealing with their own starting quarterback injury situation. Aaron Rodgers' status will once again be a big topic this week, as the Packers remain alive for the postseason following their come-from-behind victory at Dallas. The Packers, through their head coach, have issued a consistent and cohesive message related to needing their team doctors' approval prior to Rodgers' return to play.
This type of consistency is what I was used to during my time in the NFL. I enjoyed working with all six of my general managers and all six of my head coaches. My ownership was always supportive and we always kept lines of communication open. All messaging to the public was consistent and came through the team.
Everyone knows it is important for all team members to stay on the same page. Inconsistencies on Redskins medical messaging may have been an early window into the emerging dysfunction. Perhaps these underlying issues are contributing to Washington's three-win season.
MMMD 1: Is Robert Griffin III truly recovered from last season's knee injury?
As an orthopedic surgeon and member of the prestigious worldwide ACL study group, I am privy to the latest and most cutting edge ACL information. It is certain that we have made many advances and sped up recovery time.
In 2003, Shannon MacMillan set the standard by playing in the Women's World Cup just under four months removed from her ACL surgery. Last year, running backs Adrian Peterson and Jamaal Charles returned from the previous season's ACL surgery to set personal highs in rushing yards gained.
Here are a few quick keys: 1. Not all ACL injuries are the same. The associated damage makes a big difference. 2. Return to play is based on function, not a calendar. Recovery comes gradually over months with hard work. 3. Even when an athlete has returned to play, the knee continues to get stronger, as playing is part of the continued rehab. The graft continues to incorporate and "ligamentize" for up to 18 months or longer.
Based on these principles, RG3 is indeed "healed," but he will continue to improve this offseason and into next season.
MMMD 2: Here comes Aaron Rodgers?
Talk of a possible "season shut down" for the Green Bay starting quarterback is now gone, as the Packers' playoff hopes are still alive.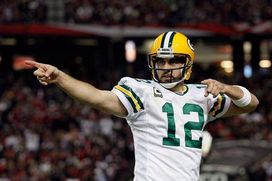 With Green Bay's playoff hopes still alive, Rodgers may return to action in Week 16.
Now six weeks removed from a clavicle fracture, Rodgers reported no pain during practice last week and felt like he was ready to go. No repeat imaging was performed last week as the Packers had planned to continue to protect their franchise quarterback from re-injury.
This week brings a new situation. I am certain that x-rays and/or a CT scan will be performed to assess bone healing. Complete fracture healing takes up to six months. The Packers doctors will need to use their judgment on the risk/reward equation. So far, it seems they have had a good, conservative plan all along. Pending the increased presence of fracture callous, this week looks to finally be the week.
MMMD 3: Vikings make the right call keeping Peterson off the field
Minnesota's Pro Bowl running back suffered a mild mid-foot (Lisfranc) sprain last week at Baltimore, but there was no reported bone fracture or ligament tear. Peterson wanted to play on Sunday against Philadelphia and felt that he was ready.
As expected, the team medical staff made the right decision to hold Peterson out. A mild mid-foot sprain can be re-injured and increase in severity. If the mid-foot bones separate, surgery is potentially needed with prolonged recovery.
In this case, the Vikings doctors and trainers did the right thing in protecting their star athlete and, in turn, protecting the Vikings' biggest asset.
MMMD 4: Another starting quarterback scare
Carolina's Cam Newton left the field just before halftime on Sunday against the New York Jets to tend to injury. Initial speculation from the announcers indicated a right ankle or foot injury. After the game, it was announced as a "stubbed toe."
Whatever the case, Newton appears to be in good shape. After h alftime treatment, the quarterback finished the game without missing a play. Besides, the Panthers have the luxury of one of the world's best foot and ankle specialists, Dr. Robert Anderson, right on their sidelines.
MMMD 5: Zac Stacy exits early, but returns to action
The St. Louis running back left the field on a cart Sunday against New Orleans with an apparent right hip injury. Usually, this indicates the end of a player's day, but not in this situation.
Stacy quickly returned to help lead the Rams to victory by gaining 143 yards and scoring one touchdown. Based on video analysis, he may have suffered a right hip pointer. Stacy's quick return is in large part due to good care from his medical staff.
Stacy will need to rely on more good care to control his swelling and assist in rehab to make a likely return next week.
MMMD 6: Calf injuries have unpredictable recovery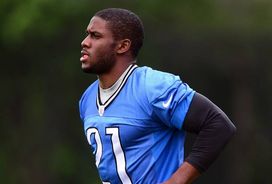 Bush was set to play in Week 14 before re-aggravating his calf injury during pregame warm-ups.
Calf injuries are tricky for NFL athletes. Just ask Reggie Bush and LaMarr Woodley. Bush injured his calf during practice, was cleared to play in Week 14 at Philadelphia and then sat out with a re-aggravation suffered during the pregame warm-up. Woodley has dealt with calf issues for weeks and now has apparently injured the other side.
The large gastrocnemius muscle crosses the knee and ankle joint. It is the main power source utilized to push off. Because of these factors, a strain or partial tear of this muscle is unpredictable in when it might heal. It is common to re-aggravate (including injuring the other side based on compensation). Many athletes can play through the pain, but this injury is one that can linger into the offseason.
MMMD 7: NFL medical staffs are ready for dental injuries, too
In the Sunday night game between Cincinnati and Pittsburgh, Bengals punter Kevin Huber was announced to have a dental injury and later revealed to have a broken jaw. By rule, punters are always considered as a defenseless player, but no flag was thrown on the play.
All NFL medical staffs are ready for dental injuries. Their medical kits are stocked with "tooth saving" solutions and every franchise has a team dentist. The dentist doesn't travel, but the home team will supply an "on call" dentist to the visitors. Thankfully, there are no competitive issues in the medical world.
In Huber's case, more than a dentist will be needed. A specialist will likely be brought in to consider surgery and/or wiring the punter's jaw shut. In either case, I expect the Bengals will need to sign a new punter for the rest of this season. Best wishes to Kevin Huber.
Follow David on Twitter: @profootballdoc
Dr. David Chao is a former NFL head team physician with 17 years of sideline, locker and training room experience. He currently has a successful orthopedic/sports medicine practice in San Diego.