March 03, 2014 -
Dr. David Chao
Monday Morning MD
One thing I learned during my time as a head NFL team physician was that the initial public account was rarely the complete and correct story.
Injuries and medical issues were reported on in the media, but they were rarely completely accurate. Usually, it was an incomplete picture of the story, but sometimes it was just flat out wrong.
I am not an investigative reporter. I am simply trying to share some unique medical perspective. I have no idea what did or didn't happen during the Richie Incognito-Jonathan Martin situation and I am not here to comment on that.
It does seem that the full story as it relates to Dolphins head athletic trainer Kevin O'Neill has not come out yet. The Ted Wells report paints just one picture.
Within my NFL medical circle, the opinion is that O'Neill may have acted appropriately in his handling of the situation related to his assistant.
Prior to O'Neill being fired, he was attending the Professional Football Athletic Trainers Society (PFATS) meetings in Indianapolis and had a chance to explain his version of events to the membership. Several medical colleagues have related to me that they believe O'Neill acted responsibly. I suspect once his side of the story comes out, he will likely be viewed as a credible and reasonable team official that may have done the right things after all.
In the meantime, we should all learn from the situation by sitting and waiting for all the facts to come out. After all, there are real people, families and livelihoods involved here.
It's not just a game.
MMMD 1: Dolphins to search outside for new head athletic trainer
The word in the NFL medical community is that Miami Dolphins lead assistant athletic trainer, Troy Maurer, has removed himself from consideration for the head athletic trainer job.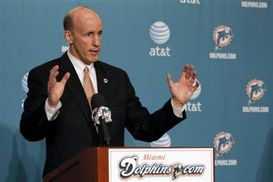 In addition to free agency and the draft, Dolphins head coach Joe Philbin and co. must look for a new head athletic trainer.
The Dolphins were giving strong consideration to Maurer as the internal candidate. They are now left to field outside candidates. My understanding is that he and the Dolphins remain on excellent terms.
Maurer has spent 22 years with the Dolphins as an athletic trainer. In 2012, he was named the AFC Tim Davey Assistant Athletic Trainer of the Year by the Professional Football Athletic Trainers Society (PFATS). Also in 2006, Maurer was part of the team honored as the "Athletic Training Staff of the Year" by the PFATS.
Among the medical community, the Dolphins head job is still viewed as a coveted position. My information is that Maurer's decision has nothing to do with the Incognito-Martin fallout. It is expected that he will continue in his current position, has full faith in Dolphins management and will support his new boss.
Maurer has been married almost twenty years and has two younger children. Apparently for personal reasons, the timing is just not right for him to take on the additional responsibility and time required from the head position. With his background, he is still likely to become a head NFL athletic trainer one day.
During my time in the NFL I had gotten to know Maurer. This decision is in keeping with his philosophy of family first. In my past conversations with Maurer, I have heard him state, "My tombstone is going to say 'husband and father', not head ATC."
MMMD 2: The Combine is over, but the medical work is not done
The NFL Scouting Combine medical exams have concluded, but the data will continue to be analyzed by the medical staff. A myriad of medical information will continue to pour in. Medical staff will have access to review every diagnostic study online. Often, this means looking more closely at actual MRI images before assigning grades.
In the past, I would begin this detailed analysis on the flight home from Indianapolis. It will take a week or two before final medical grades are assigned to the 335 athletes.
Even then, some of the medical grades will change, as typically 30-40 players are called back to Indianapolis for medical rechecks in early April.
MMMD 3: Another reason juniors may be coming out in record numbers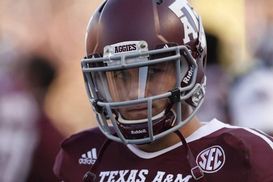 A record 103 underclassmen, including quarterback Johnny Manziel, declared for the 2014 NFL draft.
A record 103 collegiate juniors have declared for the 2014 NFL Draft. Some postulate that the new CBA is the reason for the increase, as these players desire to get through their first professional contracts sooner.
The NFL Scouting Combine just concluded and every year during the 19 years I examined players in Indianapolis, there were typically 50 or so prospects with significant injuries sustained during college football with the potential to shorten NFL careers.
As players become bigger, faster and stronger, I believe another reason for the record early exodus is to avoid injury risk as well as the wear and tear of an unpaid year of playing football.
MMMD 4: Austin Seferian-Jenkins chooses foot surgery
The University of Washington tight end was prohibited from working out at the Combine last week when a foot injury was discovered. I postulated a stress fracture and potential need for surgery.
Last Friday, it was confirmed that Seferian-Jenkins underwent surgery to repair a stress fracture in his foot. The most common type of stress fracture is in the fifth metatarsal and is usually treated with a screw that is placed down the hollow middle of the bone.
Healing times vary, but Seferian-Jenkins will not be participating in the scheduled April 2 Washington Pro Day. However, he should recover in time for training camp and the upcoming season.
Technically, the tight end failed his Combine physical, but will return for recheck physicals in Indianapolis in early April. If his X-ray and/or CT scan show early healing, Seferian-Jenkins' medical grade will be converted to a draftable status.
MMMD 5: What Jeremy Maclin's new one-year contract says about his ACL recovery
The Philadelphia wide receiver tore his ACL last summer during training camp while in the final year of his rookie contract. Since the injury took place during training camp rather than the regular season, Maclin has extra time for a full recovery.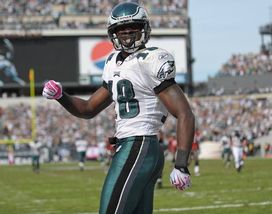 Maclin signed a one-year deal with the Eagles last week.
To me, Maclin signing a one-year deal (as opposed to a multi-year deal) indicates his knee rehabilitation is going very well. It shows he has confidence in a big year, which will garner him a better long-term deal than he could get now coming off the ACL injury.
Nowadays, the second contract is where players get paid and this allows Maclin the chance to both be healthy and earn a bigger contract in the future. If he had any doubts about his knee, my guess is he would have taken a long-term de al now and collected bigger guaranteed dollars.
By taking the shorter deal, Maclin obviously believes in himself and his knee. Look for him to have a standout year.
MMMD 6: Sidney Rice's ACL tear may have played a role in his release
I am not a general manager, but I have to believe that wide receiver Sidney Rice's midseason ACL tear factored into his recent release from the Seattle Seahawks. The move certainly clears significant salary cap space, but the knee injury makes the decision easier.
With his midseason injury, there was no guarantee regarding Rice's effectiveness for the start of next season. Some have also considered him injury prone.
Rice was released with a failed physical designation. This makes him eligible for injury protection benefits if his recovery is slower than expected.
MMMD 7: Anderson Silva vs. Rob Gronkowski
When UFC fighter Anderson Silva suffered his leg fracture, I stated I would rather have his grotesque injury than the ACL/MCL tear of Patriots tight end Rob Gronkowski.
Even though Silva's injury occurred three weeks after Gronkowski's, he is already ahead on his recovery. He recently posted videos on Instagram of gym work hitting pads and light grappling and is now eight weeks from a rod being inserted into his tibia (lower leg).
Bone healing, like in Silva's case, is more reliable that the soft tissue healing of the ligament graft (like in Gronkowski's case). Also, injuries to the shaft of bones have less long-term potential consequences than injuries to joints.
Silva's injury may have been more gruesome and painful, but the recovery is overall more predictable. I don't want either injury to occur, but that is why if I had to choose, I would rather have Silva's leg fracture.
MMMD extra: ACL surgery series – Post-op Week 7
Week six was such a landmark week in the ACL rehabilitation and recovery of Rob Gronkowski and Broncos linebacker Von Miller that week seven is more of the same.
Full motion should be achieved as the focus is on improving strength and increasing function activities like jogging.
The question is why do some ACLs recover well, while others come with lasting issues? The biggest reason for this occurrence is damage to articular cartilage leading to arthritis. The onset usually occurs with the initial injury.
Last week, Alabama left tackle Cyrus Kouandjio's ongoing knee issues were discussed. I have not examined him personally, but it's likely that his arthritic knee is a result of articular cartilage damage that occurred with his 2011 ACL injury.
The hope for Gronk, Miller and anyone else with an ACL tear is that the articular cartilage is spared.
Follow David on Twitter: @profootballdoc
Dr. David Chao is a former NFL head team physician with 17 years of sideline, locker and training room experience. He currently has a successful orthopedic/sports medicine practice in San Diego.