January 19, 2015 -
Dr. David Chao
Monday Morning MD
Lots of injuries get better in the two weeks before Super Bowl. I am not suggesting that players don't play through ailments all year long but absolutely no one misses the penultimate game.
A pair of wounded Seahawk defensive backs vowed to play in the big game. Richard Sherman injured his elbow and pledged after the game, "I'll be out there, I promise that". Earl Thomas hurt his shoulder and professed, "I'm going to be out there with my teammates no matter what."
With the Super Bowl in 14 days, there is essentially a bye week. We all know the in-season healing powers of a week off and why no team wants it too early in the season. The two weeks before the big game have curative powers beyond even that of a regular season bye.
I have never personally been so lucky to be the doctor when our team made the Super Bowl. However, I have spent almost two decades on a NFL medical staff and was the official host physician for Super Bowls XXXII and XXXVII. Essentially, every player has something that hurts after 18 meaningful NFL games. The track record is that everyone plays in the Super Bowl regardless of type of injury.
In 1995, Rod Woodson tore his ACL in week one of the regular season. Although nowhere near 100%, he returned 19 weeks after surgery to play in Super Bowl XXX.
Terrell Owens fractured his ankle six weeks before Super Bowl XXXIX. Any broken bone takes a minimum of six weeks to heal. A lower extremity fracture in a wide receiver is typically expected to take three months or more, yet Owens returned to excel with nine catches for 122 yards in an Eagles defeat at the hands of the Patriots.
In the 2009 AFC Championship Game, Hines Ward suffered a significant MCL tear, which typically is projected to take a minimum of four to six weeks to recover. Although he was far from completely healthy, Ward returned to play in a Super Bowl XLIII victory and had two catches for 43 yards.
The bottom line is no one is going to miss out on a chance to play in the Super Bowl. Key Seahawks and Patriots injuries are detailed below but you can count on everyone playing.
MMMD 1: Richard Sherman injures left elbow
The Seahawks star cornerback appeared in real time to have hyperextended his elbow on a tackle when teammate Kam Chancellor came to assist. Although in obvious pain, he stayed on the field, did not miss a play and finished the game.
With elbow hyperextension injuries, it is common to sprain/tear the ulnar collateral ligament (UCL), otherwise known as the Tommy John ligament. Since Sherman is not a throwing athlete, surgery is not required even if the UCL is torn.
After the game, a ligament sprain was confirmed with the additional concern of a nerve issue. Commonly, the ulnar nerve can be irritated with this injury but I doubt the MRI will show anything significant. Typically, if there is a significant ulnar nerve issue, it is aggravated by elbow flexion and that is how Sherman held his arm after the injury.
Sherman vowed that he would "100% be able to play". Medically I would agree, and the extra week of rest will help. He could wear a brace like the one J.J. Watt had all season, but I doubt it, as cornerback's value their mobility and often feel a brace inhibits free motion.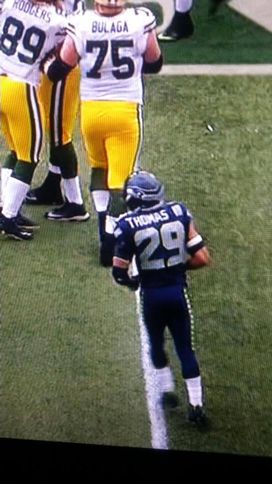 Thomas returned to the game with a brace
MMMD 2: Earl Thomas shoulder subluxation
Star safety Earl Thomas injured his left shoulder early in the game. By video, he subluxed (shifted in and out) his left shoulder. Seahawks' fans worried when he headed for the locker room but he returned with a shoulder harness and finished the game.
The specific injury was not officially confirmed but Thomas implied that his shoulder shifted in post-game interviews, and the brace is used to treat an unstable shoulder. A MRI may show a labral tear and he might even need offseason surgery but there is no way he will miss the Super Bowl. "I don't care if I can't function really well. I know if I can help the team, I'm going to be out there." Although there is no question that he will play, his injury is likely a bigger issue than Sherman's.
Thomas changed his tackling technique when he returned. Instead of reaching out and wrapping up (which is how he hurt his shoulder and how it is vulnerable), he kept his arm at his side and lowered his left shoulder on a big hit that drove Eddie Lacy into the Seahawks bench. There is not doubt he will use a similar shoulder brace for the Super Bowl. The harness restricts motion and keeps his shoulder stable by holding it closer to his body.
MMMD 3: More Seahawks injury report
J.R. Sweazy inured his right ankle in a pile and it looked bad when Seahawks teammates were frantically waving for medical to come assist. Fortunately by video, it was a simple inversion ankle sprain (not high ankle). He returned the next series to finish the game and will be good to go for the Super Bowl.
Luke Wilson limped off the field momentarily but returned to have an impact. He caught the key two-point conversion pass that hung in the air for what seemed like days. Without that catch, the Seahawks lose on the Packers come back field goal and there is no overtime.
Jeron Johnson dislocated his elbow in the final regular season game and was inactive for the Conference Championship. With the additional two weeks, he is a lock to return to play but likely will use a brace.
Justin Britt was inactive with a knee injury. Specifics were not disclosed but he did practice last Thursday. Expect to see the starting right tackle back in action in Arizona.
MMMD 4: Patriots injury report
Julian Edelman left the game briefly with a hip injury. He appeared to land on his side and possibly has a contusion or a hip pointer. With the extra rest, there is no doubt that Edelman will be available in Phoenix.
Bryan Stork, as expected, missed the game with a knee injury. Although his specific diagnosis was never announced, by video, he at least has a significant right knee MCL sprain. With Super Bowl adrenaline and a brace, expect Stork to be available but his effectiveness may be in question.
MMMD 5: Aaron Rodgers not faking injury
Earl Thomas doubted the Packers quarterback was injured. As Rodgers led his team to a big early lead and played well, others on twitter doubted his injury as well.
To me, there was never any doubt of his calf strain/partial tear by examining his running and throwing mechanics. Late in the game, Rodgers had a golden opportunity to run a nd instead of scrambling for a big gain, he limped cautiously just enough for the first down. That has to be proof that even in a key moment with the chance to reach the Super Bowl on the line, he still did not trust his calf.
Rodgers' strong arm overcomes his leg muscle injury and fools people into thinking he is healthy. Even though there are reports of a calf tear, surgery is not needed and he will be ready for the offseason program and regain all mobility. In six weeks, give or take, Rodgers truly will be healthy again.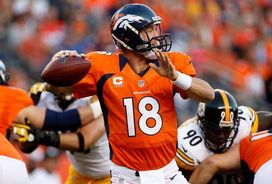 Manning will not play in the Pro Bowl
MMMD 6: Peyton Manning to miss Pro Bowl
Normally a player opting out of the all-star game is not news. When Peyton Manning does, it is news. I have been lucky enough to be named the physician of two Pro Bowls and witnessed how he treats it as both an honor and obligation. In fact, Manning went to the 2011 Pro Bowl before he had four neck surgeries and missed the entire next season. The only appearances he has missed is when he was playing in two Super Bowls.
This time Manning has to sit out due to a partially torn quad muscle. With a weakened arm from neck/nerve issues, he could not overcome the leg injury in a playoff loss. The good news is his thigh will heal with 6-8 weeks of rest and rehabilitation.
By the way, the Broncos' coaches won't be there either. They were originally slated to be one of the coaching staffs but with John Fox being fired, the Ravens staff has taken their place.
MMMD 7: Super Bowl XLIX revenge factor
No one needs extra motivation for a Super Bowl, but this year, each team has added incentive to win.
Seahawks head coach Pete Carroll was head coach of the Patriots from 1997-1999. Current owner Robert Kraft fired Carroll and replaced him with current head coach Bill Belichick.
New England has its own motivational angle as they played in the last Arizona Super Bowl and had their perfect season spoiled. The 18-0 Patriots were upset by the Giants in the famous David Tyree helmet catch game.
Follow David on Twitter: @profootballdoc
Dr. David Chao is a former NFL head team physician with 17 years of sideline, locker and training room experience. He currently has a successful orthopedic/sports medicine practice in San Diego.