April 21, 2014 -
Dr. David Chao
Monday Morning MD
In December 2013, the Cleveland Browns accepted a new hospital medical sponsorship deal worth $30 million that necessitated a change of team physicians. Despite claims of the "most innovative, comprehensive medical program in the NFL," the Browns did not have a complete medical staff at the NFL Combine. Four months later, a qualified head team physician was finally named.
The first paragraph of the Browns' April 17 press release trumpeted the hiring of an "orthopedic surgeon entering his sixth year in the NFL." It counts two years in the NFL with the Giants and three with the Chiefs. Upon closer inspection, that may be an exaggeration.
Cleveland states that their choice to lead the medical team spent two seasons (2009-2010) with the New York Giants, however, that would have been during his training as a resident and fellow. The NFL Physicians Society (NFLPS) and the Giants website never listed him as a team physician or assistant physician during those years.
The team also indicates their choice "has dedicated more than 10 years to aiding athletes at the professional, college and high-school levels." The Browns appear to count time spent in training to become an orthopedic surgeon in this figure. He finished all of his training in 2010.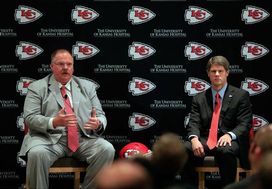 Kansas City's medical sponsor is advertised on the Chiefs' backdrop.
The Browns' new medical head did recently spend three seasons assisting and in practice with the Chiefs head team doctors. He was not part of the core physicians that regularly traveled to road games, but is listed on the NFLPS website.
Let me make it very clear that I believe the Browns and their new medical partner, University Hospitals, have hired a young, well-respected, and well-qualified new head team physician. This is how Dr. James Voos is thought of in my peer NFL team physician circle and I believe he will do a good job.
Even though Cleveland's full medical staff has finally been named, it likely won't be in place for several months. The new head team physician will need to obtain an Ohio state medical license, close down his previous practice, set up the new one and move his family to Cleveland before assuming his new medical duties.
Meanwhile, the year-round business of the NFL marches on and the Browns have started offseason workouts with mini-camps and the draft soon to come.
The Browns do have an excellent head athletic trainer in Joe Sheehan. I had the fortune of working with him in the same Combine rooms for over a decade. Sheehan has extensive experience and will lead a quality medical department in the head team physician's absence.
Cleveland's switch of hospital sponsors and physicians appears to be related to money. They are not the first or only team to let sponsorship dollars influence healthcare and the medical staff. A majority of teams have some sort of medical partnership. In theory, the NFL prohibits paying to become the team physician.
The Browns shouldn't try to fool their fans by overstating the years and actual experience of their medical staff. In the end, Cleveland will have a quality medical team. However, in this NFL era of health and safety, healthcare should not be the second priority to sponsorship money.
MMMD 1: Chris Johnson knee arthritis?
CJ2K signed a two-year deal with the Jets last week, but a report surfaced about arthritis in his knee, which was quickly denied.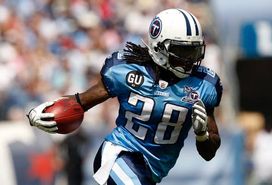 It's not surprise to hear a workhorse back like Johnson is dealing with some wear and tear.
Johnson reportedly had January knee arthroscopic surgery for a torn meniscus that he played with during the 2013 season. Often, these surgeries are done at year-end. The former Tennessee ball-carrier has only missed one game in his six-year NFL career.
Arthritis carries a very negative connotation in the sports world. We all think of arthritis as it relates to the geriatric population, but actually it is defined as any (even minor) damage to the articular cartilage. Articular cartilage in our knees can be equated to tread on our car tires.
There is no doubt Johnson has arthritis in his knee, but that doesn't mean Jets fans should worry. After six years of playing NFL football and a knee scope, there is no doubt Johnson has some wear and tear. The ultimate question is how much.
MMMD 2: Offseason voluntary workout programs start this week
The Collective Bargaining Agreement limits offseason workouts to a nine-week program of non-contact practices.
Teams with established head coaches start phase one this week, which consists of two weeks of strength and conditioning and physical rehab. No on-field team workouts are permitted during this time.
The next phase is a three-week period of individual and team drills, but no offense vs. defense is allowed. The final phase lasts four weeks and teams are allowed to work like they do during regular practices, with both their offenses and defenses on the field at the same time.
MMMD 3: Teams with new head coaches get a jump start
Cleveland, Detroit, Houston, Minnesota, Tampa Bay, Tennessee and Washington started voluntary workouts two weeks earlier than other organizations, as teams with new head coaches are allowed to have an extra mini-camp. Many of these teams will have this voluntary mini-camp this week.
This early beginning and extra mini-camp gives new head coaches the opportunity to evaluate their own veteran players prior to the draft, which starts on May 8.
MMMD 4: Vikings offensive lineman suffers gruesome ankle injury during voluntary workouts
Vikings offensive guard Josh Samuda suffered a right ankle fracture/dislocation (see here) during phase one of voluntary workouts. He was doing drills sans helmet, pads or even an opponent to block. Per the CBA, no contact is allowed during any of the offseason workouts.
Samuda underwent surgery to fix the fracture and associated ligament damage. He will likely begin the season on the physically unable to perform list, as this injury typically calls for a six-month recovery.
This serves as a grim reminder of the dangers of football. With the speed and size of players, enough force is generated for injury even without a collision. In my 17 years of NFL team physician experience, I observed that a surprisingly large number of injuries are non-contact in nature.
MMMD 5: Jadeveon Clowney won't do private workouts for teams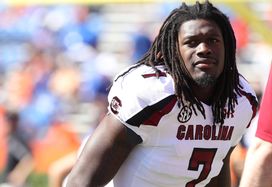 US PRESSWIREClowney has made it clear that the private workouts are over.
After ex-Clemson offensive lineman Brandon Thomas tore his ACL working out for the Saints, Clowney decided against performing any private workouts other than one five-minute drill that carries low risk.
Clowney's South Carolina Pro Day went very well. He is projected to be a top pick whether he works out or not. If he were injured at a workout, it would affect his draft stock.
With millions of dollars at stake for the potential first pick of the draft, who can blame Clowney?
MMMD 6: Unlimited meals and the union vote
The NCAA is now going to allow unlimited meals for its student athletes. Previously, only three meals per day were permitted. To me, this is another example of the NCAA coming up with too little, too late.
Every NFL locker room has food available immediately following a game. If NCAA athletes are required to play night games, how can they have not been allowed to get late-night nutrition?
The contentious union vote is coming on April 25. Former Northwestern University president Henry Bienen has acknowledged the medical issues that athletes face. He also agreed with our previous conclusion that unionization could end Division I sports at the school.
No matter the results of the union vote, this issue is not over.
MMMD 7: Sidney Rice re-signs in Seattle with ACL discount
Rice had ACL surgery bring an end to his 2013 season and was recently cleared to begin cutting at just over five months into recovery. Rice was released in a salary cap move this offseason when he was slated to make $8.5million.
A one-year contract at just over minimum salary hardly compares to the original five-year, $41million deal. Let's just call it the "ACL injury discount."
MMMD extra: ACL surgery series – Week 14
As we discussed previously, three months is a big landmark for ACL recovery like that of Patriots tight end Rob Gronkowski and Broncos linebacker Von Miller to progress to field work.
My recommendation is that an ACL brace should be worn during this on-field work even when it is non-contact. Most ACL injures occur without contact.
During the first year after surgery, a patient is at a higher risk for re-tear. I encourage my patients to use a brace during all sports and high-risk activities during this time. The ACL graft is a scaffold for new tissue to grow in and that process takes at least a year to occur.
A brace is an extra seatbelt while the ACL graft incorporates and becomes a ligament over time. The worst thing that can happen to an athlete is to experience a re-tear.
Follow David on Twitter: @profootballdoc
Dr. David Chao is a former NFL head team physician with 17 years of sideline, locker and training room experience. He currently has a successful orthopedic/sports medicine practice in San Diego.