August 24, 2015 -
Dr. David Chao
Monday Morning MD: ACL and Achilles end seasons
The two dreaded "A's" seem to dominate the injury headlines. Both are typically non-contact injuries that end a player's year with surgery and could change a team's fortune. The Panthers had the misfortune this week of experiencing both injuries. Star wide receiver Kelvin Benjamin tore his anterior cruciate ligament (ACL) and projected starting defensive end Frank Alexander ruptured his Achilles tendon. ACL tears are still the leading season-ender, but
Achilles is the new ACL
and a close second. Over half the clubs have already suffered an ACL tear and almost half of teams experienced Achilles tendon ruptures. When it become official that Packers wide receiver Jordy Nelson tore his ACL that would make
22 ACL injuries
this season. In another example of "
coach speak
", Mike McCarthy said, "Until we get back to Green Bay, won't have all the info…Looking for some good news tomorrow." By physical examination, the
team already knows before the MRI
that the ACL is torn. Perhaps McCarthy is hoping for to find only an isolated tear without associated cartilage damage. By video, it is
clear that he ruptured his ACL
By reports, two major network NFL insiders have
indicated ACL tear
. Teams often await MRI before officially concluding Achilles rupture, but that diagnosis is even more easily made by initial on field physical examination than an ACL tear. In addition to Alexander, Corey Peters (Cardinals), joined Phil Loadholt (Vikings), Kyle Williams (Broncos) and others with season ending Achilles repair surgery. With the new CBA limiting practice time and contact, one might expect a decrease in injuries; however, that has
not been the case for ACL and Achilles
. The trend of high-tempo non-contact practices plays into how ACL and Achilles usually occur with a quick change of direction rather than a direct blow. The 2013 season had the
highest number of preseason ACL tears in a decade
with 27. With two preseason weeks to go, this year is on pace to eclipse that mark with 22 to date. I am noting a trend and not blaming coaches or the new CBA for causing injury. As players get bigger, faster and stronger, neither the ACL nor Achilles gets any larger. The size of an ACL or Achilles in a 340 pound nose tackle is essentially the same as that of the average 170 pound male half his size. ACL and Achilles are the two injuries players and teams fear. Both primarily happen in non-contact situations and both end seasons with surgery. The only silver lining in these preseason injuries is there is more time to recovery for a healthy 2016 season. [caption id="" align="alignright" width="395"]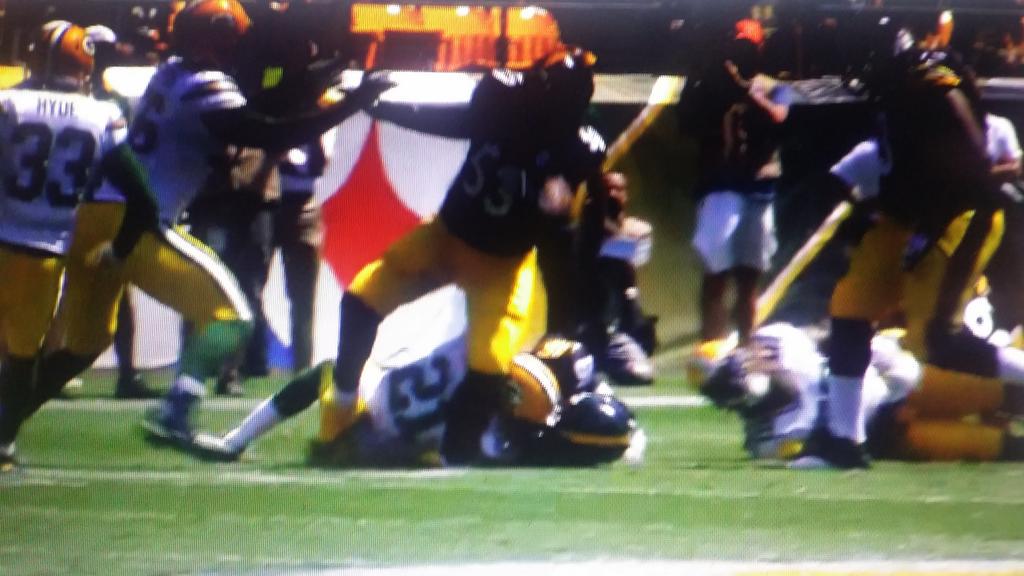 Maurkice Pouncey with clear high ankle injury. Despite walking off field, surgery needed for unstable syndesmosis.[/caption] MMMD 1: Maurkice Pouncey needs ankle surgery Steelers head coach Mike Tomlin
announced likely surgery
for his star center. No time frame was given for return. Based on video analysis, Pouncey has a
clear high ankle type injury
with likely associated fracture. Surgery is needed as the fibula (smaller lower leg bone) is no longer secured to the tibia (larger lower leg bone) and thus the ankle is unstable. This is not just fracture surgery but involves syndesmotic ligament healing. Simple ankle fractures take six plus weeks to recover. Complex ones like Pouncey's take three plus months to recover. Last season, Browns center Alex Mack suffered the
same fate
in October and had season ending surgery. Typically this fracture results in injured reserve (IR). With it still being preseason, the best hope here for the Steelers is IR/designated for return. Unfortunately, a December return would be a best-case scenario. [caption id="" align="alignleft" width="348"]
Suggs's hit on Bradford[/caption] MMMD 2: Sam Bradford takes hit on knee The Eagles quarterback coming off left knee ACL re-tear took a big hit from Terrell Suggs on the same knee. Ultimately, that will be good for Bradford. In my experience, until a player recovering from ACL takes a blow, there is always apprehension about the knee. Surviving the momentary scare gives one confidence that the knee will ultimately hold up. Hopefully that will be the case for Bradford. MMMD 3: Reggie Wayne could be poised for big season The former Colts wide receiver was reportedly
taking a physical in New England
. No doubt Wayne will pass as he is likely the healthiest he has been in years. Last season he was hampered by a
triceps tear
that caused several pass drops. This injury should be well behind him. In 2013, Wayne tore his ACL. Although he played last year on the knee, typically the second season back is the better one. Despite his age, a healthy Wayne being paired with Belichick and Brady, might result in a big year. Or perhaps, McCarthy and Rodgers will jump into the fray. MMMD 4: Jadeveon Clowney starts practicing Last year's overall number one selection passed his physical and was taken off the physically unable to perform (PUP) list. He is being
eased back
into practice. Microfracture surgery is a long recovery. I hope he will do well. Since the Texans placed him on active/PUP originally, if there is a setback, Clowney
could go on reserve/PUP
to start the regular season. I am not suggesting his knee won't respond well, just explaining that PUP remains an option for any player that started on preseason PUP, as long as it is for the same injury. MMMD 5: Chris Borland dubbed "the most dangerous man in football" ESPN's Outside the Lines gave the retired 49ers linebacker that
moniker
. I am not sure about that title but Borland has become the
early retirement poster child
like I predicted in March of this year. Borland originally said he suffered two concussions in his football career. However, when concussion was defined as blurred vision, seeing stars, headaches, dizziness, balance problems, nausea, vomiting, trouble sleeping, fatigue, confusion, difficulty remembering, difficulty concentrating, or loss of consciousness, he revised his number to 30 times. He remains a thoughtful presence in the head injury debate. He has learned that there is much more we don't know about concussions/CTE than what we do know. Borland also concluded, "this whole world of brain injury and football is more political than I anticipated." That is a shame. It should be about health and safety, not politics. MMMD 6: NCAA sports preserved for now The National Labor Relations Board essentially punted on the issue of Northwestern athletes unionizing. They denied union status but did not preclude further consideration. Union status might have
changed the face of college football
forever. Let's remember Kain Coulter started this movement primarily over
medical care issues
. Hopefully that aspect will improve, even without union status. MMMD 7:
ProFootbalDoc
scorecard Clearly I am not happy about my first inevitable "miss" of the 2015 season, but in many ways I am glad. I certainly never wanted to portray video injury analysis and my predictions to be perfect. There is no way to be correct 100% of the time without examining the player and my
16-0 record
entering the week was misleading. My
early tweets
on Jordy Nelson were clearly wrong. In retrospect, when I didn't have quality video but only GIF and Vine, I should have passed instead of saying "I don't see ACL injury." No excuses, I was wrong. An hour later, I found better video that
clearly showed a left knee ACL tear
. When his ACL tear is confirmed, I won't claim a correct call, even though I am sure of an ACL tear now. Earlier in the week, based on video, I did correctly call
Kelvin Benjamin's ACL
tear before official reports. Overall for 2015 season, the record is now 17-1. My goal all season is to stay above the 90% mark.
Follow David on Twitter:
@
profootballdoc
Dr. David Chao is a former NFL head team physician with 17 years of sideline, locker and training room experience. He currently has a successful orthopedic/sports medicine practice in San Diego.