November 09, 2015 -
Dr. David Chao
Monday Morning MD: Big Ben with Lisfranc injury
The Steelers' star quarterback dodged a potentially season-ending injury earlier this year. In only his second game back from his left knee MCL tear, Ben Roethlisberger may have done it again. Carted off with a serious foot injury Sunday, the early word is that he has now
avoided season-ending foot injury
.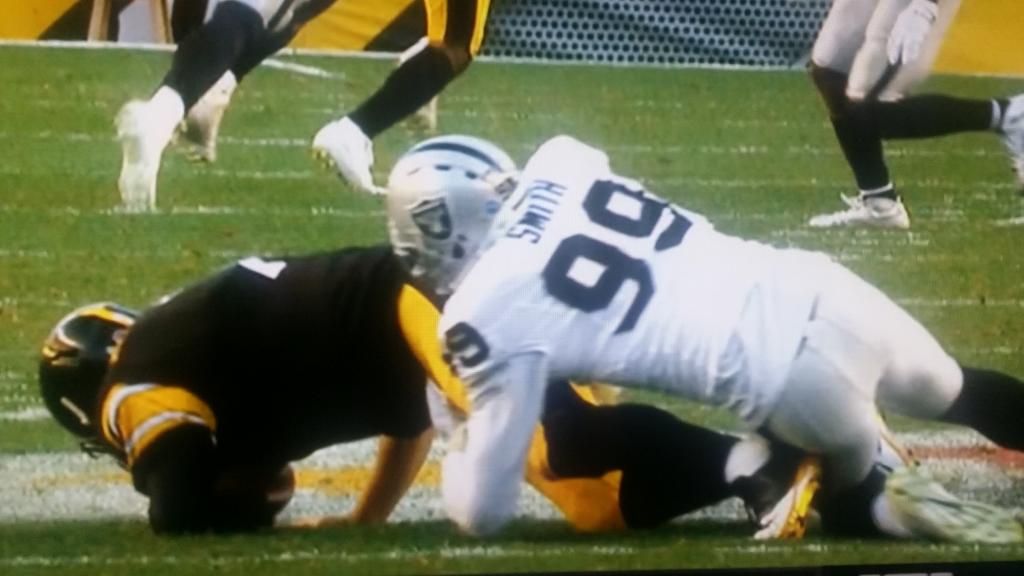 By video, the mechanism is classic for Lisfranc injury. Sources say mid-foot sprain but the
mid-foot is the Lisfranc joint
. Big Ben does appear to avoid the more severe fracture/dislocation or the ligament rupture, both of which would have required surgery. Nonetheless, the mid-foot region is called the Lisfranc joint. Any injury to this tarsal metatarsal joint is considered a Lisfranc injury even without the need for surgery. Historically, this injury occurred when a soldier on horseback would get his forefoot caught in a stirrup. Lisfranc is the last name of a surgeon in Napoleon's army in the 1800s who first described injuries to the tarsal metatarsal joint. There are different degrees of Lisfranc injury and Roethlisberger appears to have suffered the lesser variety. More severe forms involve fracture, dislocation or complete ligament tears that would mean season ending surgery. Still don't be surprised to see Big Ben limping in a boot this week. A report has him missing only one game and
back after the bye
. Returning from Lisfranc sprain is much easier for a QB. A RB or WR might be out 4-6 weeks or longer with the same injury; When Roethlisberger initially returns, throwing won't be an issue as it is his lead foot; however, his mobility and scrambling ability may be compromised. Foot and ankle injuries seem to be getting more common. The average fan is familiar with Achilles tears, Jones fractures, turf toes and now Lisfranc injuries. As players become bigger, faster and stronger, the foot and ankle remain the same size. When you continue to plant a bigger tree in the same size pot, something has got to give. MMMD 1: Putting video injury analysis to the test Dion Lewis' knee injury will put my 17 years of NFL video study to the test.
By video
, the Patriots RB appears to tear his ACL. Some
early reports
are saying the ACL was sparred and only the MCL injured. Lewis walked off the field under his own power; however, players with isolated ACL tears are known to do that as well (Jordy Nelson from this preseason). Other reports say Lewis had no swelling, but swelling in an isolated ACL typically occurs overnight and not immediately. The reports of "
ACL loose
" is a bad sign as one can strengthen around a knee with rehab but ACL laxity doesn't tighten up without surgery. The clinical exams for ACL or MCL are very accurate. In my 17 years as a NFL team physician, there was never an ACL tear or MCL tear where we didn't know the diagnosis before leaving the field based on physical examination; however, it is routine for teams to say they are waiting for the MRI. The MRI is done already and the
team already knows before the MRI
anyways. The question is when will the public find out. Often the delay is to allow the team to make a roster move. The early reports seem to conflict with the video impression of an ACL tear. This will be a good test of the reliability of video diagnosis. MMMD 2: MRIs earlier and earlier When I started as a team physician in the late 90s, MRIs were obtained on Monday afternoon or Tuesdays and results revealed as late as Wednesday. My team was among the first to get MRIs done first thing Monday AM with results before noon. Nowadays, MRIs are often performed on Sunday. Both Le'Veon Bell last week and Big Ben this week left the stadium before the game was over for additional testing like MRI scans. Only the Bengals have a MRI machine physically located within the stadium. Some have next door or nearby locations. Currently, only X-ray machinces are mandated at every NFL stadium. I can see the day where in stadium MRIs will become the norm, but economically, they will have to be available for public use on non-game days, like the one in Cincinnati is. MMMD 3: Pectoral injury – muscle versus tendon Both
Jonathan Hankins
and
Jordan Hicks
were reported to have pectoral muscle tears. Medically there is a big difference between a pec muscle tear and a pec tendon tear. A muscle tear heals in weeks without surgery. A tendon tear signals surgery and IR. Hankins' Giants teammate Will Beatty had an offseason pec tendon rupture with surgery and is only recently available to come off the physically unable to perform (PUP) list. My worry is both of these injuries will be pec tendon ruptures and not true pec muscle injuries. By video, Hicks' injury is
consistent with tendon tear
. I hope my suspicions prove incorrect and both of these players can recover to play again this season. MMMD 4: Concussions to key players Teddy Bridgewater suffered a concussion when he was hit while sliding feet first. Latavius Murray fumbled the ball and crumpled to the ground with his concussion. Sebastian Vollmer exited with a head injury. Sean Lee left with his second concussion this season. As much as I say video is predictive on orthopedic injuries, video is not helpful to judge concussion severity. A player with a big hit may not be concussed, yet a player with a minor helmet contact to the ground may have concussion symptoms. It is also impossible to judge how long each of these four players will be out. Certainly Lee needs to avoid a third concussion that might end his season (if not career). The on-field appearance of Bridgewater and Murray head injuries are not predictive of time missed. The Patriots only dressed six offensive linemen (as opposed to the usual 7 or 8) which left them with the bare minimum, although there was a 305lb tight end suited up that could double as a tackle. Of note, it does seem that in 2015 that concussions are more regularly held out for more than one week. Better safe than sorry. MMMD 5: Surgery timing and injury analytics Ryan Fitzpatrick led his team to victory despite having an ulnar collateral ligament injury to his non-throwing thumb. He modified his game amid reports of potential in season surgery. The Jets would be smart to consider surgery after this Thursday's game. Typically, a seven-day recovery to play with a splint is possible but taking advantage of the additional three days would essentially ensure Fitzpatrick's availability for the next game. It is common for medical staffs to look at the team schedule to optimize timing of procedures. Utilizing the bye week for a "quickie" scope has been done for years.
TV posted graphics
that showed Fitzpatrick's favoring his injured [caption id="" align="alignright" width="352"]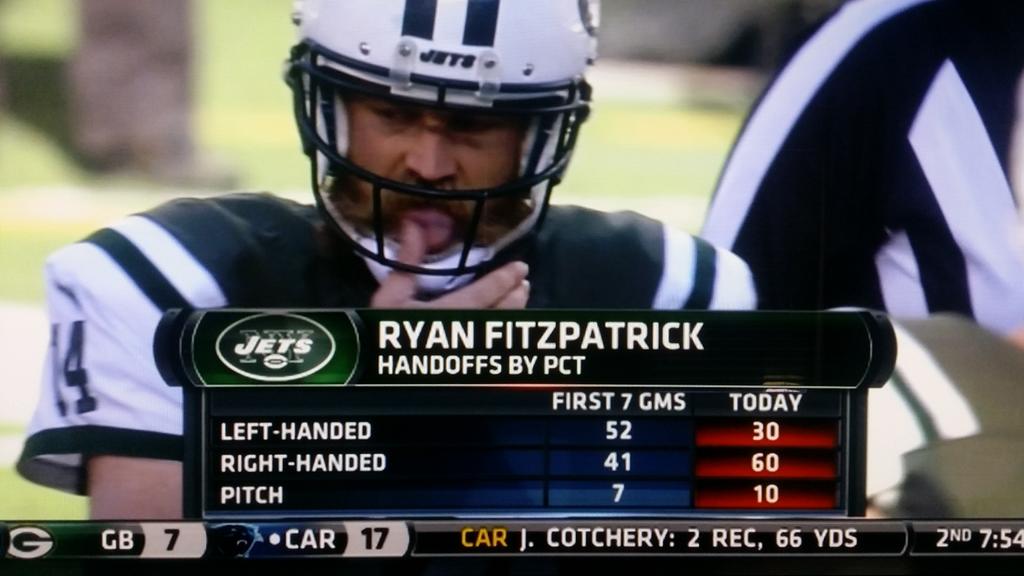 Injury analytics in yesterday's Jets game[/caption] left thumb. These modifications were predictable. In this era of analytics, how long before a team starts proactively incorporating analytics into injury performance? MMMD 6: Medical Potpourri LeSean McCoy said he was ok after the game. By video, the Bills RB suffered a mild AC separation without clavicle fracture. He will likely be available, even with the short week for the Thursday game. Eddie Lacy left with a groin injury. Severity was not announced but groin strains can linger in running backs. Mike Adams exited the game with an ankle injury. Some speculated Achilles tear since he fell without contact, but by video he has a high ankle sprain variant. The Colts safety may miss some time but will not be lost for the season. Anthony Hitchens replaced Sean Lee and promptly suffered an ankle injury. By video, the Cowboys LB has a severe low ankle sprain, not the dreaded high ankle sprain. Anticipate a 1-2 week return. Nick Mangold left again with a neck injury. His prognosis is not known. Hopefully he just tried to come back too soon as opposed to this being a sign of chronic problems. DeMarcus Ware also re-exited a game for the same back injury. The hope is this doesn't signal a long-term issue. Henry Anderson, by video, suffered a significant MCL knee injury when rolled up from behind. Hopefully there is no additional damage but he the Colts defensive lineman will miss multiple weeks. Nick Folk injured his quadriceps muscle. A quad injury to a kicker is like a triceps injury to a QB. Don't be surprised if the Jets audition a new kicker for next week. T.Y. Hilton surprised many including himself when he was able to play after being in a boot all week. Kudos to the Colts medical staff. Dez Bryant played well in his second game back from Jones fracture surgery. There is still room for improvement and I anticipate he will be even more dynamic in the next few weeks. Matt Forte didn't travel to San Diego for the Monday night game. He reportedly had PRP treatment for his MCL injury. This likely signals the beginning of a multi-week absence. Kiko Alonso bucked the odds and returned to play this week but questions linger about his reconstructed ACL. The Eagles LB had one solo tackle. I hope he is not playing "Russian Roulette" with his knee. Even with stem cells, a lax ACL hasn't been shown to be able to tighten. Carlos Hyde spent a second week on the inactive list. The 49ers RB self-reported a stress fracture. This is likely to end with surgery. The only question is when. Reggie Bush hired an attorney in anticipation of suing the city of St Louis who operates the stadium where he was injured. The issue of concrete surrounding the playing field is being addressed by the NFL and the Rams. Bush's season ended when he slipped in cleats on the concrete. Congrats to Jason Pierre-Paul for returning to play after his horrific fireworks injury. He had two solo tackles while wearing an "oven mitt" on his right hand. As his wounds and grafts heal, I anticipate he will not need the protective padding in 2016. MMMD 7:
ProFootballDoc
 scorecard This will be a big week for video injury analysis. Lots of injuries need formal clarification and can't be scored yet. Dion Lewis potential ACL is the biggest but many more assessments in this column will need to be graded next week. Last week I reported a 78-4 cumulative record, but I have decided to subtract Le'Veon Bell from the correct column. As predicted, he did not have an ACL and he did have a significant MCL. I think it is fair to say the video was correct; however, I did not specifically indicate PCL. To be strict on scoring I don't think I should count it as correct as I did. It wasn't wrong, but it wasn't completely right either. With his MCL/PCL surgery, there is no guarantee that Bell will be ready for Week 1 in 2016 as multi-ligament injuries are not as predictable in their healing as an isolated ACL. Big Ben is confirmed as a mid-foot sprain, which is a Lisfranc injury. Fitzpatrick is now confirmed as a thumb UCL tear with minimal if any missed time. McCoy does not have a clavicle fracture and does likely have a mild AC separation. With these adjustments, the 2015 scorecard is now 80-4 for a 95% rate which is slightly higher than 2014 record of 92.6%, but only two wrong calls away from exactly matching it so things can change quickly. Follow David on Twitter: @
profootballdoc
Dr. David Chao is a former NFL head team physician with 17 years of sideline, locker and training room experience. He currently has a successful orthopedic/sports medicine practice in San Diego.