September 28, 2015 -
Dr. David Chao
Monday Morning MD: Bone bruise is not just a pain thing
The big injury of Week 3 happened to the left knee of Ben Roethlisberger. A quarterback's lead leg is always vulnerable, although this was not a classic mechanism of being injured stepping into a throw. Many were initially worried about a season-ending ACL injury, but by video, definitively showed a
significant medial collateral ligament (MCL) sprain
. Upon return to Pittsburgh, a MRI was immediately performed which
confirmed MCL injury
with the ACL spared. A grade 2 sprain (partial tear) was reported along with a
bone bruise
. Before Steelers fans rejoice over the news, do not discount the significance of the bone bruise. Although grade 2 MCL injuries usually heal predictably in 2-4 weeks, it often takes longer for the bone bruise to heal and swelling to subside. When big Ben was hit on the outside of his leg and forced into valgus (knee inwards), the MCL was stretched and the lateral (outside) was compressed.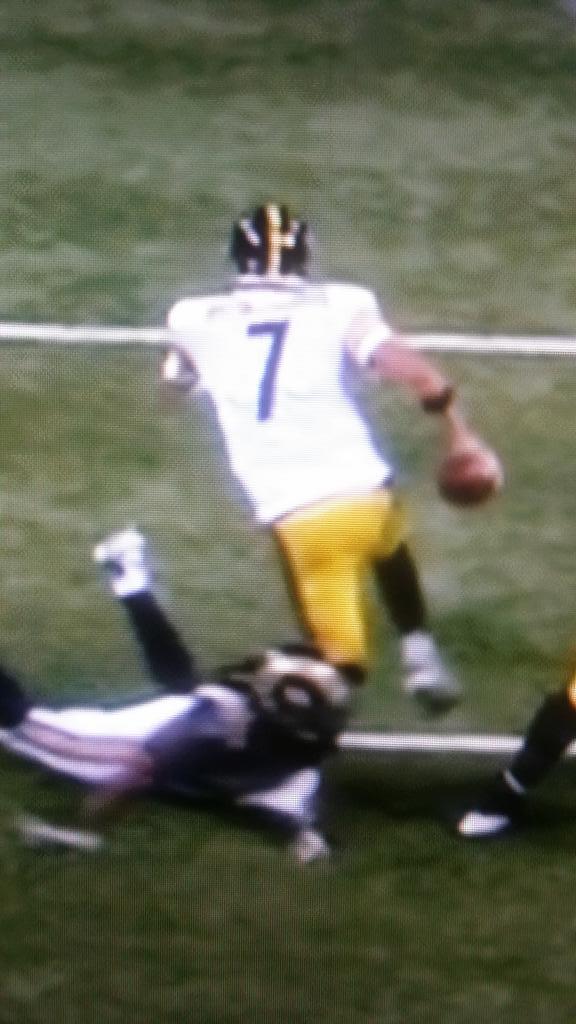 A bone bruise cannot be trivialized. One cannot just take pain medicine and ignore the symptoms. Despite Roethlisberger's ironman reputation, he can't just play through it. Edema or swelling in the bone can lead to complications and articular cartilage loss if not careful. What is a bone bruise? It is not a simple contusion that is treated with ice and managed symptomatically. A deep bone bruise is essentially a microscopic fracture, much like a ligament sprain is a microscopic tear. I am not suggesting it is a true fracture that needs surgery or casting, but there is compromise to the integrity of the bone in order to get the swelling/fluid inside the bone. Think of the bones of the knee being covered by articular cartilage like the dirt of the football field has grass on top. When an elephant stomps on the grass, the dirt underneath can be damaged/compressed. In order to allow the grass (articular cartilage) the best chance to rejuvenate and heal, you can't keep playing football on it. The "keep off the grass" sign allows a chance to heal. Last year, Broncos LB Danny Trevathan was placed on short-term IR for a bone bruise. As a result of recurrent injury, he needed
offseason surgery
. I am not suggesting this will happen to Roethlisberger, but the top Steelers medical staff will have this in mind as they allow their QB to return to play. The injury would be simple and reliable if just a grade 2 MCL. Rehab and a brace would have Roethlisberger back in a couple weeks. The
bone bruise is the worry
here. We all know big Ben's reputation for toughness and quick healing. That applies as he returns from MCL sprain, but a bone bruise can't be rushed. Don't expect him back before four weeks and it could be six weeks or more. Celebrate that there is no season-ending ACL tear, but there is still a significant injury to deal with. MMMD 1: Big name players with calf injuries We previously covered how muscle injuries tend to
dominate the early season
landscape. Calf or gastrocnemius strains are part of that picture. Marshawn Lynch played through a calf issue and now may have a compensatory hamstring strain that his coach claims is "
nothing to be alarmed by
". Alshon Jeffery misses most of camp with a calf issue and after his return has been out with a hamstring injury. Victor Cruz's calf has kept him from his patella tendon rupture comeback. Reggie Bush continues to sit with his calf injury. Now Sammy Watkins exited the second half with his gastrocnemius strain. As we know from Aaron Rodgers' 2014 playoffs, calf injuries tend to linger. It can also lead to compensatory injuries. The worry is Watkins and Lynch will miss time, like Jeffery, Cruz and Bush. MMMD 2: Sports science can only go so far I am in favor of anything that can help players stay healthy and I believe sports science has value, but there is no magic cure-all. The Eagles are a leading practitioner of sports science, yet they still have medical issues . Chip Kelly
held DeMarco Murray out
of some camp practices for hydration levels. All of this has not prevented his recent hamstring injury that caused him to miss Sunday's game. Murray was a Cowboys workhorse with almost 450 touches and 2200+ yards and missed no time last year, including playing through a broken hand. It is ironic, now with the best sports science, he is out after only 30 touches and 20 yards gained. Kiko Alonso was acquired despite coming off of ACL surgery. He now has a grade 2 ACL sprain, which equates to a partial tear and may need season ending surgery. I don't know when Kiko re-injured his knee, but I know his last play was on punt return. Sports science might need to be combined with injury analytics, as special teams play is known to be a high-risk ACL activity. The Eagles have also had bad luck with Travis Long tearing his
same ACL
two years in a row. MMMD 3: Rash of PCL injuries Jets WR Eric Decker missed Sunday's game with a posterior crucial ligament (PCL) sprain. Cardinals RB Andre Ellington has missed the past two weeks but is said to return soon. Ravens first-round pick Breshad Perriman has missed eight weeks, only recently started practice and may have
suffered a setback
. I don't know the severity of Deckers's PCL sprain. I believe an associated bone bruise is what has been keeping Perriman out. Although a PCL tear does not usually need surgery like the ACL does, it is not always an innocuous injury. MMMD 4: Group effort to stay healthy Jason Witten is a beast and no one will question his toughness; however, credit also goes to the Cowboys staff for helping him play through two ankle sprains and a knee sprain this week. Witten has not missed a game since his rookie year in 2003 when he broke his jaw, had surgery and missed only one game. He missed no regular season games with a splenic injury in 2012. It takes a player's will, a coach's understanding and a medical staff's treatment to limit missed time. Hopefully, this all translates to a quick return for Tony Romo and Dez Bryant like it did for Witten and DeMarco Murray with his broken hand last year. MMMD 5: NFL playing surface safety issues The Texans grass field was moved on palettes outside into the sun. For years, the seams have been the focus of controversy. This week, the natural grass was replaced by turf, but the issue is not resolved. Visitng Bucs' player Jonathon Banks thought his first quarter knee injury may have been
related to the new turf
. The Rams game was delayed after pregame pyrotechnics caught
part of the field on fire
. The area affected was only several feet wide. I applaud any effort to keep the playing surface safe. When it really comes down to it, what is the bigger safety issue? Several square feet of partially melted turf or a baseball diamond with dirt across half the field as the Raiders hosted the first two games of the season. A new Oakland stadium is now
long overdue
. MMMD 6: New medical timeout rule used for first time The spotter in the Steelers at Rams contest 
stopped the game
to have Pittsburgh defensive back Antwon Blake checked. A medical timeout is only supposed to be used when a player exhibits "
obvious signs of disorientation or is clearly unstable
". Blake was taken to the locker room but was cleared to return. By definition, the unaffiliated neuro-trauma consultants disagreed with the spotter as if there were any signs of concussion (including on video), the player should not have been let back in. Last week, the Vikings spotter may have missed a concussion of guard Brandon Fusco who was not pulled. The NFLPA is
investigating
. As I have said before, concussion spotting by video is an
inexact science
. There will be mistakes both ways. The new rule is an improvement, but
controversy is still inevitable
. We will hear about this again when a game outcome is affected. MMMD 7:
ProFootballDoc
 Scorecard It seems there is a new trend starting as twitter doctors are growing. With the big Ben injury, there were numerous diagnoses. From my perspective, they are all welcome and entitled to an opinion. After all, imitation is the sincerest from of flattery. I do wish to note that I didn't just watch TV and start doing this two years ago. I studied NFL injury video for 17+ years. After examining a player on the field, in the locker room and in the training room the next day, I would go upstairs to the team video room to analyze injury tape every Monday morning. Even with this advantage, I can't be perfect. That is why I am keeping score here. I have been wrong before and I will be wrong again (Jordy Nelson, Antonio Cromartie, Randy Gregory). This week, I saw some say DeAngelo Hall had an Achilles but later delete their tweet. Sunday, I saw one indicate Achilles tear to Charles Johnson but later delete and retweet hamstring. To ensure integrity of the process, I won't delete wrong tweets (but I hope it's not taken as misinformation). The record entering this week was 33-3. Roethlisberger did turn out to have a MCL,
Kenny Britt returned
to the game, as did Tyrod Taylor after an
ugly tackle
. Add in Eddie Lacy's anticipated return tomorrow without missing a game, the 2015 record is now 37-3. Please note that I can't always comment on injuries for the following reasons: a) I do try and maintain a healthy family life, especially with small children b) there are often multiple games and I can't keep up c) sometimes I just can't tell from video or don't have enough information or d) I have to respect patient confidentiality (HIPAA) among players that I have or are treating. I appreciate the understanding and I especially appreciate video links when there are injuries. Follow David on Twitter: @
profootballdoc
Dr. David Chao is a former NFL head team physician with 17 years of sideline, locker and training room experience. He currently has a successful orthopedic/sports medicine practice in San Diego.