April 13, 2015 -
Dr. David Chao
Monday Morning MD: Comments on Jameis Winston out of line?
Comments on Jameis Winston out of line? 
Lawyers and doctors have special duties to their clients and patients. This is why it took me back when I heard Winston's attorney saying Jameis "
is not ready to be an NFL player off the field
". Medical professionals have HIPAA (patient privacy laws) and legal professionals have attorney/client privilege. Both professions have similar ethical obligations to protect their patients and clients. This continues to be true even for former patients and clients. I am not an attorney, and I don't know all the rules or the different state/federal laws that may apply, but I do know lawyers and doctors have to place client and patient interests in front of their own. I was made out to look bad in the beginning of the 2007 season when it seemed I didn't offer Shawne Merriman necessary knee surgery at the end of the previous season. The fact has since come out that I
did recommend surgery
; however, at the time, I could not violate confidentiality to defend myself by disclosing what I had recommended to the player. As a team doctor, I never spoke about injuries on or off the record. Now in my media life, I don't use information about previous players I have treated unless the facts are public knowledge or I have their permission. Even when the
story was innocuous
, I obtained Vaughn Parker's consent before relating it. I suppose it is possible that Winston's attorney obtained permission to speak, but that doesn't take away the duty to not cast his client in a negative light. Winston's attorney later softened his comments by saying his client is
not unique and will be fine
and adding this is why we have rookie symposiums and player engagement programs. The attorney further backtracked by saying "
Jameis is more ready than most
". I would argue that Winston
is
unique as he is the projected first pick of the draft. A franchise's direction depends on this young man and any quarterback is already held to a higher standard. To say no entering NFL player is ready is patronizing to the majority who are prepared. Does anyone think Peyton Manning wasn't ready when he was the first pick? Andrew Luck sure seems to have been ready. I am not faulting the potential accuracy of the statements. If they did not come from his own attorney, they may be appropriate (and it wouldn't have made any news). The implication is these conclusions were drawn from inside information he learned while representing Winston. Not to mention the fact an attorney is duty bound to not say or do anything to potential harm his client. The potential correctness of his comments are superseded by his duty to protect his client. I currently
tweet
 and comment on many player injuries, but these are athletes I have not treated and thus  have no duty to them. I only analyze information and video that is in the public domain. I still treat NFL players but I refrain from commenting on any patient I have cared for. I use my insider knowledge but I never use any insider information. Certainly the Winston comments may have been taken out of context, but any attorney, much less a heralded and high profile one, should be smarter than that. One shouldn't put out statements that could be interpreted negatively or use words that need later clarification. I have previously written how personal physicians comments/letters have to be supportive and thus have
little impact
. The same should be true for attorneys/agents representing a client. I certainly could never publicly call out a player for being lazy in his rehab, even if it were true. Later news reports portray the comments as coming from
Winston's advisor
and not attorney.  However, the fact he is an attorney puts the attorney/client privilege into play. Just like if I advised a player over the phone but never performed surgery or treatment, I still would be held to HIPAA laws and patient confidentiality. I agree with the statement that Jameis like other young players may need some help transitioning to the NFL. I applaud the honesty of the attorney's comments made at a conference. Perhaps he thought his words would stay in house and remain confidential; however, even the rookie symposium tells players that they are always being watched by a smart phone carrying public. Doctors and lawyers should know better.
MMMD 1: Lawrence Tynes sues Buccaneers for $20 million
Tynes contracted MRSA (bacterial infection resistant to common antibiotics) after a routine toenail procedure and never played for Tampa Bay. He was placed on the non-football injury list but was paid for the season. He now claims he is in
daily pain
 and that his career was ended by the infection. Tynes cites poor conditions in Tampa Bay and blames their former head athletic trainer Todd Toriscelli. Three Bucs players contracted MRSA in 2013. I wrote about
MRSA and the Bucs
in my first column ever in October of 2013. Resistant infections first began to appear in the NFL in 2003. Since then protocols for prevention and treatment were worked out by the league and the Center for Disease Control. Every NFL team is well aware of these guidelines. It would be shocking to me if the Bucs didn't follow these protocols. The Titans clearly don't believe Toriscelli has done anything wrong in this case as they subsequently named him their new Director of Sports Medicine in February 2014. It would be unusual for someone who was previously treated with MRSA to be in daily pain. I hope Tynes can find a way to solve his medical problems so he can enjoy his two Super Bowl rings. [caption id="" align="alignright" width="272"]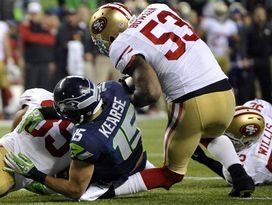 The injury that sidelined Bowman[/caption]
MMMD 2: NaVorro Bowman set to make return
The 49ers star linebacker missed all of the 2014 season due to a multi-ligament knee injury. It was an
unfortunate play
where his knee was not even contacted that tore both his ACL and MCL. After sitting out the year, he is slatted to
return to minicamp
later this month for his first on field action. Hopefully Bowman can return to form as this type of injury can be considered career threatening.
MMMD 3: Victor Cruz has a long way to go
Recently, Giants head coach Tom Coughlin expressed optimism about his star receiver; however, I
explained here
 previously how teams tend to be optimistic this time of year. Now we are hearing more of the truth. Cruz recently admitted he is
not even close to 100%
after his torn patellar tendon that required surgery.  I expect he will make it back on the field eventually this season. The question is whether he can regain his explosiveness after this career threatening injury.
MMMD 4: Two defenders injured while celebrating sacks look towards new season
Stephen Tulloch
tore his ACL
doing the "discount double check" after sacking Aaron Rodgers.  Lamarr Houston
tore his ACL
celebrating his sack of Tom Brady's backup in a blowout loss. Tulloch says he is way
ahead of schedule
 and Houston vows he will be
better than ever
. The two players may be contractually on the bubble. I hope both players make strong returns. Although their injuries were self-inflicted, I would hate to have either of them end their careers this way.
MMMD 5: Boxing for ACL rehab
Miami left tackle Branden Albert tore his ACL in week 10 last season. Now five months out from reconstructive surgery, he is using
boxing to help rehab
his knee. Cross training is often a good way to keep therapy fresh and a player motivated.
Frank Gore and others
have used boxing as part of their routine offseason training to improve endurance, speed and quickness. With ACL rehab, it likely helps with footwork, balance and strength.
MMMD 6: Emmit Smith played through concussion symptoms
The NFL's all-time leading rusher admitted "a lot of times I came to the sidelines and smelled some ammonia [to] clear the cobwebs". He followed up by saying that wouldn't happen today. Awareness of concussion has been the biggest change, not the science behind it. The Hall of Fame Cowboys running back also said despite all the concussion talk and potential dangers, he
would do it again
.
MMMD 7: Recheck Combines this weekend
What is recheck combines? It is a second chance for all 32 teams to examine players with medical injuries right before the draft. This will happen back in Indianapolis on Saturday morning, April 18
th
. Todd Gurley will finally get his much
anticipated knee exam
after deferring at the Combines. More on this process in the next Monday Morning MD.
Follow David on Twitter:
@
profootballdoc
Dr. David Chao is a former NFL head team physician with 17 years of sideline, locker and training room experience. He currently has a successful orthopedic/sports medicine practice in San Diego.