September 14, 2015 -
Dr. David Chao
Monday Morning MD: Common early season medical issues
MMMD 9.14.15
After almost two decades working as a NFL team physician, you can see certain patterns develop. Some injuries and medical issues are just more common in preseason and tend to spill over into the early weeks of the regular season. With limited practice and more resting of stars in the preseason, this has never been more true. Muscle issues make up a bulk of the issues that spill over into Week 1. Try as one might, it is difficult to simulate game speed and conditions, especially when most veterans play but one series per preseason game while sitting out the final tune up. Season ending
ACL and Achilles
 happen, but here I am referring to muscle strains and cramping. DeSean Jackson and Frank Gore are prime examples. Jackson injured his hamstring in the second Washington offensive series. Gore left the game in the 3
rd
quarter with calf cramps and did not return. Gore will be fine for next week and Jackson has an MRI pending to determine severity. I am not saying they were out of shape, but both of these muscle issues can be attributed to the lack of acclimation to game conditions. Hamstring strains and tears are common early ailments as no matter how hard you train, it is difficult to mimic the start/stop explosiveness of a NFL game. Dez Bryant, LeSean McCoy, Mike Evans, Tre Mason and others all had preseason hamstring issues. Having missed the entire preseason with a grade 2 AC joint sprain, this was Jackson's first game work and he pulled up as he tried to accelerate for a deep pass in the 1st quarter. Another early season hamstring hazard has to do with the early season field conditions. Oakland is the only stadium that is shared with baseball and yesterday's game was played across the infield dirt.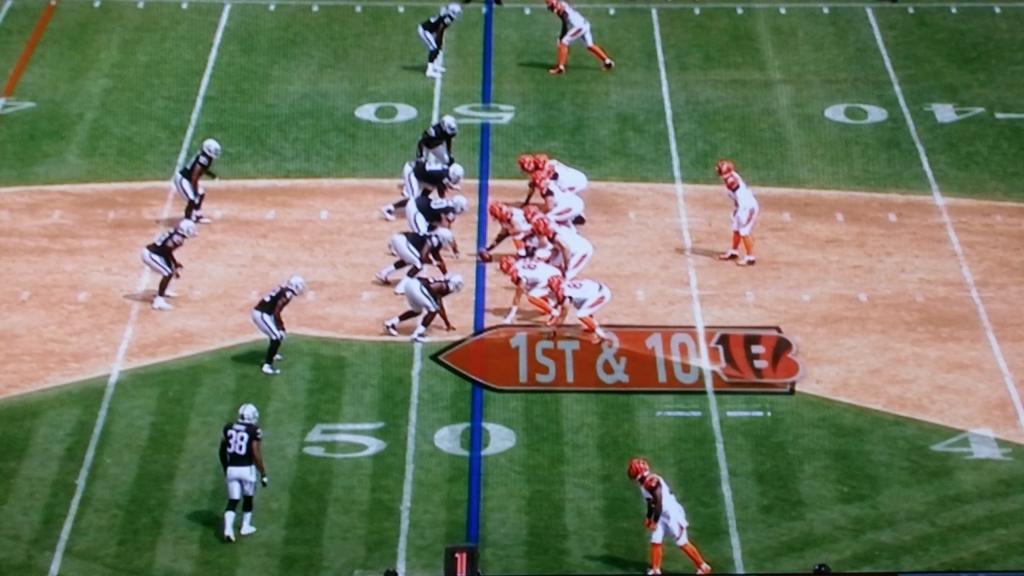 The surface change creates a safety hazard as players transition to the different footing of grass and dirt. I have personally witnessed the unexpected footing changes cause hamstring injuries. Cramping and dehydration tend to be early season ailments as well. A combination of warm September temperatures and muscles not being acclimated, can lead to more cramping issues. Gore only saw limited action in preseason and come the 2
nd
half of Week 1, couldn't finish the game as both calves cramped. Dez Bryant left for halftime early to get an IV for dehydration and to prevent potential cramping. Intravenous fluids are commonly used pregame as well. Some athletes will lose up to 15 lbs in a game. I have had some athletes who are metabolically prone to cramping that no matter what we did with hydration, an IV was the only way to go. Bryant appears to be an example of this and his
dependance on IVs
has been discussed. These early season issues create a strategic dilemma. Use players more in preseason to work thru the early acclimation issues and risk other injury, or keep players safe from preseason injury and take a chance on muscle issues as the regular season starts.
MMMD 1: Two star pass rushers injured
Terrell Suggs tore his Achilles tendon and is done for the season -  needing surgery. He tore his left Achilles in 2012 and returned Week 6 but that was a Spring injury. With this Week 1 injury, there is no chance for IR/dfr. Unfortunately he is done for the season, but fortunately, despite his second tear, can return to be 100%, unless father-time catches up to him. Both Suggs and Gregory had similar injuries where foot was forced into maximum dorsiflexion.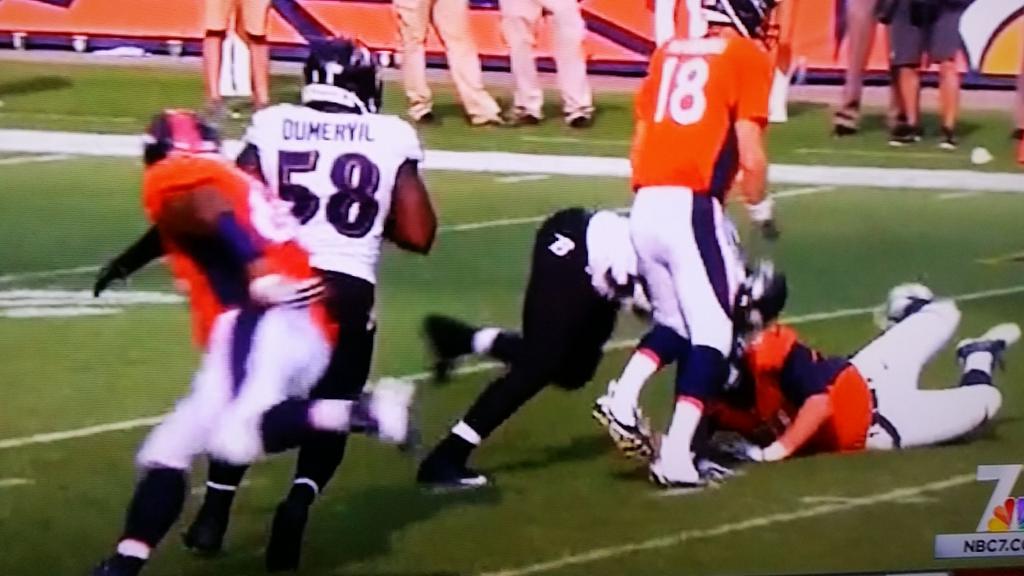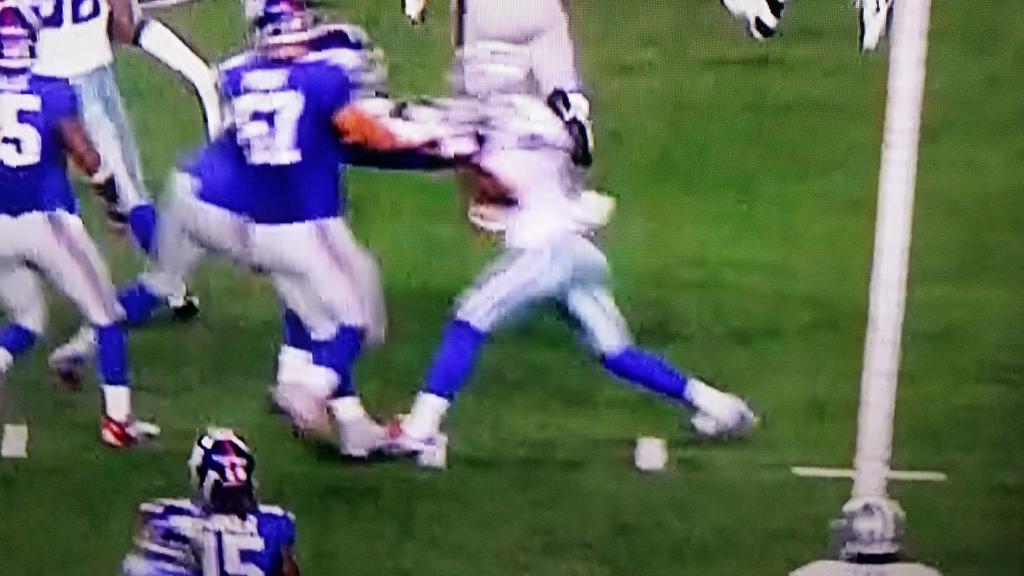 Rookie Cowboys pass rusher Randy Gregory left the game with what was announced as a right ankle injury. The video is worrisome for Achilles tear which Stephen and Jerry Jones have denied. A
high ankle sprain
 could leave him out for weeks but that still would be good news based on how his leg just collapsed.
MMMD 2: Dez Bryant breaks foot
It was obvious the
news wasn't going to be good
when the Cowboys star receiver was helped by two people to the locker room while only putting weight on his right heel. Ownership indicates he has a broken foot that needs surgery with a return to play estimate of 4-6 weeks. I hope he comes back that quickly, but that seems to be on the optimistic side. Bones generally take a minimum of six weeks to heal and this one needs surgery. A more realistic estimate might be 6-8 weeks. Now that Todd Archer has reported Dez Bryant's foot fracture as a 5th metatarsal fracture, let the return to play estimates fly (some media outlets are saying 12 weeks). Jerry Jones has said a pin is needed, Stephen Jones said a screw is needed, and along with Jason Garrett, they all say 4-6 weeks and early indication are no need for IR/dfr. Without clear video (or his X-rays), we still don't know what the fracture specifics are. In general, I stand by what i tweeted last night, 4-6 weeks seems a tad optimistic. We know the bone, but what about location? Is it an avulsion of the base, fracture of the shaft (distal) or Jones fracture (junction of the base and shaft)? Most likely it is not an avulsion- this quickest healing type- or he would have been able to put weight on it and he wouldn't need surgery. If it is a simple distal shaft fracture that would be the best case scenario and have a chance to meet the 4-6 week estimate. Jones fractures are the worrisome kind where usually there is a chronic component as it is a low blood flow area. This is the most common type where athletes have missed significant time (Julio Jones, Kevin Durant) and had reoperations. Other unknown factors include if the fracture is acute, displaced, unicortical, transverse, oblique, etc. There have been exceptions to earlier return. I once had a NFL player who returned in 3 weeks played 14 games and made the Pro Bowl, but that was an exceptional situation where a special screw was used. I believe the truth lies somewhere in the middle. The foot specialist who performs most of these surgeries on NFL athletes has always indicated to me that 6-8 weeks is the usual number.
 I hope Dez can make the 4-6 week return, but remember there is a difference between when a player returns and when he is truly effective. Dallas does have the IR/dfr spot to utilize if there is a roster crunch.
MMMD 3: Two non-contact knee injuries
Everyone fears the worst when a player goes down untouched. Both Antonio Cromartie and Andre Ellington had that happen, but with likely different outcomes. Cromartie had a
hyperextension injury
with obvious buckling of his left knee. The team is waiting for the MRI but is hoping against the the bad news of an ACL tear. Just this morning, it was announced the MRI showed the ACL was surprisingly spared and he has a pure hyperextension injury. He may have lucked out as this is the same knee that he tore his ACL in college. Sometimes reconstructed knees can accommodate more laxity and hyperextension. The extent of any bone bruising and swelling will determine when he can return but estimates range from 2-6 weeks. Ellington's injury was considerably different. His knee was flexed and did not visibly shift. Bruce Arians indicated it appears to be a posterior cruciate ligament (PCL) injury but
was not certain
. A non-contact PCL injury is rare, and likely would be mild. Breshad Perriman suffered a first day of camp contact PCL injury and has yet to return. Even if confirmed as a PCL injury, my hope is that it would be mild, giving a best case return in the next week or two. In the worst case, it is still non-surgical and he would return in 6-8 weeks.
MMMD 4: Week 1 medical rundown
Eric Berry
gave us the
best medical story of the day
. He was diagnosed with cancer on December 8th of last year, but is now fully recovered and played in the Chiefs opener.
Carson Palmer
in his return from his 2
nd
ACL surgery played well in victory with 300+ yards 3 TDs and 0 INT.
Jadeveon Clowney
returned after microfracture surgery. He was platooned but played well with four tackles, one for loss.
C.J. Anderson
has a sprained toe. Severity not know but he did finish the game.
Demaryius Thomas
needed hand X-rays but finished the game as well.
Delanie Walker
left the game for X-rays on his right hand. No fracture, but he was still casted to control swelling and pain. The cast will likely come off today or tomorrow and with good treatment he is probable for next week.
Derek Carr
injured his hand straight-arming a tackler. Although X-rays were negative, his status is uncertain as it involves his throwing hand.
TY Hilton
knee X-rays were negative and his injury was announced as a bruise. A deep bone bruise is essentially a microscopic fracture. Hopefully it is superficial as a deep bruise could be six weeks or more.
Lorenzo Mauldin
, Jets LB, was placed on a spine board and taken to a hospital overnight to rule out head and neck injury. Better safe than sorry, but early reports are that he is moving all extremities.
Jason Pierre-Paul
was not cleared by the Giants to play. The fear always has been more than the index finger amputation. Thumb fracture and skin grafts were expected, but a new report includes
loss of a portion of another finger
.
MMMD 5: Can't refuse concussion evaluation
Controversy started when Odell Beckham Jr. seemed to waive off medical staff. A player cannot refuse head injury evaluation like he can other body parts. After initial protest, OBJ was given a
sideline concussion evaluation
. The unaffiliated neuro consultants seem to have taken an even bigger role this season and there is no way an exam could be bypassed. Beckham's
immediate on field reaction
to the hit is causing a stir. Jarvis Landry had a
similar reaction
to a hit and stayed in the game to have a 69-yard punt return for a touchdown. Despite the new medical timeout rule, concussions
controversy will not go away
.
MMMD 6: What happens when a referee is injured?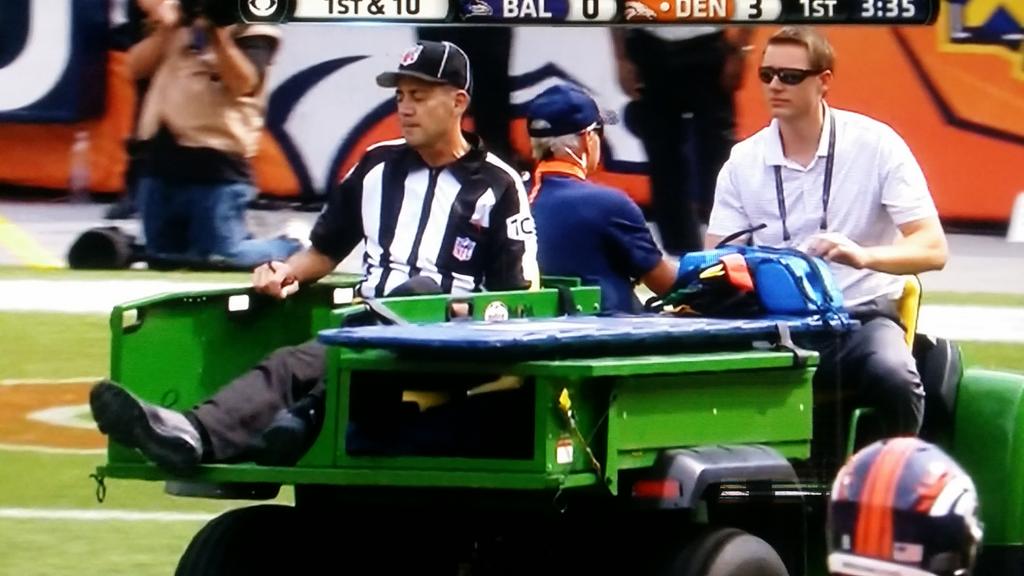 Line judge Gary Arthur was carted off with a clavicle fracture. Who takes care of the referees? The home team medical staff is responsible. Before the game, some referees get treatment or have ankles taped by home team staff. In this case, the Broncos doctors looked after the collarbone injury. By the way, there is no standby referee in the regular season. Crews are trained to adjust to work as a six-man unit when one goes down. Essentially, the back judge position is eliminated and those duties shared.
MMMD 7: ProFootballDoc scorecard
We begin the regular season with a
25-1 record
from the preseason. This week, lots of action but not a lot of clean video and plenty of pending injury diagnoses. I spent 17 years studying injury video every Monday morning after a game. Since I don't have an exam or imaging, I have to rely on quality video to make my pre-diagnosis. Sometimes there is just not enough. Dominique Easley did turn out to have a
hip pointer instead of hip joint injury
. I made the call on Antonio Cromartie for
ACL tear
that is pending formal confirmation. Randy Gregory injury was
suspicious for Achilles
, but early reports don't seem to agree. Will wait for more info. The updated scorecard is now 26-1 with several pending. I am please to announce my new official role with SiriusXM Sports as Medical Analyst. I will be making regular appearances on Sirius NFL and fantasy channels. Also tune in to periscope at halftime of games for injury updates and Q&A. Follow David on Twitter: @
profootballdoc
Dr. David Chao is a former NFL head team physician with 17 years of sideline, locker and training room experience. He currently has a successful orthopedic/sports medicine practice in San Diego.