November 02, 2015 -
Dr. David Chao
Monday Morning MD: Did Colts break injury reporting rules?
On a report that Andrew Luck had multiple rib fractures in Week 3, the NFL will
look into Indianapolis' injury disclosures
. The Colts QB was listed on the injury report for his shoulder and missed two games, but there was no mention of ribs. There is much grey area in the world of NFL injury reports. Teams are never required to disclose a specific injury, only a body part and practice/game status. Many injuries go unreported if deemed insignificant by the club where there is no loss of practice or game time. Fractures never need to be listed on an injury report. A listing of rib, chest or torso would have sufficed. For example, this week the 49ers didn't list "stress fracture" for Carlos Hyde. San Francisco only entered "foot" and "out". Laterality is not included, right or left is never indicated. Specific anatomy or location is not required, only a general body part. A 2015 policy update states: "All players with significant or noteworthy injuries must be listed on the report, even if the player takes all the reps in practice, and even if the team is certain that he will play in the upcoming game. This is especially true of key players and those players whose injuries have been covered extensively by the media." The Colts claim their reports are correct and are likely to argue they complied as they listed their "key" player on the report. The rule does not say that all specific injuries need to be reported, only that all players with significant injuries be listed and the Colts did list Luck. Indianapolis can argue they complied by listing the shoulder since it was the biggest issue. There is no policy on how to specifically list multiple injuries. Of course, an easy way out is if Luck's ribs were not truly fractured. I understand the politics of the NFL and the hot button of the "integrity of the game issue", especially with the Colts blowing the whistle on Deflategate. However, this would not be the first time a team has manipulated the rule. The Patriots listed Tom Brady as "probable" with a "shoulder" for
three years
. Last year, the Cowboys were absolved of wrongdoing when Tony Romo's
rib was never listed
even though the team admitted a rib cartilage injury. I am not defending the Colts, I am only indicating that their reporting is not wildly out of line with other clubs. By the strict letter of the law, the speed limit is 55 mph. The Colts may be technically speeding by going 65 mph, but that is not inconsistent with how fast traffic around them is traveling. I doubt the Colts will get singled out for punishment; otherwise, the NFL will be going down a rabbit hole of controversy. I can assure you the Colts medical staff is not involved in deception. In my 17 plus years as a NFL team physician, I never filled out or was consulted on an injury report. Physicians simply report medical findings to the team. The club chooses what is listed and said on the report. In any case, a Week 3 rib fracture is likely behind Luck. I anticipate this league investigation will soon be behind the Colts as well. MMMD 1: One Steelers star returns, another exits Ben Roethlisberger returned from a four-week absence for MCL injury. Meanwhile, RB Le'Veon Bell exited with another MCL injury that was worse than that of Big Ben. By video, I correctly opined that the MCL was the main issue and like his QB, the ACL was sparred. However, there are now reports of a
"badly torn" MCL
that may land Bell on IR anyways. It would be unusual with nine weeks to go for an isolated MCL, no matter how bad, to land a star player on IR. There are reports of "
other damage
" including
possible PCL
injury.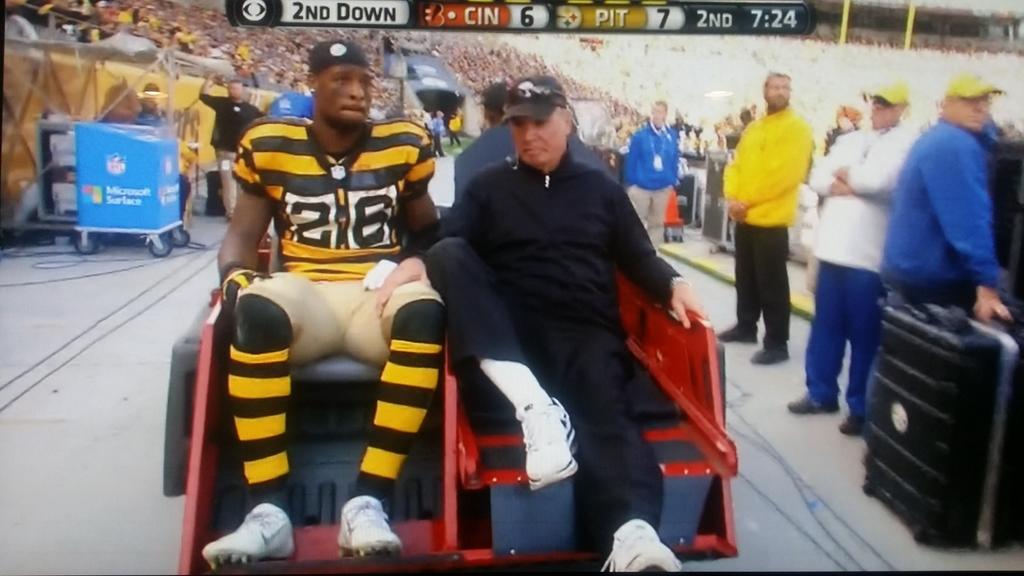 Bell did not have the look of someone who suffered a season-ending knee injury as he rode off in the regular chair of the cart and the doctor was on the stretcher side. My initial estimate was to miss six weeks, thus time for a playoff return (assuming Pittsburgh is still in the race). I am sure the Steelers medical staff will do the right thing and not jump the gun on injured reserve unless truly necessary. MMMD 2: Even with season-end injury, Steve Smith, Sr is a beast The Ravens star WR tore his Achilles on a hard cut at the 35-yardline, but continued to run until he was tackled at the 42. This sums up the career of one of the NFL's true tough guys. Surgery will end what was slated to be Smith's final season. There is no shame in the way he exited but will the Hall of Fame WR want to end his career this way? Maybe we will be lucky enough to see him back for one final season. His injury was not one of a weak tendon showing it's age, it occurs by the calf muscle being too strong as it pulls apart a healthy tendon that can't stretch quickly enough. Smith has earned the right to decide to retire or comeback for another year. MMMD 3: Stadium contributes to ACL tear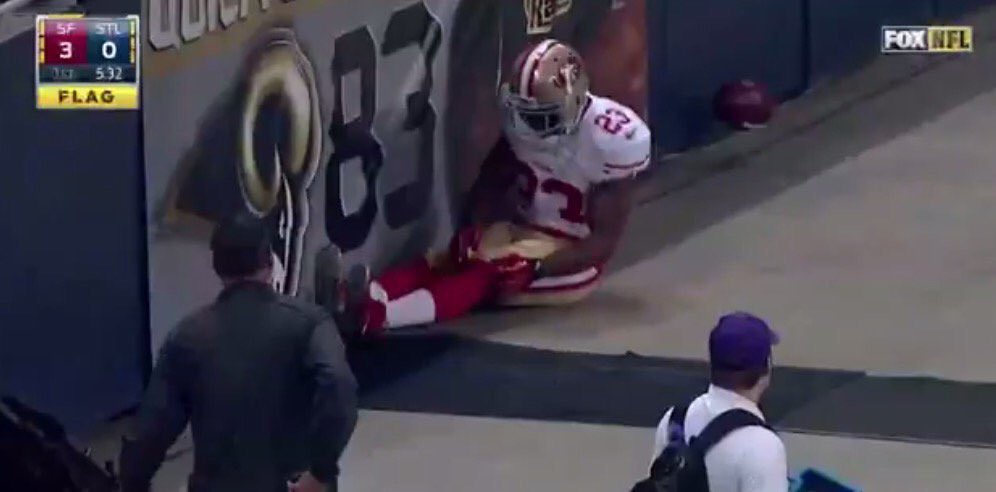 In this health and safety era, it is sad to see a preventable injury happen. Reggie Bush was pushed out of bounds and continued to run but as he got to the edge of the St Louis stadium floor, slipped on the concrete and tore his ACL. This is a much bigger safety concern than what delayed the start of the recent Rams home game on the same field where a couple feet of turf was melted by pregame fireworks. I have seen players slip and fall on concrete even as they enter and exit the locker room. Usually rubber pads are laid down to prevent slippage in the bowels of the stadium. An easy solution here is to continue the turf to the edge of the stadium floor or place padded barricades before the concrete floor transition. Just last week, Browns QB Josh McCown
slipped in a similar area
and hurt his shoulder. Whether the Rams stay in St Louis or not, I would be surprised if the NFL didn't immediately step in here. MMMD 4: Another starting QB injured Ryan Fitzpatrick tore thumb ligaments. By video, it appears to be the ulnar collateral ligament (yes there is one in the thumb but it is not called "Tommy John"). The UCL is a main stabilizer of the thumb for grip. If it were on his throwing hand, his season might be over. Based on my NFL experience, surgery and/or a hand-based custom splint could have Fitzpatrick back in 1-3 weeks. He did re-enter the game for two snaps after Geno Smith was injured. A glove over the splint should give him enough support, protection and grip to take snaps under center and handle the ball. MMMD 5; JPP on way back but will change his game Jason Pierre-Paul signed an incentive laden contract and rejoined the Giants.
Photos
 revealed that he injured his thumb and needed a flap or tissue transfer to save part of his middle finger. Injury analytics would indicate that JPP will lose significant grasp in his right hand. The issue won't be that he can't line up in a right-handed stance. More likely his move to the left side will be so he can use his normal left hand to grab and keep outside contain. JPP also revealed he did not purposefully disrespect the Giants and send them away early on. Hopefully he won't have any neuroma or pain issues and can return to play very soon. He has more than paid the price for his bad fireworks decision. MMMD 6: Medical Potpourri Matt Forte exited with a knee injury that is reported to be a MCL. By video, his injury should be nothing close to the severity of Le'Veon Bell. Expect Forte to return soon for the Bears. Ricardo Lockette had the scary injury of the day and was kept at a local hospital after his vicious hit. A spine board was used as precaution but by video, he should be spared any serious neck injury. A severe concussion has been diagnosed. Larry Fitzgerald suffered a mild high ankle sprain by video after his touchdown catch. With the bye week, he should be fine for the next game. Todd Gurley could displace Adrian Peterson and become the new poster child for ACL surgery recovery. He now has four straight games with 125 yards rushing. Dez Bryant played but clearly is not back to full form yet. He was targeted six times and had two catches for 12 yards as he ran limited routes. Dez had no setbacks and new bone formation was reported so he should become his dynamic self again soon. Tony Romo and the Cowboys might wish they held off on the IR/dfr designation that will keep him out until Week 11. He might have been able to play a game or two sooner and Dallas sure does need him as they are 0-5 without him. Cameron Wake tore his Achilles as well this week. With Arian Foster and Steve Smith, Sr. that makes three major stars with Achilles ruptures in a one week period. Khiry Robinson suffered what by video appeared to be a season-ending injury. A splint was used to stabilize a lower leg/ankle fracture as he was carted off. Expect surgery and a 2016 return. Alex Ogletree was finally placed on short term IR. It is not a Rams mistake to not put him on sooner as they knew the injury would take longer than eight weeks anyways. Now that the season is over eight weeks old, there was no reason to hang on to the lone IR/dfr designation. Using it keeps hope of a playoff return alive although I think it will be difficult. MMMD 7:
ProFootballDoc
 scorecard To date the
68-4 record
is a result of the every Monday morning video room visits when I was a team physician. I would have examined players and seen MRI results and would look at video to reverse engineer what happened. There is no way to ever be completely correct by video, I am just trying to identify the general injury pattern. It has been a busy week with Steve Smith, Sr. Achilles rupture, Khiry Robinson fracture and Le'Veon Bell's MCL. Ryan Kerrigan did have hand surgery and should return after the bye. Josh McCown, Emmanuel Sanders and Matthew Slater all played as expected by videos of their injuries. Jason Peters should return as well after his bye. Carlos Hyde has indicated offseason foot surgery will be needed. Clay Matthews had mild knee and ankle injury and returned to play in the Sunday night game. I don't count the Reggie Bush, Cameron Wake or other injuries where the video was not clear enough to make a definite call. I do count Le'Veon Bell as correct as many were saying ACL and I stuck with the MCL diagnosis, although I will admit he may be out for longer than my initial six-week guestimate. At the mid-point of the regular season, the record is 78-4, which is slight higher than the
92.6% for 2014
.