May 04, 2015 -
Dr. David Chao
Monday Morning MD: How medical draft evaluations have changed
The NFL Draft this past weekend led me to think that much has changed medically since I first attended the Combine in 1994. Of course there are technological advances; however, the largest change is not related to new surgical procedures. The biggest difference is in how teams look at medical information. The medical evaluation process has remained similar but the way the data is interpreted is different. My marching orders from the team morphed over my almost two decades as a NFL team doctor. In the late 1990s, general managers and head coaches would want to know if a potential first-round pick would last a decade or more and be a source of long-term stability. Years later, the question asked of me became if the player would make it through a first contract. Early in my time in the NFL, I recall specifically being asked by management if a certain offensive lineman's knees would hold up for a 10 or 12 year career. Towards the end of my team physician tenure, that question often became "can he help us now?". This axis shift matches the "Not For Long" nature of the NFL. Statistically, a first-round pick is more likely to outlast his head coach. General manager turnover can be equally fast; a survey last year showed over half had two seasons or less with their current team. With this quick turnover, no wonder the philosophies have looked to shorter windows in this win-now league. This may also explain the current rarity of a first-round quarterback sitting for several years to learn from a veteran. The decision makers that draft the player may not be around long enough to see the fruits of their selections. Perhaps the long-term thinking accounts for the stability and success of the Patriots. Certainly no one believes the Seahawks are built for the short term. The reality is that the pressure to produce trickles all the way down to how medical evaluations are viewed. The NFL urgency has even changed how draft picks are viewed.
MMMD 1: How did red light issues fair?
I detailed what I thought to be the
top NFL Draft medical issues
 and one of the four "RED light" issues remained a first-round selection. The Broncos traded up to select Shane Ray despite rumors of foot surgery and a recent marijuana citation. While it is indeed possible that Ray doesn't need surgery, don't be surprised if that announcement comes. Often it is safer to do surgery now to ensure a healthy season. Based on public reports, I suspect Ray has a medial sesamoid issue. Excision procedure to relieve pain takes a minimum of three months recovery. Denver medical staff will make the decision now to bite the bullet or ride out this season as is. As an observation (and not social commentary), it was interesting to see how the 2014 and 2015 top Missouri edge rushers (both named SEC Defensive Player of the Year) faired in the draft. Last year, Michael Sam was tabbed in the seventh round and is out of the league. The year, Ray overcame health and legal issues to be selected in in the first round. Other "RED light" issues with first-round potential did not fair as well. Running back Jay Ajayi had prolific college production but slipped into the
fifth round
 over long-term concerns related to his knee articular cartilage. Ifo Ekpre-Olomu fell all the way to the
seventh round
 with a late season ACL tear which is difficult for a cornerback to recover from. The final "RED light" player will be discussed next.
MMMD 2: Steep price paid for skipping Combine medical recheck
Jaelen Strong was a projected first-round pick until he was perceived to
snub teams
and fell to the third round. He skipped the chance to have all 32 teams recheck his wrist and I pointed out then how voluntarily missing the return trip to Indianapolis was
unprecedented
. Skipping the medical recheck has the appearance of hiding an injury. He was
cleared by a Texans hand specialist
the week before the draft. A Steelers pre-draft physical also had him passing a physical. It seems he had nothing to hide but his no show at the Combine medical recheck likely hurt his draft stock. Missing recheck is the medical equivalent of skipping your Pro Day when scouts have travelled to see you. I am not sure who okayed Strong's absence from medical recheck, but it would be interesting to find out what advice came from the Jay-Z owned Roc Nation Sports agency that represents him.
MMMD 3: Talent evaluation, like medical evaluation, is imperfect
Despite the best efforts to invite the top 320+ college prospects to cover the 256 draft slots,
42 players
drafted did not attend Combines. That means about one in six players drafted was not invited to the pre-draft mega-event. Despite best medical efforts to uncover health issues, anticipate surprises to come. Not every draftee or free agent signee will pass the upcoming rookie physical. Expect medical clarification soon and don't be shocked when surgeries are announced. I try to analyze all the publically available information but I do not have access to medical records nor do I feel it ethical to contact team medical staffs to leak insider information. Medical status is always evolving and the only ones that know the truth are the ones performing the physicals. Worries about Leonard Williams' shoulders may fully dissipate. Concerns about Landon Collins' shoulder may accelerate with possible arthroscopy. Surgery might be announced on Bud Dupree's groin/hip. No doubt the team medical staffs will aggressively sort out the details after their players enter the fold.
MMMD 4: No one ever truly removed from draft board
Reports that some teams
removed Randy Gregory
from their draft board may be metaphorically true but not factually the case. A players draft magnet is never removed from the war room draft board even if a team removes him from consideration. All teams track players regardless of their personal interest in selection. I have been fortunate enough to be in my team's
war room
. Recently Mike Silver has provided glimpses into the draft room of the
Rams
 and
Jaguars
. Draft magnets and color-coded dots/letters are the common thread of all war rooms. [caption id="" align="alignright" width="504"]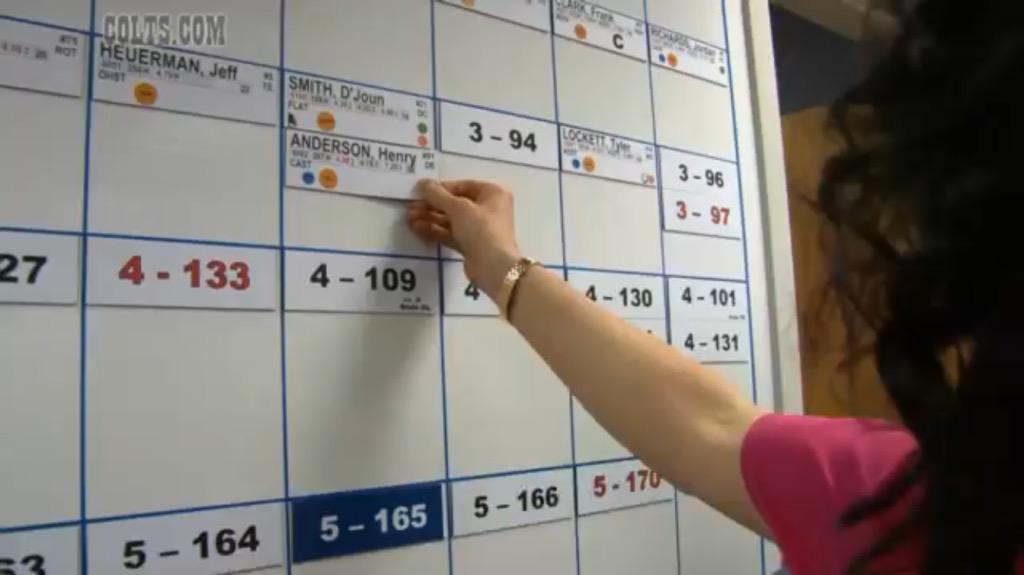 The Colts' draft board[/caption] For example, there were rumors Gregory was flagged for
psychological issues
. He might have a "red M" (for medical) or "red C" (for character) on his draft magnet but he would not be truly removed from the board, just pulled from a team's consideration.
MMMD 5: When draft done, the work just gets started
A team needs to sign up to three times as many undrafted free agents as draft picks to get to the allotted 90 man roster. The scramble begins as the official draft is concluding. Each team will acquire approximately 20 players in this
post-draft feeding frenzy
. This is where stars like Tony Romo, Arian Foster and Antonio Gates have been found. Many of these players have little to no medical information but they will have to pass a rookie physical performed by the team before official signing.
MMMD 6: ACL revolution continues
ACL tears used to be considered career threatening. This year, two first-round selections are coming off ACL surgery. Teams did not hesitate to select Todd Gurley at number ten and Cedric Ogbuehi at 21. Both of them had "
YELLOW light
" injury ratings in my analysis. Not all ACL tears are the same. The relatively isolated injuries are the ones that do best. I always have said you need three things to happen to get a full recovery: 1) an injury amenable to recovery, 2) good surgery, and 3) good rehab. All three have to happen for success. Much like a snap, hold and kick all have to work in concert for a successful field goal.
MMMD 7: Darnell Dockett always refreshingly honest
The now 49ers defensive end is well know for his
frankness and lack of filter
on social media. That also extends to his injury self-assessments. No standard "ahead of schedule" statements here. Dockett missed 2014 with ACL surgery and admits to targeting the regular season. He says he has been to
enough OTAs and mini-camps
.
Follow David on Twitter:
@
profootballdoc
Dr. David Chao is a former NFL head team physician with 17 years of sideline, locker and training room experience. He currently has a successful orthopedic/sports medicine practice in San Diego.