June 01, 2015 -
Dr. David Chao
Monday Morning MD: Injured Reserve and Purpose of 53 Man Roster
Most football fans know that NFL teams suit up 46 players on game day while a club carries 53 players on its active roster. Many have asked why have extra players that can't be used. After all, there is a 10-man practice squad as well. Some have suggested that all 53 players be allowed to dress and play. On the surface, limiting players to 46 seems capricious, but there is actually logic to the rule. In order to understand the reasoning, one must first understand the NFL rules for injured reserve. Unlike other leagues, injured reserve is essentially a one-way street from which there is no return. For example in baseball, there is a 15 and 60 day disabled list, which amounts to temporary and reversible injured reserve. In 2012, the NFL allowed one player on injured reserve to be "designated for return" after a minimum of eight weeks. In order to qualify for injured reserve, an active roster player must be considered to suffer a significant injury lasting at least six weeks. In other words, a player with a mild ankle sprain does not qualify for injured reserve. Minor injuries are expected to be carried on the active roster. Along with strategic decisions, that is the reason for not allowing all players to suit up for games. As the season starts, the term physically unable to perform (PUP) will be used. PUP is used for players that begin the season injured and can't pass a physical. It gives players time to get healthy while allowing teams to use the roster spot. If placed on PUP, a player may not return until week six. If they are not activated by week 12, then they need to be moved to injured reserve. Some have called for all players to be active on Sunday. On the surface, this seems to be a good idea. After all, all 53 are being paid and count against the salary cap. A new rule allowing all to play would push teams to place injured athletes to injured reserve instead of carrying them on the active roster in order to avoid being at a disadvantage. A club with a number of injured players could be playing shorthanded compared to a healthy team. In 2012, the new category of IR-designated to return began. After the season starts, each team can name one player that potentially could be brought back off of IR after week eight. The idea is if a player suffers a serious injury early in the season, he could still return if he can get healthy and a team could utilize the roster spot in the meantime. My understanding is that in the past, teams would stockpile players by placing them on injured reserve. It is a given that football produces injuries. One main reason for a 53-man roster but only suiting up 46 is to allow for injuries. If there really is a change to allow all players to suit up, the NFL would have to create better short term IR options.
MMMD 1: Good news for the Raiders
Last week I wrote how it was a
potentially ominous sign
that Derek Carr was not practicing at all due to finger numbness. In a sign of progress, the Oakland starter took snaps during run game practice, even though he still sat out of any throwing. It still remains to be seen when Carr with get back to throwing. This is a significant first step towards avoiding a prolonged absence or even potential surgery.
MMMD 2: Sam Bradford limping, should Eagles fans be worried?
Bradford did throw during the individual period but was limited for all other aspects. He was seen walking off the practice field with a
noticeable limp
. Bradford re-tore his ACL in August and thus is almost 10 months into his recovery. Assuming there is no articular cartilage damage, second time ACL surgery is not any harder than first time rehabilitation. Reports did not have him limping before or during practice. Hopefully the limping was just a sign of fatigue and not of bigger underlying issues. However, any gait disturbance indicates Bradford has a ways to go. To put it into perspective, teammate Kiko Alonso, whose ACL injury was two months before Bradford's, is
doing everything
at practices as a linebacker. Even if Bradford makes it for the start of the regular season, how will the lack of practice time in a new system affect him? This situation bears watching and Mark Sanchez is undoubtedly
getting ready in case
.
MMMD 3: Broncos first-round pick still sidelined
Denver traded up to select DE/LB Shane Ray. There was
pre-draft injury concern
 of a turf toe type injury and even rumors of surgery which the player
debunked on SportsCenter
. Based on my analysis of published reports, Ray may have a
sesamoid issue
in his great toe. With pain at the first metatarsal phalangeal (MTP) joint, it affects running and push. Ray
missed OTAs
last week but has been fitted with orthotics and may participate in limited fashion this week. A toe injury sounds trivial, but I assure you it is not for a player needing to get around the edge. The Broncos hope that he can avoid surgery and be the explosive player they drafted.
MMMD 4: More Broncos bad injury news
Ryan Clady tore his ACL and has been placed on injured reserve. Left tackle is a QB's best friend and now both Manning brothers have lost theirs. Will Beatty tore his pectoral tendon and needed surgery, but has an outside chance to return late season. Clady will not be as fortunate as he has already been placed on injured reserve, thus ending his 2015 campaign. How far the Broncos go this year will largely depend on a rebuilt left side of the line. Left guard Orlando Franklin signed a contract with the Chargers. Both tackle and guard will be different on Peyton's blind side. Based on my almost two decades of NFL experience, half the time a team experiences a significant season ending injury during the offseason. The Broncos and the Giants now join the Jaguars (Dante Fowler/ACL) and Vikings (Brian Robison/pec tear) as teams that have lost a starter already. Unfortunately, statically there will be several more before OTAs are done.
MMMD 5: San Francisco has nine players coming off ACL surgery
The 49ers training room has to be
extremely busy
. Teams average two players coming off ACL injury from the previous year. Some of this is bad luck and some of the high number is due to team philosophy. Six times in three year, GM Trent Baalke has drafted a player coming off ACL surgery, often resulting in a "medical redshirt" year. Sometimes the strategy works out, but notably, Marcus Lattimore did not. He had more that just an ACL tear and retired without playing a down after trying to recover for two years. I don't know that there are statistics kept on this. I recall my personal high was five coming off ACL in a single year. This year the second most league-wide is four for a single team. The 49ers with nine this year, if not a record, has to be close to one. [caption id="" align="alignright" width="377"]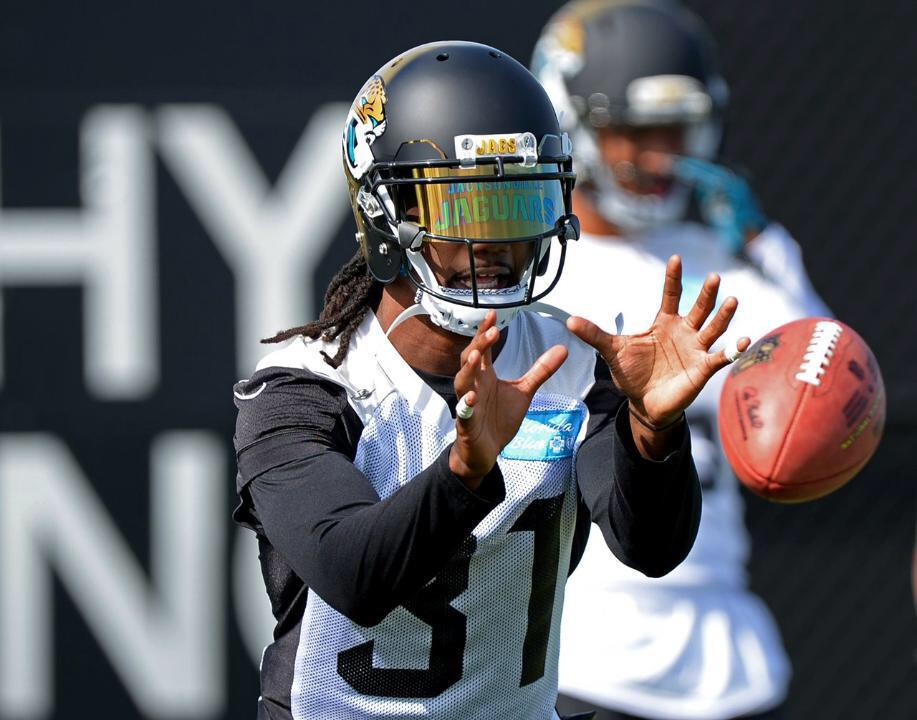 The new visors[/caption]
MMMD 6: Jaguars don new tinted shields
Jacksonville unveiled these cool looking visors during OTAs. Like sponsors logos on practice jerseys, the stylized shields are likely just for practice as well. The NFL is very strict on allowing any sort of
tint to the eye shields
. Clear protection is allowed at any time, but even the slightest tint needs NFL approval due to medical wavier. LaDanian Tomlinson was famous for his tinted eye shield but he had to obtain annual league approval. Barring a league policy change, the new look will not be used come game time.
MMMD 7: Concussion scrutiny not just for NFL anymore
With the Golden State Warriors run to the NBA finals, the "Splash Brothers" have both taken blows to the head. Steph Curry returned to a playoff game after a hard fall. Klay Thompson was cleared to return (but did not) and later had concussion symptoms. The twitter/media world reacted quickly in both of these circumstances with opinions of mistreatment and mismanagement on the part of NBA teams. Concussion second-guessing has become a national pastime. The good news is that head injury awareness will hopefully lead to better medical care, a focus to find better diagnostic tests and potential treatments (other than time and rest).
Follow David on Twitter:
@
profootballdoc
Dr. David Chao is a former NFL head team physician with 17 years of sideline, locker and training room experience. He currently has a successful orthopedic/sports medicine practice in San Diego.