February 08, 2016 -
Dr. David Chao
Monday Morning MD: Injuries not an excuse
MMMD 2.8.16 Injuries not an excuse Everyone wants the game decided between the white lines. No one wants the "what ifs" of an injured key player or a referee's blown call. Although Super Bowl 50 was not a mistake free game, fans got what they wanted. The better team (or should I say the better defense) won and no one is making excuses. This was an essentially healthy Super Bowl. Sure there were key players from both teams that were on injured reserve, like Kelvin Benjamin, Charles Tillman, and Ryan Clady (all three out from ACL tears). However, key injuries on both clubs played and all were able to contribute. There were no excuses coming from the Panthers. Thomas Davis played well
as expected
 just two weeks after breaking his forearm. Jared Allen played despite a fractured foot. Coach Ron Rivera dismissed the ideal that Corey Brown leaving with a concussion changed the game. The Broncos trio of injured defensive backs, T.J. Ward, Darian Stewart and Chris Harris all played. Peyton Manning played without obvious effects of his plantar fasciitis. Concerns about the grass field at Levi's Stadium being suboptimal or causing injury were unfounded. Sure there were some slips but a loose turf/poor footing actually helps to
reduce traumatic injury
. Even with the halftime show and the post-game trophy presentation, the field seemed to hold up to my post-game inspection. I am happy Super Bowl 50 involved no cart offs and few injuries. There was no concussion controversy like
last year with Julian Edelman
that led to the new medical timeout rule. Corey Brown did enter the concussion protocol, despite originally the calf being the main concern. A positive injury spin for the golden Super Bowl is the way I like it. I wish every game would be more like this one. MMMD 1: MVP for a reason Of course Von Miller's game changing play is what earned him the Most Valuable Player award. His 2.5 sacks and two forced turnovers were key. The reason for his spectacular play is that he is finally 100% Although he played well last season, the second season back from ACL is usually the better year. I tell my patients it takes a minimum of 18 months to forget about your knee. When I asked Miller about his knee last year during Super Bowl week, he claimed his knee was good, but when pressed, admitted there was more improvement to come. No matter how hard someone works, you just can't speed up the biology of the ACL graft incorporating and becoming a ligament again. MMMD 2: Ups and downs of being there in person Although I sorely miss seeing the broadcast and don't have access to replay, there are up sides to being in San Francisco. I learned a lot by being there asking the right medical questions and observing first hand. There were reports of a
laser healing Jared Allen's foot
fracture. When asked about it, the Panthers DE said he
didn't know
if it was the laser that helped him or the myriad of other treatment modalities. Thomas Davis had no swelling and no protection on his forearm during the week. I doubt the picture circulating of his "football-like" forearm was a current one. The photo Davis posted seemed to be taken well before arrival in the Bay area.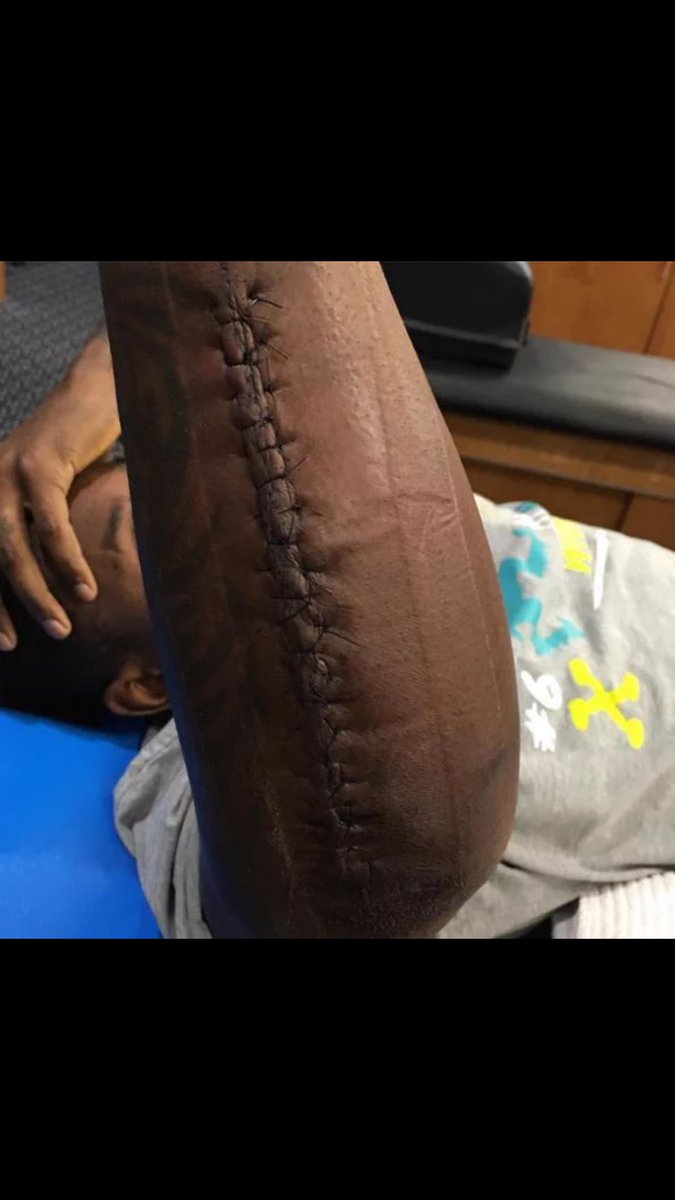 I always suspected that Chris Harris, Jr. had more that a bruised arm. He confirmed he had a
nerve injury
that caused him considerable pain but won't need surgery. Reggie Bush explained at the NFL Honors red carpet that his surgery was more than simple arthroscopy. He had meniscus repair where his cartilage was sewed and requires more recovery time than trimming but he should be ready well before training camp. Jamal Charles appeared on track for a second successful ACL surgery. In person, he had
excellent flexion
of his knee while making the rounds on radio row. Range of motion is the first step after ACL reconstruction and Charles seems well on his way. MMMD 3: Athletic trainers are hardworking and underappreciated As Broncos teammates, coaches and staffers were celebrating and passing around the Lombardi Trophy in the locker room, the athletic training staff was still hard at work. They emerged for a quick minute to get a group picture in front of a Champions banner, but then quickly returned to training room duties.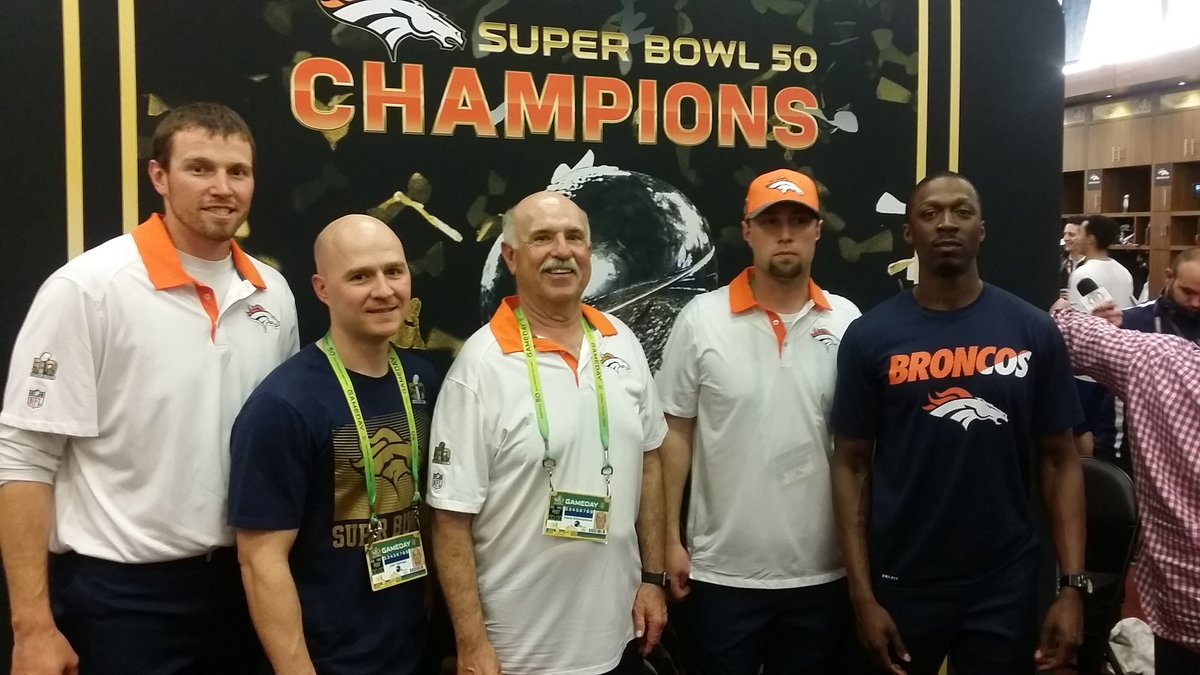 Athletic trainers rarely get the spotlight they deserve. Even in defeat, the Panthers medical staff certainly deserves praise and
Stephania Bell's piece
does just that. Athletic trainers are the first ones to arrive and the last to leave. They are the unsung heroes of football. MMMD 4: Head Health Initiative Results of the NFL's Head Health Challenge were on display during Super Bowl week. There was promising technology to provide an
underlayer for artificial turf
to lessen the blow as one's helmet impacts the ground.  Two types of
new helmets
to help protect against concussions were in the works. Finally,
two new diagnostic tools
are being developed. One is a blood test and the other is a portable mini-EEG. Both have potential for sideline usage. The hope is by next Super Bowl, some of these new products will be in use in Houston. MMMD 5: Two people fired over JPP medial record leak As expected the hospital realized it had a problem and started an aggressive investigation that included
examining computer access
. HIPAA privacy laws were broken by the hospital and whoever leaked the information. Two people who had inappropriately accessed the information were fired. This does not mean either of them leaked the information to a reporter. They could have just done it out of curiosity. The actual source of the leak could have gotten away with it as he or she may have had legitimate access to the info but was wrong to let media know about it. MMMD 6: Two best parts of Super Bowl week for me I ran into Mike Pereira and had a nice chat. I told him how I describe what I am doing in media as the "medical Mike Pereira". He was flattered and liked the idea. He sees a definite growing roll for medical analysis as has happened with rules analysts. I also got a great look throughout Levi's Stadium. This was the only current NFL stadium that I have not been to. The 49ers new stadium was finished after I resigned from head team physician duties in 2013. Not sure what difference it make but now I can once again say that I have been to all current NFL stadiums. MMMD 7:
ProFootballDoc
 scorecard Other than adjustments when new info comes to light, this will be the final self-scoring update for the 2015 season. Thomas Davis played and played well as expected. Chris Harris, Jr, confirmed he had a shoulder nerve issue as postulated. Both Broncos safeties started as indicated two weeks ago. Corey Brown did have a calf issue before he was entered into the concussion protocol. The previous
160-10 (94.1%)
record  now ends the football year at 165-10 (94.3%). This is similar to the 2014 season total of
137-11 (92.6%)
. The low 90s percentage is about equivalent to picking 15 out of 16 games correct each week. Video analysis will never be completely accurate or replace a hands-on examination, but I believe it gives a reasonable first impression.