May 25, 2015 -
Dr. David Chao
Monday Morning MD: Is there more to Derek Carr missing OTAs?
Is there more to Derek Carr missing OTAs?
A starting quarterback missing workouts is always news, even in the offseason. ESPN's Chris Mortensen initially reported the Raiders first-string signal caller's
ring finger injury
 and then indicated it was
numbness
in the fourth digit on the throwing hand that has kept Derek Carr out of organized team activities. Despite Carr's agent squashing the finger injury rumor as "
very minor
", my experience tells me there might be more to this than what is being let on. I am not saying anyone is being untruthful. I am positive the agent is doing his job in supporting his client; however, the glass can always be viewed as "half-full" or "half-empty". How minor is any injury that keeps a young quarterback from learning a new system and acclimating to new teammates and coaches? At this point, he has missed two weeks of practice. When talking about the likelihood of Carr being able to throw before OTAs end, his agent uses the word "
probably
", not "definitely". He also claims even if Carr is not ready by end of OTAs on June 4, he expects Carr to be 100% by minicamp, which begins June 9. Nerve issues typically don't act this way. Numbness can be fleeting, but if it does last for weeks, as this one seems to have, feeling doesn't come back in a matter of days. I am not saying Carr won't participate in minicamp but going from non-participation one week and being 100% the following week on a nerve issue would be very unusual. My bigger concern is why is Carr being held out completely? I understand holding him out from throwing, but what about run game installation and learning calls? If it is a minor numbness issue that temporarily affects passing, why not participate in limited fashion to learn a new system? There must be a reason Carr is being held out as Raiders management, coaches and medical staff are not dumb. I am not being a Raider-hater here. To the contrary, last offseason, I
defended their failing Rodger Saffold
on physical examination after agreeing to a free agent deal when others were critical of the situation. Carr is known as a good leader, conscientious player and hard worker. He has to be following medical precaution to have him sidelined. I doubt the Raiders are being overly cautious in holding Carr out. I have the utmost respect for head coach Jack Del Rio. I first met him as the starting middle linebacker in Minnesota when I was a young physician for the Vikings and our paths have crossed several times since. He knows the value of young QB learning a new system. Del Rio does not dismiss the injury, only saying "
time missed in May is better than time missed in September
". However, it is best never to miss any time, especially when your name is not Peyton Manning or Tom Brady. The agent has added that Carr
doesn't need hand/finger surgery
. I would agree with that assessment, although I have not examined Carr or seen his medical records. Based on publically available information, if surgery became necessary, my guess is it would be on his elbow in the form of an ulnar nerve transposition (approximately three months recovery) and not on his hand or finger. According to NFL quarterbacks I have worked with, the thumb, index and pinkie are most important for grip/touch and throwing is possible with a numb ring finger. An ulnar nerve subluxation (nerve stretched and slides out of groove) might explain why he is being held out of all signal-calling duties. Repetitive elbow flexion and extension tends to aggravate this condition, which typically causes parts of the 4
th
and 5
th
finger to go numb. Agents are paid to defend their clients. It could be true that missing OTAs is purely precautionary. I hope he is right and this injury turns out to be a non-issue, but there is a chance it becomes a bigger deal.
MMMD 1: New PAT rule may lead to more injuries
On the traditional touchdown conversion from the 2-yard line, few teams try for a block due to low yield and risk of a giving up two points on a fake. With the new PAT line of scrimmage at the 15-yard line, kicks are more vulnerable to a block and there is little risk of a fake. Strategically, defenders will become more aggressive at the point of attack. In my NFL experience, a field goal has
significant risk
 for head, neck and knee injury as players sell out to disrupt the line of scrimmage to attempt to block a kick. The new PAT is now essentially a 4
th
-and-goal from the 15, leading to aggressive block attempts. This may lead to more injuries. I hope that is not the case. These unintended consequences may be why the new rule is a one-year trial and not permanent yet.
MMMD 2: New rule change may lead to platooning quarterbacks
Barring injury, the starting quarterback traditionally takes all of the snaps. Most other positions have undergone specialization. For example, the every down running back is obsolete and is bolstered with 3
rd
down, short yardage and change of pace backs. The QB position also might change with the new PAT rule. If teams are enticed to go for two on every conversion, the injury risk for a star QB may become too high. Run/pass threat is likely the most effective way to gain two yards but also exposes the quarterback to injury risk. Specialist QBs may be introduced to gain the critical two yards, potentially from wildcat type formations. After all, risk injury to a star pocket quarterback by making him a run/pass threat or let another player handle that? With this new rule, we might even see the second coming of Tebowmania.
MMMD 3: Is the league serious about its new chief health and medical advisor position?
In state of the NFL address at Super Bowl XLIX, Roger Goodell announced the creation of a chief health and medical advisor role. Cardiologist Dr. Betsy Nabel, Harvard medical professor and president of Brigham and Women's Hospital, was named to the new position. She is charged with all safety issues including concussions, sideline injury protocol and health of players in retirement. I applaud the NFL's creation of this much-needed role during what is clearly defined as the health and safety era. Certainly Dr. Nabel's credentials are impeccable. She is an outsider to the football and perhaps this is exactly what is needed to give good perspective. She presented herself well in her first public
interview with MMQB
. My only question is how is this role a one-day-a-month job? Ted Wells spent considerably longer than a dozen days to investigate and produce a 243-page report on deflated footballs. If Dr. Nagel produces a 20-page report per each day of her work, it would take a year to produce what Wells did on the singular issue of pressure in game balls. How can important health and safety issues be solved by devoting only what amounts to two hours a week?
MMMD 4: J.J. Watt photo
The star Texans defensive lineman
tweeted this picture
 on throwback Thursday.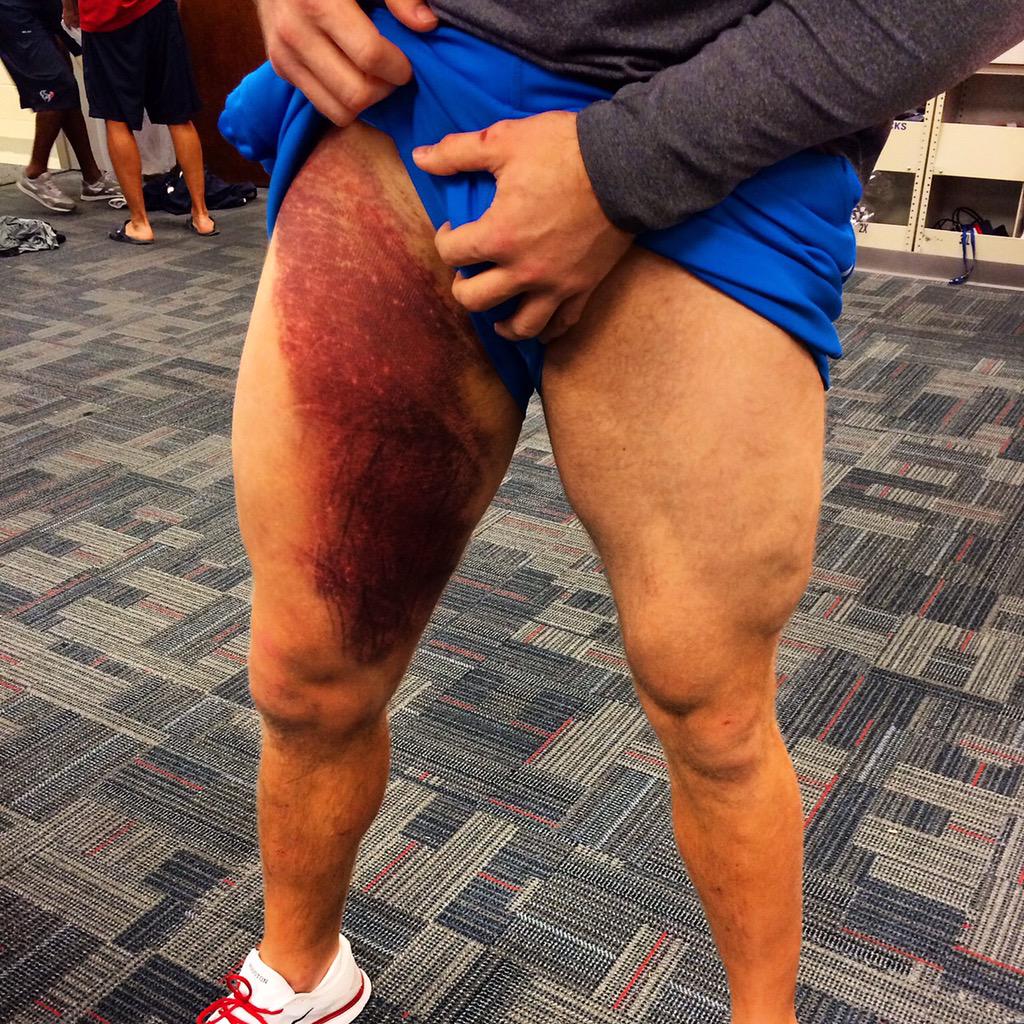 The injury was suffered in the first half of the Bills game early last season, yet he still had a monster game and returned an interception for a touchdown. Very little attention was paid to the injury at the time as Watt was listed as probable on the injury reports. It just goes to show what NFL athletes
routinely play through
. 80% healthy is considered a good week in the Not For Long league.
MMMD 5: Another offseason injury: Giants lose starting left tackle
Will Beatty
injured his pectoral
while lifting weights and needed surgery. Typically this injury occurs during max bench press. The fact that repair was needed indicates a complete tendon tear. A recovery of 5-6 months was reported and he will undoubtedly start the season on the physically unable to perform (PUP) list. There is no guarantee of return this season but he could play in late November or December. As I indicated previous,
half of teams
will lose a significant contributor to offseason injury. The Giants join the Jaguars (Dante Fowler, ACL), Broncos (Jeff Heuerman, ACL) and Vikings (Brian Robison, pec). Unfortunately other clubs will inevitably suffer the same fate before training camp arrives.
MMMD 6: Seahawk diagnosed with cancer
2013 fifth-round draft pick Jesse Williams has
papillary Type 2 cancer
. The Seattle defensive tackle was slated for kidney surgery. Knee injuries each of the last two years has kept him from suiting up for a regular-season game. I am not an oncologist or nephrologist, but he likely will have all or part of one of his kidneys removed. This type of tumor detected early can be removed and cured. Assuming he has good remaining renal function, Williams can return to football. Right now, everyone's first priority is for a return to a healthy and happy life.
MMMD 7: Virtual reality trainer: game changer?
It is not just a video game, it could
help train quarterbacks
and other football players. Decision-making and situation recognition is key in the NFL. Now a virtual reality trainer may become a standard tool. At the college level, Stanford's David Shaw and Arkansas' Bret Bielema believe in it. In the NFL, Pete Carroll and Sean Payton
see the potential
. After all, the military embraces the technology for training fighter pilots, why not for quarterbacks?
Follow David on Twitter:
@
profootballdoc
Dr. David Chao is a former NFL head team physician with 17 years of sideline, locker and training room experience. He currently has a successful orthopedic/sports medicine practice in San Diego.