March 07, 2016 -
Dr. David Chao
Monday Morning MD: Peyton Manning's greatest feat
MMMD 3.7.16 Peyton Manning's greatest feat In a career of great accomplishments, it is not the two Super Bowl victories, five league MVPs, 200 victories or the single season and career record for passing touchdowns that stand out to me. In a first ballot Hall of Fame career, Peyton Manning beating Mother Nature in his recovery from four neck surgeries is his greatest feat. Having success playing with a grandma-like triceps muscle is what is most unbelievable to me.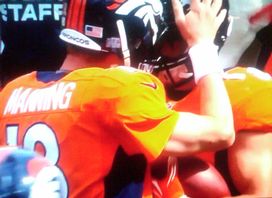 A How does anyone play quarterback in the NFL with an arm that looks like this? With nerve issues leading to multiple neck surgeries, his arm was significantly atrophied as he joined the Broncos. His triceps waggle resembled that of an octogenarian. There were also reports of his fingertips being numb. If a sure-fire top college quarterback prospect showed up at Combine with similar neck and arm findings, he would not be drafted at all based on his medical exam. Manning not only had a successful post-Colts career, he passed for an NFL record 55 touchdowns and 5,477 yards in 2013. His triceps strength seemed to improve but there was no question that his entire Denver tenure was played at less than 100%. Manning proved a quarterback's most important attribute is intelligence, not arm strength. During his time with the Broncos, his throwing was so limited that any lower extremity injury unmasked his arm strength issues. We all saw that with the 2015 plantar fasciitis; however, also recall
last season's poor performance
during a home divisional round loss to the Colts when he had a quad tear and resulting in the firing of John Fox. Having examined the neck and the arm, the Colts knew the bleak medical situation with the nerve issue. Owner Jim Irsay
took the percentage play
by bidding farewell to Manning and drafting Andrew Luck in 2013. In the end, Manning was able to beat the injury and Father Time to play four more years and gain that second ring. Atrophy and strength loss from nerve compression typically never returns. Through Manning's hard work, the triceps atrophy seemed to improve some.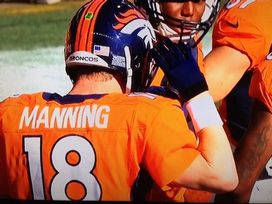 While it may be true that Manning's wife was shipped HGH, it is a medical fact that
human growth hormone does not help with nerve issues
, thus it would have made little medical sense to use it. To me, Manning's greatest accomplishment was to play well returning from the neck and arm issues. A close second is how he was the consummate professional. Before I had the fortune to meet Peyton, I was not particularly a fan. After all, as the Chargers head team physician, the Colts were our rivals in the mid-2000s. After meeting Manning and serving as his team doctor at the Pro Bowl, I was proven wrong. There was absolutely nothing not to like about Manning on or off the field. I came to have the utmost respect for him. Manning took his Pro Bowl selections as an honor and duty. He felt obliged to accept every invitation and never bowed out due to injury. At our first AFC team meeting, Manning took charge of the room and showed off his sense of humor and leadership. On the sidelines, he was the leader of the pranks. Loosening tops off water bottles and handing them to first time Pro Bowlers saying to stay hydrated due to the Hawaii sun. My now wife became a life long fan when three days after briefly meeting Peyton, he made a point to say hello remembering her name as they crossed paths on the way to the hotel pool. I have previously chronicled how while Manning was
making time for a Make-A-Wish visit
, he was still concerned about the athletic trainers and doctors being able to enjoy our time in Hawaii. Manning is famous for hand writing letters to players on their retirement. He is known for
touching lives away from the camera or media
. I witnessed Manning (and GM John Elway) quietly attending the "celebration of life" for Junior Seau while turning down media photo and interview requests saying they were just here for the family. As Manning makes his retirement announcement, this is his time. Yet, he took the effort to personally
text former and current teammates and coaches
to thank them and let them personally know about his impending retirement. Whatever happened in the Tennessee training room two decades ago was regrettable. Mooning (or more than that) was an unacceptable act even for a college student. Judging Manning on his body of work has to have him in the plus column even with that blemish. I was lucky our paths crossed. I only wish they had crossed sooner. The Chargers unfortunately had the second pick as Manning and Ryan Leaf were coming out of college and the Colts made the right decision. To me Manning's greatest feat is giving us four more successful years with a terribly weakened arm. The NFL is better for having him for 18 years. The league would be even better if all players acted more like Peyton. There is no better ambassador for the game.