November 16, 2015 -
Dr. David Chao
Monday Morning MD: QB injuries are key
The NFL is a quarterback league. The key to a team's success is often tied to the availability of its signal caller. A quality, healthy field general does not guarantee success (see the two-win Chargers with Philip Rivers or two-win Lions with Matthew Stafford) but an injured quarterback often spells doom. Just past the halfway point, almost half of NFL teams have had injury to their starting QB. Often it is not whether the point man gets injured but how quickly he can return. Ben Roethlisberger appeared to have a potentially season-ending knee injury in Week 3, but only missed four games, which the Steelers were able to split. On the other hand the Cowboys have had to be without their star for a full eight games due to a clavicle fracture and IR/dfr designation. Dallas lost all seven games during this stretch, with the bye week saving them from losing eight. Previous quarterbacks (Aaron Rodgers 2013, Nick Foles 2014) with similar non-throwing clavicle fractures have been
ready before eight weeks
. If the Cowboys could have
won just one of these games
,  they might still be in the mix. I am not second-guessing the team's decision to take the safe route and put Romo on short-term IR but I know they missed him in Sunday's 10-6 loss to the Buccaneers. Team owner Jerry Jones had said
Romo would be ready to play
in Week 10 against Tampa Bay but using the short term designation prevented him playing. Sometimes it comes down to if your quarterback can play effectively through the injury. In another Big Ben example, he threw 3 touchdowns just one week after a Lisfranc/midfoot sprain. Meanwhile, Peyton Manning was shut out, throwing four picks, and was benched with a 0.1 QBR (not a typo). A QB needs his legs under him to throw. With his strong arm, Roethlisberger was able to overcome his foot issue. With Peyton residual nerve/neck issues leading to a weak triceps, he was not able to overcome a foot (plantar fasciitis) and rib injury. This is much like
last year's playoffs
when Aaron Rodgers played well with a calf strain/tear but Manning made a quick exit playing poorly with a quad strain/tear. Other examples abound. Teddy Bridgewater recovered from concussion last week to lead the Vikings to their seventh win. Ryan Fitzpatrick is playing through thumb injury and timed out his ligament repair surgery for after last Thursday's game so he can be back for the Jets next week. The Saints are a mediocre 4-6 while dealing with Drew Brees' shoulder injury. The Titans lost two winnable games when Marcus Mariota was out with a MCL. Ditto the Bills with their two losses without Tyrod Taylor during his MCL recovery. The Bears lost two early season games with Jay Cutler out. The Browns struggles may not only be due to Josh McCown's health but he has been in and out. The fortunes of two preseason Super Bowl contenders, both now with only four wins, will be determined by the availability of their QBs. Can Sam Bradford return quickly to save the Eagles season? The Colts have struggled through Andrew Luck's shoulder and rib injuries. Now Indianapolis needs to wait for his return from a kidney laceration and abdominal injury. We all know where the Cardinals were last year without Carson Palmer. Would Arizona be vying for a first-round playoff bye if Palmer's ACL were slow to recover this year? Quarterback injuries are key. That statement has never been more telling. MMMD 1: Sam Bradford shoulder and concussion The Eagles QB was dumped on his non-throwing shoulder and exited the game. Although many initially worried about clavicle fracture, by video, it was his AC joint. A grade 2 separation was later
confirmed
. An acromioclavicular joint sprain is equivalent to a shoulder separation and does not involve the true glenohumeral shoulder joint. The best and expected case for the Eagles signal caller has him returning next week. In my NFL experience, quarterbacks can play through this injury with treatment. The worst case might be a post-Thanksgiving return. Playing is a pain and function issue with possible re-aggravation, but minimal re-injury risk. However, let's not forget Bradford also has a concussion. MMMD 2: Steeler QB may be made of steel Ben Roethlisberger returned to play effectively just one week after being carted off in what looked to be a season-ending injury. Once Lisfranc fracture/dislocation or complete ligament tear were ruled out, it was still thought he would miss some time. Big Ben was supposed to be the "emergency" back up. By video, Landry Jones exited with a low ankle sprain but could have returned to the game. However, by the time Jones returned to the field with a fresh tape job, Roethlisberger was well on his way to a 18 for 23, 2 touchdown 1
st
half and was not coming out of the game. As expected, Big Ben threw well but had limited mobility. If he were a RB or WR, no way he plays. However, with it being his front foot and with a strong arm, the result was an easy victory and a 92.6 QBR. [caption id="" align="alignright" width="206"]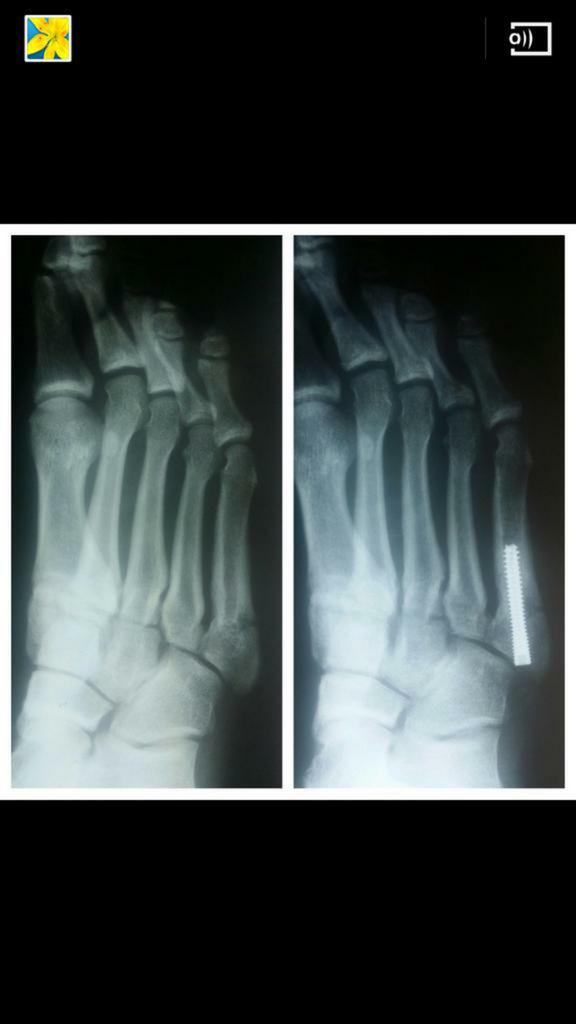 Sample Jones fracture before and after surgery. Anonymous patient of mine (not Dez Bryant or Julian Edelman)[/caption] MMMD 3: Another Jones fracture My
worst fears
 about Julian Edelman's foot injury were
realized
. Jones fracture is a break in the proximal portion of the 5
th
metatarsal and typically needs surgery. If things go smoothly, Edelman could be back in 6-8 weeks in time for the playoffs. This is similar to the Dez Bryant injury who returned to play in seven weeks, although he did not seem 100%. To give Patriots fans hope, I did have a
NFL defensive end
 return in three weeks and make the Pro Bowl, but he was the exception, not the rule. Carlos Hyde has been reported to have a stress fracture, which is likely to his 5
th
metatarsal as well. He has been resting in hopes of returning but expect to hear a surgery announcement there sooner or later. MMMD 4: Scary moment in Sunday night game An ambulance on the field is always a scary sight. Cardinals Mike Iupati was placed on a spine board and taken to the hospital. Thankfully, his CT scan and MRI were negative and he flew home with the team. [caption id="" align="alignleft" width="366"]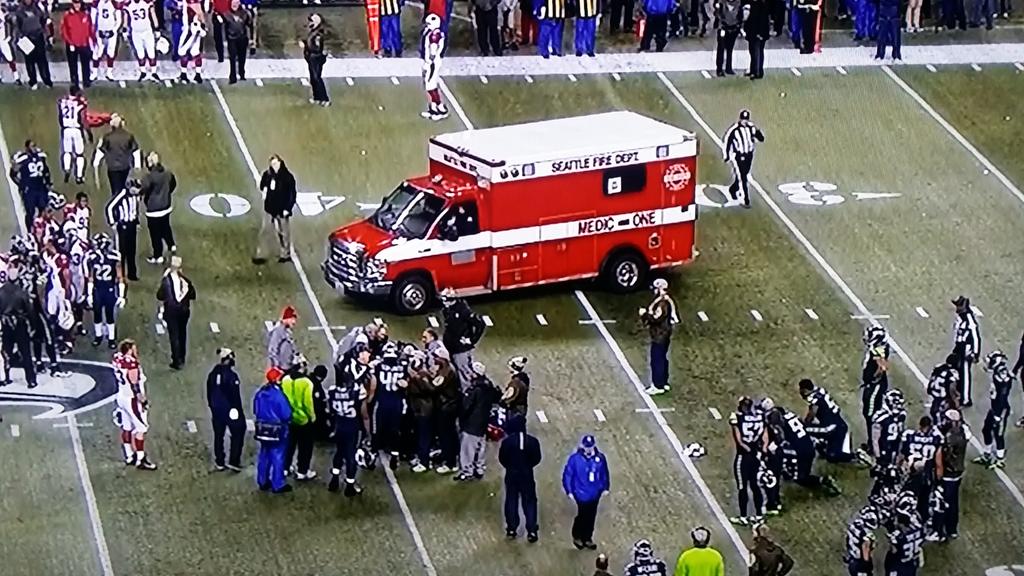 The ambulance on the field after Iupati's injury[/caption] All 32 NFL teams drill and practice these emergency procedures. Both home and visiting team docs jump in to work together. It is routine for athletic trainers to have a power screwdriver to remove the facemask while the helmet and shoulder pads are left on. The home team docs coordinate the hospital admission as the visiting team doctors won't have any local hospital privileges. MMMD 5: Seahawks visit McDonald's Ricardo Lockette was taken to a Dallas area hospital last week for urgent neck surgery. Teammates Marshawn Lynch and Russel Okung choose to stay behind to be with him and his family. Lynch
visited a McDonald's
where a 17 year–old worker complimented his shoes. The Seahawks RB said "My job is to continue to see you grow" and he gave the youngster $500 to help buy a pair of the navy blue Buscemis. Upon Lockette's discharge from neck surgery, he saw homeless people gathered nearby. He asked his driver to go through a McDonald's and Lockette returned in a neck brace to pass out 100 hamburgers. The Seahawks may not be drinking custom protein shakes for every meal like the Eagles, but we all have to feel good about their recent choice to visit McDonald's. MMMD 6: Medical Potpourri The Rams and NFL acted quickly and installed blue rubber padding over the concrete edge of the stadium floor prior to this week's game. Reggie Bush suffered a season ending injury slipping while wearing cleats and has retained an attorney. I just hope a new problem is not created where a player's foot may stick to the rubber and cause other injury. Although the Bears did tell their opponents, the NFL will investigate Chicago not publically reporting that Matt Forte did not travel to St Louis,. I don't see a big penalty coming but a fine might be on the way. Unlike the
Colts recent under reporting
, this one seems punishable. Unfortunately, Titans WR Justin Hunter broke his ankle and will need season-ending surgery. Marshawn Lynch played well but was reported to have groin and lower abdominal injuries. That sounds suspiciously like a sports hernia. Keep an eye on this. Surgery would mean a six-week recovery. Ryan Fitzpatrick did have thumb surgery on Friday but I fully expect him to not miss his next start. Not all injuries are caused by the opposition. Mark Sanchez threw a "death pass" to Jordan Matthews. Fortunately, the wideout only had the "wind" knocked out of him. It could have been much worse. Patriots special teams ace Matthew Slater was probable to return with a shoulder injury. By video, he likely had a stinger that should resolve. Saints DB Keenan Lewis hopefully sparred season-ending injury but so far has a MCL sprain. Jordy Nelson was seen walking around normally at Packers practice. Some seemed amazed that he had no limp. His ACL tear and surgery were this preseason. One would expect him to look normal in everyday life already if he is expected to be ready for 2016. This is the one-year anniversary of Todd Gurley's ACL tear and he continues to excel. ACL recovery and rehab continues to improve. Will Beatty was out with an offseason pec tear and surgery. On the verge of returning, he is now out for good with a rotator cuff tear as the Giants continue to have bad injury luck. Daniel Fells made an appearance at the Giants game but was still on crutches. MRSA infections are nasty and his ankle/foot seem to be a long way from being healthy. MMMD 7:
ProFootballDoc
 scorecard Last Sunday, video injury analysis was
put to the test
. Film contradicted major media reports. By video, Dion Lewis was an ACL tear but reports said MCL. Visual evidence indicated both Jonathan Hankins and Jordan Hicks seasons' were over but media reported only pec muscle tear. Unfortunately for these three players, the eye was correct and initial media reports were wrong. Other follow-ups include: Mike Adams and Anthony Hitchens returned to play as expected with low ankle sprains. LeSean McCoy played well with his mild AC sprain as anticipated. Nick Folk was placed in IR for a mild quad, which is debilitating for a kicker. Henry Anderson has been diagnosed with a MCL and ACL. As has been expected for a while, Dennis Pitta is now officially out for 2015 and likely his career. This week's early confirmations include Sam Bradford's AC joint sprain, Justin Hunter's ankle fracture, Mike Iupati's neck clearance and Nigel Bradham's quick return to the game. The big correct (and somewhat lucky, since video not impressive) prognostication was
postulating Julian Edelman's Jones fracture
. I would have rather been wrong on this one, but he could return for playoffs. Coming into the week, the tally was
80-4
. Adding the above players leaves us at 94-4 through the 2015 season. Follow David on Twitter: @
profootballdoc
Dr. David Chao is a former NFL head team physician with 17 years of sideline, locker and training room experience. He currently has a successful orthopedic/sports medicine practice in San Diego.