September 21, 2015 -
Dr. David Chao
Monday Morning MD: Quarterbacks and clavicles
MMMD 9.21.15
Quarterbacks and clavicles
The big injury news of Sunday involved Tony Romo and his broken collarbone. This is not the first time a star QB has fractured his non-throwing left clavicle. Aaron Rodgers-watch 2013 will now become Romo-watch 2015. In fact, Romo broke the same collarbone in Week 6 of 2010. He did not have surgery and missed the final 10 games but the team started 1-5. In 2013, the Packers star QB missed seven games with his non-surgical clavicle fracture. In 2014, then Eagles QB Nick Foles missed the final eight games of the season. The hit Romo took was not bad, nor was the fall to the ground. What caused the injury is
LB falling on the Cowboys QB
 as he hit ground and the same thing happened in 2010.
Because the previous injury was five years ago, the clavicle actually healed stronger. The previous fracture is unrelated and does not create a more complicated healing process. Immediately after the injury I indicated the
best-case scenario was 4-6 week return and the worst-case was 10-12 weeks
. I have had a NFL player ready to return after surgical plating in four weeks, but that was a "clean" break. Even comminuted or fragmented clavicle fractures heal reliably by 10-12 weeks. There is no poor blood flow issue here as is the case with Dez Bryant's Jones fracture. In most cases, an X-ray gives the doctor enough information. In this case a CT scan will be performed to give a three-dimensional assessment of the fracture. The fact that computed tomography is needed most likely means Romo does not have a "clean" break and the doctors want to assess fragments (comminution). This makes the best case 4-6 week target unlikely. At this point I believe an eight-week return would be a good goal and the
team estimates
seem to line up with this figure. I don't envision any medical scenario that would be season-ending. Obviously injury to the left side in a right handed QB helps the recovery timeline, but he still needs to be able to take a hit and use the arm hand off. If news of surgery is announced today, that is not necessarily bad news. Stable fixation with plate/screws could actually speed healing and return to play. The Cowboys have a top medical staff and will make the right decision for Romo and the team. Remember, this is the same crew that fixed DeMarco Murray's hand fracture last year and he played without missing a game. Where the interesting decision will come is with any roster move. The Cowboys have their lone IR/dfr slot still available. Will they use it or Romo or Bryant? With Randy Gregory out still for several weeks with a high ankle sprain, Dallas is
essentially a 50-man roster
.
MMMD 1: Cowboys bad news day
In the morning, reports surfaced that Dez Bryant had a bone graft with his Jones fracture fixation. This likely extends his recovery timeline and
4-6 weeks is no longer realistic
. In fact, Romo may even beat Bryant back. A third offensive star was also injured. Jason Witten is reported to have
two sprained ankles and a sprained knee
; however, he is not expected to miss any time
MMMD 2: Eddie Lacy low ankle sprain
The Packers star running back injured his ankle and did not finish the Sunday Night game. Fortunately
by video
, Lacy has a more traditional low ankle sprain, as opposed the feared high ankle variety.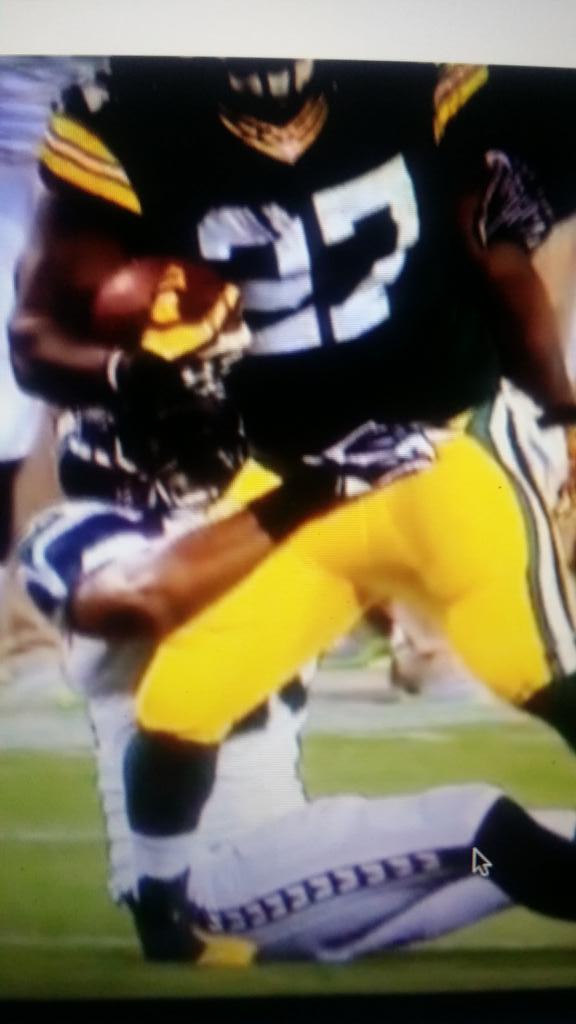 With X-rays confirmed to be negative, the key here is to await swelling overnight to reassess. My anticipation is for a relatively short 1-3 week timeline give the low ankle sprain.
MMMD 3: Jay Cutler reportedly injures hamstring
The Bears QB was hurt while trying to prevent a pick-six. Head coach John Fox denied any shoulder or other injury. Some immediately theorized he was
less than truthful
. League fines are possible if the team is not telling the truth but it is not illegal if a player has two injuries and what the team deems is the worst is the only one disclosed. Besides the media distrust of Fox, Cutler
not returning to the sideline
and leaving the stadium before the game ended added to the intrigue. Was the hamstring injury that bad that he couldn't return to the sideline to support his team? After all, Romo returned to the bench area with a broken collarbone. Conspiracy theorists will have a field day with this one. I have no idea how bad Cutler's hamstring is or if his shoulder or head are injured as well. Keep in mind a strong arm QB that doesn't run, does not need to be 100% with his hamstring to play.
MMMD 4: Good news potpourri
Bills DB
Aaron Williams
was on placed on a spine board and loaded into an ambulance on the field. He suffered a neck injury on a diving tackle. Fortunately, the mechanism of injury was
not one that would cause paralysis
. Better safe than sorry and the good news is he was released from hospital shortly after the game. He may not be cleared for football yet, but he is in the clear as far as serious injury to his neck and that is most important.
Carlos Hyde
escapes serious injury. The video
looked nasty
 but the 49ers RB was able to continue until he was held out as a precaution for later head injury not deemed to be a concussion. Broncos LB
Brandon Marshall
is playing with a broken screw in his foot but still forced the game winning fumble Thursday. It is not unheard of to have hardware failure after a Lisfranc surgery. The screw should not be a significant issue.
Matthew Stafford
was
battered
and had rib/chest X-rays but finished the game. Results for the Lions QB were not announced, but ribs don't need to be fractured to be very sore.
Kiko Alonso
and the Eagles are hoping for good news from the MRI. I did not see the video of specific injury but the worry is for his recently reconstructed ACL He is coming off left knee surgery from last year (and has previous right knee ACL). Lets hope he doesn't suffer the fate of his QB who re-tore his ACL last year. Packers RT
Bryan Bulaga
was reported to be out six weeks for MCL and meniscus repair surgery. The hope is that his meniscus was trimmed. If it were stitched, the absence could be much longer.
MMMD 5: JPP more bad news
With news of Jason Pierre-Paul's "
whole right hand badly damaged
". The question is no longer "when" he returns to play but "if" he can return. The thumb and middle finger are partially amputated and his grip will be affected.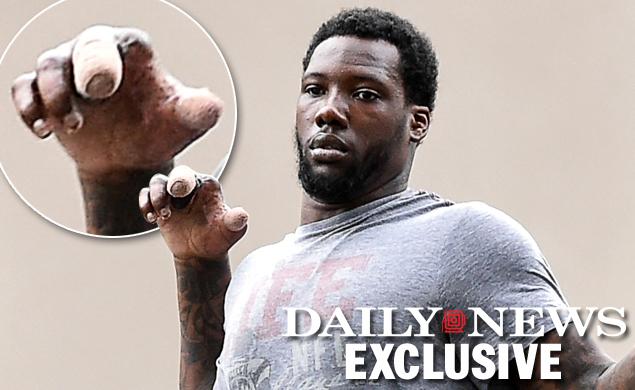 Even Lawrence Taylor says it will be
hard to play
without full thumb function. Some now believe a
grievance
may be filed and an independent doctor be called in to judge whether JPP passes a physical. This would be unprecedented. I am not sure how an independent physician would be able to adjudicate this. I am not a labor attorney but it is normal for doctors to have differing opinions. Often one team won't draft a player due to medical status and another one still will. Free agent Rodger Saffold
failed a Raiders physical
but resigned with the Rams. It is normal to have differing opinions and as long as the Giants physician's opinion is reasonable, which it seems to be, I don't see how and independent doctor could overrule it.
MMMD 6: Are concussions being held out longer?
I am noticing a new concussion trend (or perhaps it is just a temporary anomaly). The majority of concussions last year were cleared in one week. This week both Josh McCown and Luke Kuechly were not cleared from last week's concussions. Previously this season,
controversy followed
when Robert Griffin III was held out longer and Patriots C Bryan Stork was placed on IR/dfr at least in part due to concussion. I am not being critical, if anything I think it is better to be safe. With
continued reports
of chronic traumatic encephalopathy and a Hollywood concussion movie, are the independent doctors taking an even more cautious approach?
MMMD 7: ProFootballDoc scorecard
The overall record thru last week was an unrealistic
26-1
. The unsustainable injury prediction rate fell back to earth with the now confirmed misses on Antonio Cromartie and Randy Gregory. I am happy to be wrong if a player can avoid serious injury. This week's correct calls included Reggie Bush's
calf injury
, Donald Stephenson's
mild high ankle sprain
who returned, Jeremy Hill's
mild knee sprain
who returned, Aaron Wilson thankfully
not seriously injured
despite being taken off in ambulance, Romo's
clavicle fracture
 and Lacy's
ankle sprain
. In addition, I will count JPP more
extensive hand injury
. This takes the overall 2015 record to symmetrical 33-3 for now. Thanks for following along. Follow David on Twitter: @
profootballdoc
Dr. David Chao is a former NFL head team physician with 17 years of sideline, locker and training room experience. He currently has a successful orthopedic/sports medicine practice in San Diego.