August 03, 2015 -
Dr. David Chao
Monday Morning MD: The team knows before the MRI
We all hear about the pending magnetic resonance imaging. Sometimes the test is needed and helpful. Often, especially on the big injuries, the team doctor already knows the diagnosis and has passed it on to the club. Done correctly, physical exam is extremely accurate for major ligament and tendon tears like ACL, PCL, MCL, Achilles, shoulder labrum and distal biceps. MRI are not needed but often players and their agents still rely on them. Other times, it is away for the medical staff to be absolutely sure of the diagnosis or provide the team with a little extra time to ponder roster moves. Let's take two examples from Sunday's injuries: Ravens safety Matt Elam and Bengals defensive end Michael Johnson. Both were announced to be waiting for MRI before any official word. Elam injured his biceps near the elbow and the team was worried about a distal biceps tendon rupture which would mean surgery. Reports surfaced of either a complete or partial tear and the team was
waiting for an MRI
. Complete distal biceps tears are an easy clinical diagnosis. In fact, I indicated such a rupture for Prince Amukamara based on broadcast video during a Giants game last year. Expect the formality to be announced soon of a full distal biceps tear and surgery. Recovery is minimum three to four months. Although Elam will likely go on injured reserve, there is a chance the team could elect to designate him for return. Johnson went down with what looked like a severe knee injury, casting a pall on Bengals practice. Two team doctors were present to exam him on the field prior to being carted off. Based on that evaluation, the team was confident that it was not a season ending ACL tear. Bengals head coach Marvin Lewis acknowledged his confidence in the medical evaluation being the better than MRI, stating the doctors have "always been 100 percent with me from wherever it stands on those battlefield exams.
They're pretty accurate
and I feel pretty good about it." Expect the MRI to make it official that the injury is to his
MCL and not his ACL
which will allow an early season return. When it comes to major injuries, as a former head team physician, we typically knew on the field what the severity was. An MRI is certainly helpful in diagnosing nuances of injuries. For example, my hands can immediately tell me the ACL is torn, but an MRI is helpful to determine associate meniscus tear or bone bruise. I used to say to players "I hope I am wrong, so let's wait for the MRI". All the while, I was essentially sure of the bad news. This served to let the player come to grips with the diagnosis before it became official. Over a decade ago, we were ahead of the curve in getting all post-game MRIs done and information to team executives by my scheduled 11am Monday morning meeting. Nowadays, some teams are even getting MRIs immediately after the game, although the announcement of results comes later. Essentially the MRI is a confirmatory second opinion. When it comes to major injuries, the team already knows the outcome.
MMMD 1: Failed physical and failed conditioning tests
Last week, we covered active and reserve
PUP and NFI
. What does it mean to fail a physical or conditioning test? Ladarius Webb and LeGarrette Blount failed initial conditioning tests and were placed on the NFI list. Not being in shape to pass a coach's test can be considered grounds for not passing a physical. Brodrick Bunkley failed his physical based on last year's quad injury and no conditioning test was needed. The Saints have clearly moved on but in some ways the team was protecting itself and in others it was protecting the player. You can't cut an injured player in the season he was injured, but you can cut last year's injury. By not passing Bunkley on the physical the team limits its loses. He doesn't get any 2015 money, even if there is residual injury. The move makes the player eligible for injury protection monies. Being released is never good but the team may have been looking out for themselves and the player here.
MMMD 2: Inevitable injury parade starts despite non-contact practices
Justin Jackson of the Cowboys and Stephen Hill of the Panthers both tore their ACL while Kyle Williams of the Broncos tore his Achilles. All three are season ending injuries and will require surgery. The new CBA limits practice and contact, yet there is
no drop in ACL or Achilles tears
. Both ACL and Achilles ruptures are predominately non-contact injuries that occur at full speed. In fact, I feel like Achilles is so common that it has
become the new ACL
.
MMMD 3: Last week was PUP watch
The significance of
Physically Unable to Perform designation
was explained last week. As expected, Jadeveon Clowney and Earl Thomas were placed on active/PUP. Both are expected to come off soon. Marques Colston and Carlos Hyde were on the PUP list but were removed quickly, preserving the team's ability to use reserve/PUP if needed for the regular season. The PUP news was good for Todd Gurley, Carson Palmer, Sam Bradford, Dont'a Hightower and Brandon Albert. Being left of the PUP list is no guarantee of being ready week one but it does mean the team has no worries about the possibility of missing six weeks.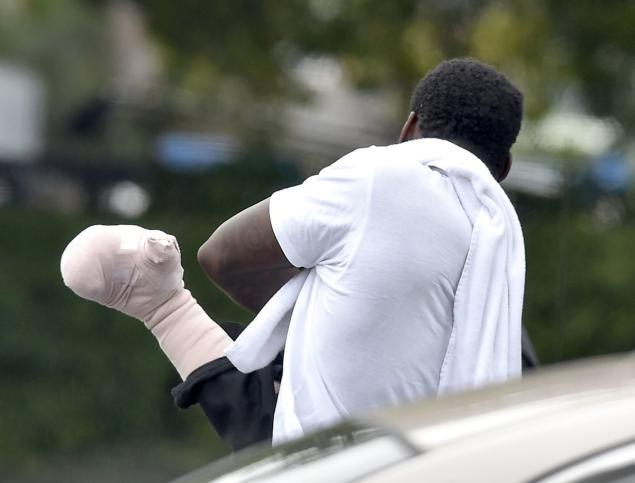 MMMD 4: JPP pictures are worrisome
It is always said that you "can't judge a book by its cover". One can't judge an injury based on the dressing either. However, the way Jason Pierre-Paul's hand is wrapped as he approaches one month out from injury is worrisome. All along I have feared there may be
more damage than what has been reported
with the index finger ray amputation and thumb fracture. The way his hand is bandaged indicates damage to other fingers too. The question now is to what extent. Some have speculated his thumb looks shorter, but that may not be the case based on the bulkiness of the entire dressing. Also the use of a sling in a significant hand injury doesn't necessarily mean shoulder or elbow issues. In any case, we can now assume there is additional damage. I hope he can still make it back quickly.
MMMD 5: Defensive line is harder return from back surgery
The Chiefs' Dontari Poe had surgery for a herniated disc. Any back surgery is hard to come back from put it may be even
tougher playing his position
. Playing any sport coming off back surgery is hard but when you have to leverage against two or more 300 pounders while twisting and using core strength, that makes the task much more difficult. As a 350-pound nose tackle, Poe's spine is not twice the size of the average 175-pound male, thus the backs of larger players endure more force. I would anticipate a three-month recovery, making him a PUP candidate. In the short term he should ultimately return to full football form; however, he may have long-term problems after football.
MMMD 6: Eric Berry cancer free and returns to practice
Kudos again to the Chiefs medical staff for
discovering a chest mass
after a routine post-game complaint of chest discomfort. The early diagnosis was key and eight months later, Berry is cured of his lymphoma (blood cell tumor) Beating cancer is great news but he was also cleared to return to football practice. He may have a ways to go before he returns to his Pro Bowl form, but the news couldn't be any better.
MMMD 7: ProFootballDoc scorecard
Previously the self-graded injury prediction/assessment record was at
9-0
. The hope is by providing weekly updates, by the end of the 2015 season, there will be meaningful vetted numbers. This week there was one injury caught on film. In between seeing patients during my regular day, several followers notified me with
frame–by-frame injury video
on Washington cornerback Bashaud Breeland. He was carted off with a non-contact knee injury and the worry was season-ending ACL. Based on this video alone,
my impression was MCL
, which
later proved correct
. This one was relatively easy as there was great video showing the injury and the 17 years of analyzing NFL injury video paid off. With the current record now at 10-0, I fully expect to be incorrect soon as there is no way to be perfect based on video without examination.
Follow David on Twitter:
@
profootballdoc
Dr. David Chao is a former NFL head team physician with 17 years of sideline, locker and training room experience. He currently has a successful orthopedic/sports medicine practice in San Diego.