February 01, 2016 -
Dr. David Chao
Monday Morning MD: Why have concussions increased 58%?
MMMD 2.1.16 Why have concussions increased 58%? The
NFL announced
concussions diagnosed during 2015 regular season games jumped to 185, up from 115 in 2014. Last year, the NFL announced the opposite, a
25% decrease
in overall concussions. Why the conflicting trends in head injury? Overall, there were 271 concussions during the 2015 season, up from 206 in 2014 This season, total concussions were up 26% over the average of the last three years.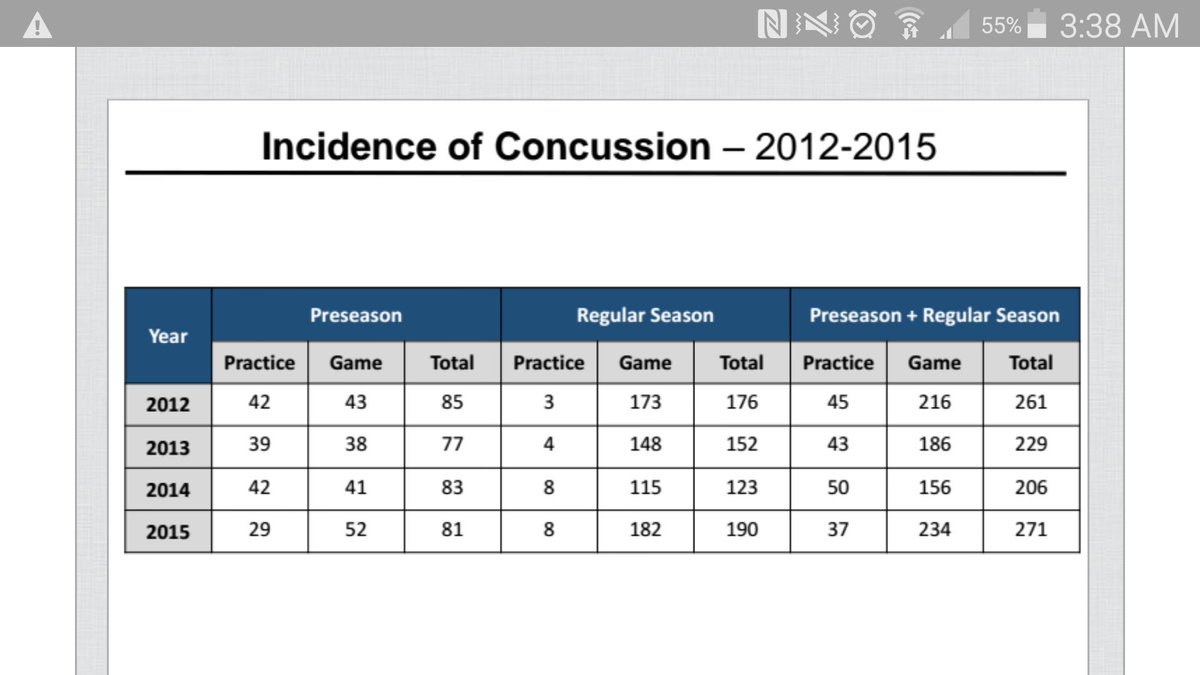 The NFL panel on the injury data results conference call cited more screening, better detection, improved record keeping and more self-reporting of concussions as the reason for the 2015 increase. Crediting rules changes as the reason for the 2014 drop in concussions, the NFL said players were "changing the way they're tackling" and "changing the way they play the game". The contrasting explanations for this year's increase versus last year's decrease seem too simplistic. Don't get me wrong, I don't think there is a continuing concussion conspiracy in the NFL. I would even applaud the NFL for being forthright with the bad news in pointing out the worst statistic of a 58% jump in concussions during games when they could have cited a much lower 32% overall increase in concussions. It is difficult to generalize injury data without a closer inspection of the information. I don't doubt there is increased screening, detection, record keeping and self-reporting. I don't doubt that some players have made a conscious effort to avoid helmet contact. It is also possible to just have "bad luck" year with more concussions. Although I think all of these reasons play a role, I feel there may be an additional factor. I agree there has been a culture change towards concussions but I witnessed it happening well before 2015. As early as 2012, then 49ers QB
Alex Smith self-reported
a concussion (and subsequently lost his starting job). The final NFL panel speaker referred to this culture change happening over the last three to five years, not just 2015. The Rams head team physician spoke of "co-lineman…notifying us when they think something may be awry", although that certainly did not happen with Case Keenum when
two Rams linemen tried to help their stumbling QB up
. In addition to the above-cited reasons for more concussions, I think the medical atmosphere has changed. There is more scrutiny, criticism, and lawsuits targeting the NFL and team physicians. I think it is only natural for medical personnel to react and be even more careful. In the end, taking an increasingly cautious approach may be a good thing, but it can skew the statistics. This increased caution results in the fact that twice as many players were placed into the concussion protocol. There were also twice as many "call downs" this season (2.8 per game vs 1.4 last year). The threshold to diagnose a concussion has also been lowered. When a player has been determined to have a concussion, they seem to be returned more slowly in 2015. Most concussions now miss the next game (
average time 10-12 days
) whereas last year it seem more returned the next game. Very few, if any, players who were concussed Sunday returned to play in a Thursday game this year, where that seemed to happen more regularly last year. Also just look at the increasing number of "cart-offs" for non-head injuries this year as a sign the medical atmosphere has become more cautious. In the past, most games did not see a cart on the field; however, this season "cart-offs" were a regular occurrence. The increase in concussions is alarming and needs further evaluation as to why it is happening. Recently, former Giants safety Tyler Sash was
diagnosed with CTE
. He only played two years (27 games) in the NFL, but played 16 total years of football. This is why in addition to protecting its own players, NFL physicians have a societal obligation to take the lead on football safety at all levels. A more cautious approach is a good way to start. MMMD 1: Thursday games do not lead to more injuries The injury data also touched on the rate of injury in short rest games. Many have felt that Thursday games pose additional risk. Although the sample size is limited, the NFL data indicates there is one less injury with Thursday games compared to those on Sunday or Monday. Across the last four years, there has not been an increase associated with mid-week games. This data does not address if the already injured athlete has enough time to recover properly.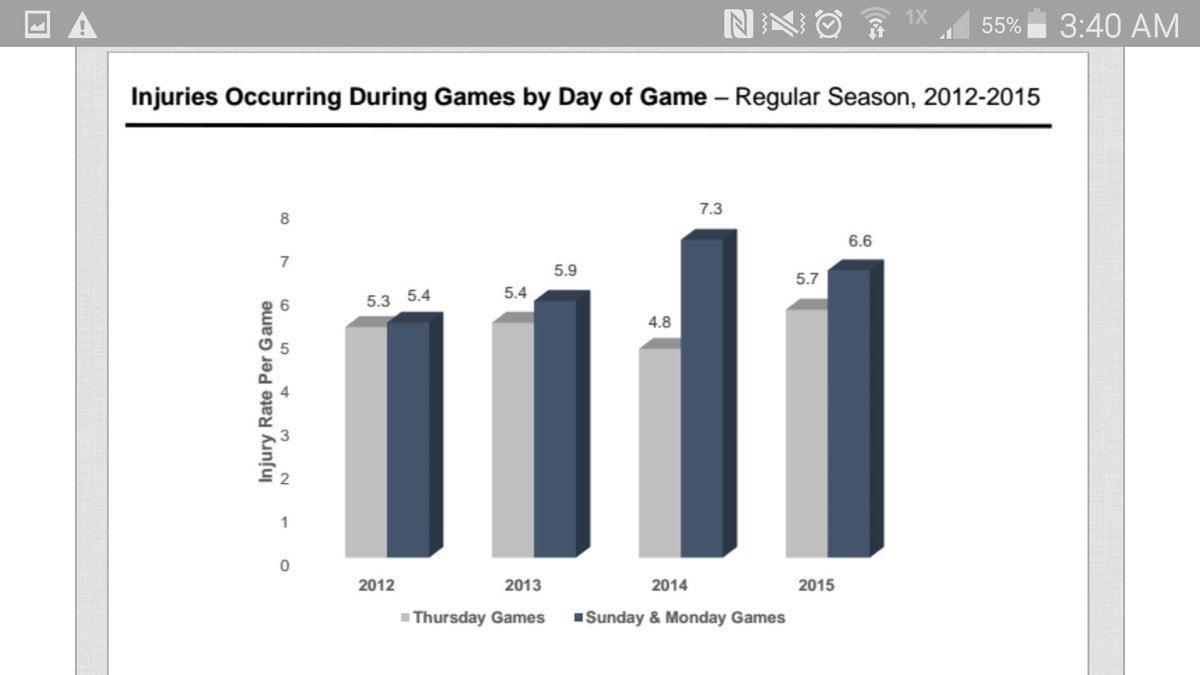 MMMD 2: ACLs same while MCLs higher The NFL also reported on some common knee injuries.
ACL tears were about the same
across the last four years. On the other hand, MCL injuries had a
25% jump
. This means that one third of teams have a medical collateral ligament sprain each week, which is
not surprising
based on my experience. MMMD 3: Player health survey misleading The Associated Press released a non-scientific
survey
of 100 players that showed only 47 thought their best interests were being protected. Don't mistake this for a player health survey as the
question
lumps NFL teams, coaches and doctors together. 39 players who thought the team, coaches OR doctors didn't have their best interests at heart answered negatively. The key is did they feel the team doctor didn't have their best interest or was it the team or coach? The CBA requires the NFL and NFLPA to jointly perform a scientific league-wide player medical satisfaction survey. This survey was professionally administered during the season and I eagerly await the results. MMMD 4: Both teams on track for a healthy Super Bowl 50 A lot of
injuries "heal"
in the two weeks before a Super Bowl and that is indeed the case again this year. The Panther's no longer even list Jared Allen (foot fracture) on the injury report. Ryan Kalil's has practiced and indicated his knee won't be an issue. Expect Jonathon Stewart and Mike Tolbert to be full go. Even Thomas Davis, who broke his forearm and had surgery, will be ready to play with a cast/splint. Davis will be able to tackle, wrap and grasp; however, his chances at an interception may be hindered. The Broncos and their pair of safeties should be healthy too. Darian Stewart has a mild MCL and should play alongside TJ Ward (ankle). Peyton Manning's plantar fasciitis is not gone but largely behind him as evidenced by his 12 yard run in the AFC Championship Game. His weak triceps is the same as it has been due to chronic nerve damage from neck issues. MMMD 5: Offseason surgeries the norm News came that Aaron Rodgers had surgery, but he is not alone. In my time as a NFL team physician, there were always
more surgeries after the season
than during the season. The Packers QB reportedly had a clean up knee scope and should easily be back for OTAs. On average, a team will have about 10 surgeries at the end of the season. Most procedures are clean up and preventative in nature. Offseason is where a team medical staff tries to take care of any ailing issues and perform any preventative procedures, like the one being discussed for
Tony Romo's clavicle
. Since there is no requirement to disclose offseason surgeries, often the public is kept in the dark or we find out late. This leads to unnecessary speculation and worry when a routine offseason surgery is later discovered. MMMD 6: NFL team physicians have "real jobs" and "real lives" Most incorrectly assume that a team doctor's primary job is for the team. Not only do team physicians have their own separate practices, typically far less than 10% of their livelihood is tied to the club. When the Patriots head team doctor resigned last week, some incorrectly assumed that he was forced out as a result of New England leading the league in injuries. By video, the Pats injuries were largely traumatic and unrelated to the medical staff. Along with the athletic training staff, many potential season ending injuries successfully returned to play, like Rob Gronkowski (knee) and Julian Edelman (foot). There is no question that there is prestige involved with any team physician job, but the reality is the doctor gets the team job because of his successes rather than becoming successful because of his NFL appointment. For example, Dr. Matt Provencher already had a prestigious position leading sports medicine at Massachusetts General Hospital prior to being named the Patriots head team physician two years ago. Now he is moving on to another prestigious job in Vail that will be a better fit for his family and four kids. The team doc job is essentially a full-time job with part-time pay that is done after hours and on weekends. Team docs have calculated their time to be over 2000 hours per year, which is equal to a 40hr/week job. It is incorrect to assume a team doc's resignation is code word for being fired. After all, the Combine evaluations are one of the most important tasks for a team physician and my understanding is that the Patriots are happy to have there soon to be former team doctor join them in Indianapolis before he moves on to his new life in Colorado. MMMD 7:
ProFootballDoc
 scorecard The Pro Bowl is not supposed to generate injuries so nothing new to grade this week. Tyler Eifert did leave the stadium with a walking boot, but I doub there is anything serious. With one game left the season long record is still
160-10 (94.1%)
. I document these numbers on a weekly basis and welcome readers to go back to inspect the validity of the analysis. Please tweet at me or comment below if you don't agree with any of my self-assessed scoring. That is the whole point of making this process public.