April 27, 2015 -
Dr. David Chao
Top 2015 NFL Draft Medical Issues
As draft day approaches, there is a plethora of information and mock drafts. I will take this opportunity to analyze the top medical issues for the 2015 draft. It is widely acknowledged that medical evaluations are
an important factor in the decision making process
. All team physicians won't agree on a player's medical grade, just like scouts won't necessarily agree on a player's talent. Even though each team acts independently, a consensus on medical grade is typically reached. It is not uncommon for team medical staffs to trade information and consult with each other. Below are my top medical issues for a few key NFL draftees. Using the format of my previous
top free agent medical issues column
, the assessments are categorized into red, yellow and green light ratings. This is for simplicity as teams certainly utilize more sophisticated grading systems. I have not examined any of the following players or seen their medical records. If I had, I would not be allowed to comment based on federal privacy laws. For these evaluations, I utilize public reports combined with my knowledge as a practicing orthopedic surgeon/sports medicine specialist, my almost two decades of experience as a head team physician and my insight from having attended 19 NFL Scouting Combines. Like a traffic light, they ratings are subject to change as more facts become known with a physical examination.
RED Light issues:
Indicates a serious medical issue that should cause a team to stop and reassess. These players aren't undraftable, but their draft position will likely be affected by the evaluation of team doctors. When a player is red flagged, it doesn't mean he can't play football. It just means there is an issue to cause a team to stop and pause. Usually an "red M" goes on the players draft board magnet as a reminder.  A general manager will have a long discussion with his medical staff prior to a final decision. They may need surgery, be recovering from surgery or have significant longevity issues. One or more teams will likely have taken these players off their draft boards due to medical risk while others will be willing to take a risk based on need or value.
Shane Ray, OLB/DE Missouri
: News broke that the elite edge rusher
needed foot surgery
for a turf toe injury that had him missing Combine. Ray went on the offensive to plead his case on SportsCenter to state that he did not need surgery. A foot specialist who is not a NFL team doctor examined Ray and opined that
surgery is not necessary
. We have talked about how reports from private physicians are always positive and
don't carry much weight
. I doubt that any NFL medical staffs will pay much heed to either the media appearance or private physician report. Each team will stop and make their own decision based on their own medical evaluation, thus the red light designation.
Jay Ajayi, RB Boise State
: Knee
cartilage issues
are reported to have started in 2011. The good news is he has been quite productive since then. The potential bad news is that his knee articular cartilage might be wearing out and longevity may be an issue. There was a report that indicated since Ajayi was not asked to come to medical recheck, that
proves he doesn't have a knee issue
. That is simply not the case. If he has a chronic problem (and I am not saying he does), Ajayi would not have been asked to return for a second medical check. Only players with injuries in evolution that are likely to change in the subsequent two months after Combine are asked to return. The bottom line is teams will need to stop and evaluate his long-term knee health prior to selection.
Ifo Ekpre-Olomu, CB Oregon
: Tore his ACL with surgery in December and hopes to be ready by the start of the season. We hear the pre-requisite statement that he is
ahead-of-schedule
on his recovery. I am not doubting that he is recovery well but Ekpre-Olomu has two medical hurdles to clear. First, his injury needs to have spared the articular cartilage. Second, playing cornerback requires reacting/changing directions and that comes last in ACL rehab. Everyone cites Adrian Peterson's recovery from ACL surgery but remember he only rounded into form as the season started and as a running back he dictates his cuts and moves. As a cornerback, Ekpre-Olomu will be reacting to them and that is a much taller order. Teams need to stop a take a hard look before drafting him or select him with the idea that his production will improve later in his rookie campaign or in year two. That is exactly what the Chargers did when
Antonio Cromartie was selected
in the first round of 2006 coming off ACL surgery.
Jalen Strong, WR Arizona State
: Reported to have a small bone fractured in his wrist and likely
needs surgery
. He admits to the fracture but states he played five games with it and there is no surgery needed. This in and of itself is not unheard of but skipping the chance to go to medical rechecks to prove it is quite unusual. Strong had Steelers' doctors put him through a
battery of tests
and was cleared. Those results were passed along and he thus skipped the medical recheck. In my almost two decades of attending medical rechecks, that is an unusual move. It is akin to a player skipping a workout in front of all 32 teams and just having his private workout numbers and evaluation for one team sent to the other 31 teams. I am not saying he needs surgery or can't be drafted highly, but I would think that teams would want to stop and take a hard look based on the injury and the unusual circumstances. [caption id="" align="alignright" width="273"]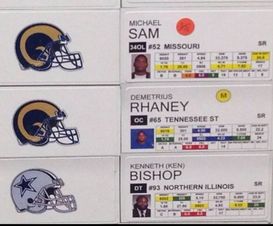 The yellow M indicates a medical concern on Jeff Fisher's draft board[/caption]
YELLOW Light issues
:
Indicates a significant medical issue that needs to be taken into account. As the color indicates, a general manger needs to slow down and factor in his team's medical assessment. As a reminder, typically a "yellow M" is placed on the players draft magnet. If two players are rated the same, it might be less risky to select the non-yellow light player.
Todd Gurley, RB Georgia
: The "medical headliner" of this draft class and the health of his ACL reconstruction could determine how the
first round plays out
. Once again reports that his knee is
ahead-of-schedule
 need to be taken with a
grain of salt
. Also there was
video
showing how fast he was running on a treadmill. There is no question his speed was exceptional but gradually accelerating to a full sprint and then hopping off before the 12-second instagram video concluded doesn't show me much. His high-end speed seems good for several seconds but what about his burst, acceleration and cutting. Besides, deceleration is the last thing to return and none of that is shown on the video. Lets all not forget that Robert Griffin III ran well in a straight line before his ACL comeback year and we all know how that season ended. In evaluating Gurley, there is no guarantee of full health for week one and caution is needed.
Cedric Ogbuehi, OT Texas A&M
: Tore his ACL in the bowl game and had a late start on surgery/rehab. This leaves a tight timeline for recovery. What he has going for him is that as an offensive lineman working in confined spaces will limit his exposure. In any case, a team needs to slow down and check his medical status before drafting him with the expectation to play immediately.
Zack Wagenmann, OLB/DE Montana
: Unfortunately, he
broke his foot
during a private team workout. The type of fracture is unknown but recovery was estimated at eight weeks. Teams will need to gather information here as there is no formal mechanism to obtain medical information on late breaking injury news. Certainly it is unfortunate to be injured in private team workouts but Wagenmann is not the first. Last year, Clemson OL Brandon Thomas tore his ACL when working out for the Saints.
Tevin Coleman, RB Indiana
: Missed the Combine workout due to
foot surgery
. He did run a 4.39 40-yard dash at his Pro Day but did not complete shuttle runs or jumps as he is
still recovering
from the foot injury. Without knowing details of the injury and surgery, it is hard to predict his medical grade for the draft but you can be sure team doctors have fully evaluated the surgical results and estimated his healing time.
T.J. Clemmings, OT Pittsburgh
: Reported to have a
stress fracture
in his foot. His agent claims the foot has no pain and there has never been a need for rehab or treatment. Teams need to slow down and analyze what bone is broken, For example, a navicular stress injury may have long term consequences and he may become red light issue. On the other hand, a fifth metatarsal (Jones) stress fracture typically heals well with surgery but the issue is when it might become fully healthy. Teams will definitely incorporate his medical report to calculate his draft stock.
GREEN Light issues
:
Indicates a definite medical issue, but one that has healed or should have minimal long term affect. These player injuries have been evaluated by the medical staff and are a "go' as the color indicates. These players have known injuries that shouldn't scare away a general manager.
Jameis Winston, QB Florida State
: His shoulder nerve issue made big news at the Scouting Combine when
additional tests
were requested on his throwing shoulder. As I wrote back then, I believe it is a
non-issue
. The fact that Winston was not on the list to return for medical re-check, indicates that
NFL teams are not overly concerned
. He is a full "go" to be the first pick of the draft.
Byron Jones, CB Connecticut
: Coming off shoulder surgery that is presumed to be a standard labral repair. No one can question his athleticism as while a limited Combine participant, he set a
world record in the broad jump
. The bottom line is that he has plenty of time to recovery from shoulder surgery and a cornerback predominantly makes his living with his lower body anyways. His injury should get the green light barring any unforeseen medical findings.
David Cobb, RB Minnesota
: Injured his quad on his first 40-yard dash at the Combine and missed the rest of the workout. This should not be a long term term or recurrent injury.
Garrett Grayson, QB Colorado State
: Suffered a hamstring injury in training and missed the Combine. He even
pushed back his Pro Day
workout to allow more time to heal. There is no indication of a chronic problem and he should be a "go" for the draft.
Denzel Perryman, LB Miami
: He injured his hamstring at his Pro Day. It may hurt his draft stock as he had a subpar Combine workout and needed to excel at his Pro Day, but medically he should be fine with time and rehab. This is by no means an all-inclusive list of draft medical issues. I am also sure that much more medical information was kept out of the public forum. For reference sake, here were my
2014 top draft medical issues
to see how relevant my comments were in retrospect.
Follow David on Twitter:
@
profootballdoc
Dr. David Chao is a former NFL head team physician with 17 years of sideline, locker and training room experience. He currently has a successful orthopedic/sports medicine practice in San Diego.