August 15, 2014 -
Dr. David Chao
Top-30 fantasy injury concerns
Fantasy draft season is upon us. And while all of us enjoy the thrill of assuming the role of general manager, our fantasy teams are missing team doctors and there is no fantasy Combine to determine player health.
Below I outline the top-30 medical issues to factor into fantasy draft strategy. This is strictly a medical evaluation that does not take into account strategy or the specific rules/scoring unique to your fantasy league.
The grading system will be similar to the one used in our free agent medical issues and NFL draft medical issues columns. A simple red, yellow and green color system like the one we are using here will sometimes be used on NFL draft boards.
Red light indicates potentially serious fantasy medical implications that should cause one to stop and reassess before drafting, especially in the early rounds. It doesn't mean that a player shouldn't be drafted, just a sign to exercise extreme caution or have a backup plan when drafting. I wouldn't count on these players for full production over 16 games.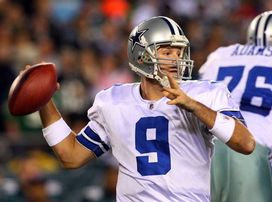 Despite his age, Romo should bounce back from offseason back surgery.
Yellow light means to slow down and take a look at other options before drafting. These players have injury issues that could play a role in diminished production. They are definitely worth drafting, but perhaps not when compared to a player without medical issues.
Green light stands for a full go. Despite injury issues, one can anticipate little if any affect on fantasy production. These players have suffered recent injury, but this is perhaps a good chance to get a bargain as others stay away from an otherwise productive player.
Listed below are five red light, ten yellow light and 15 green light players. Within each category, the biggest concern red or yellow light medical issues will be listed first. In the green category, the biggest medical non-issues will be listed first.
These fantasy medical evaluations are subject to change as injury news is fluid. Of course, I haven't examined or treated any of these players (I do not comment on players I treat in order to maintain player privacy). This is simply my medical opinion based on almost two decades as an NFL team physician. This insider knowledge consists of interpretation of public reports, video mechanism evaluation of injury severity and my personal experience of how injuries affect different types of athletes.
Good luck to all fantasy players.
RED LIGHT FANTASY ISSUES
David Wilson, RB, New York Giants: In case you missed it, this is an obvious player to avoid. Despite high hopes and returning to the active roster, Wilson suffered what was termed a burner. In the end, it wasn't just a burner, as the re-injury was related to his previous neck surgery. Even though Wilson was initially cleared, he has since been forced to retire from football.
Marvin Jones, WR, Cincinnati Bengals: Fractured the 5th metatarsal in his foot last week and had a screw inserted. Ironically, this type of injury is medically termed a "Jones fracture." Initial projections to have Jones back after the fourth week bye seem optimistic. (See the recovery timelines of Aaron Dobson and Julio Jones below) Expect Jones to miss at least six games and he may not round into top form for several weeks after.
Zach Miller, TE, Chicago Bears: Injured his left foot in the second preseason game and is in a walking boot. Little is known about the injury yet, but when a teammate calls the injury "heartbreaking," fantasy players should take notice and stay away.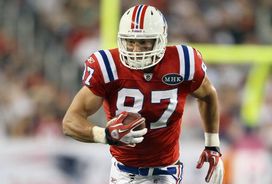 There's some risk with Gronk, but the upside is enormous.
Rob Gronkowski, TE, New England Patriots: Had ACL reconstruction surgery eight months ago and has yet to return to contact or practice against defenders. He rested his knee and did not travel to the joint practices with Washington last week. When you factor in that Gronk really suffered a multi-ligament knee injury akin to a dislocation, he likely will not be ready for Week 1. Even when he returns, the New England tight end may not be at full production until later in the season. Be careful drafting him in the early rounds.
Knowshon Moreno, RB, Miami Dolphins: Underwent knee surgery after mini-camp and only just returned to practice. Moreno admits that he is "still not 100%." He is certainly draftable, but don't count on last year's production.
YELLOW LIGHT FANTASY ISSUES
Robert Griffin III, QB, Washington Redskins: Had the most talked about knee in the NFL last season. Pundits now say that he wasn't ready to go last year but will be this year. Remember, RG3 had a LCL tear as well as a second time tear of his ACL. This complicates matters significantly and even with additional time, there is no guarantee of full recovery. As a pocket passer, I am not worried about his knee, but as a dual threat quarterback, it remains to be seen how healthy his knee really is.
Reggie Wayne, WR, Indianapolis Colts: Missed the last half of the season with an ACL tear. All signs point to a successful surgery and recovery, but he has yet to play this preseason. As a wide receiver, Wayne needs a healthy knee and strong ACL to make precise cuts. With the injury and his age of 35 years, use caution when selecting in fantasy drafts.
Aaron Dobson, WR, New England Patriots: Had surgery to fix a fifth metatarsal stress fracture in March. Dobson recently began running and joined his team at practice. He has some catch-up work to do, but should round into form and be productive over time.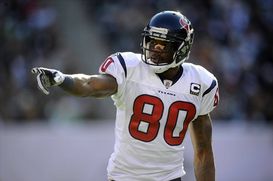 ICONJohnson should be ready to go come Week 1.
Andre Johnson, WR, Houston Texans: Missed the last two weeks of camp with a hamstring issue. Factoring in the offseason hold out and potential lack of work with his age of 33 years, muscle injuries aren't a surprise. He will play this year, but don't be surprised if another injury crops up.
Jeremy Maclin, WR, Philadelphia Eagles: Tore his ACL early last preseason. That helps him with more time to recover as he is over a year out from surgery. Maclin has had a good camp, but suffered a minor setback with a hamstring injury. Anticipate a good year, but he may take a few weeks to round into form.
Arian Foster, RB, Houston Texans: Coming off back surgery for a herniated disc. He also has missed the last two weeks of camp for an undisclosed injury thought to be a hamstring. It is possible he does well this year, but it is also possible that he flares up with residual or related issues to his back.
Hakeem Nicks, WR, Indianapolis Colts: Is healthy now after groin and ankle issues last season. Over his first five years in the league, Nicks has never been healthy for an entire season. This may be his year to stay healthy or it may be a continuation of a trend.
Steven Jackson, RB, Atlanta Falcons: Has missed the majority of training camp with a hamstring issue. Jackson is likely to be ready for Week 1, however, a 31-year-old running back coming off a down year who starts this season with a hamstring issue is reason for caution.
Julio Jones, WR, Atlanta Falcons: Suffered a re-fracture of his fifth metatarsal and required a second surgery last season. In his favor, he had ten months to heal. Barring setback, Jones should have a big year, but re-fractures can happen and already has for him. With his huge upside, only mild caution here.
Maurice Jones-Drew, RB, Oakland Raiders: Suffered a season-ending foot fracture in 2012. 2013 was his least productive season ever. Although he medically appears to be healthy, the issue is whether his foot will allow him to regain his top form. MJD is listed here as his medical status deserves some caution, but only minimally so.
GREEN LIGHT FANTASY ISSUES
Drew Brees, QB, New Orleans Saints: Has been sidelined this preseason with an oblique muscle strain. Ron Jaworski is right to be worried that this injury can hamper any quarterback, as the position requires all who play it to twist the torso to throw effectively. However, this injury usually heals quickly. In fact, if this were the regular season, I doubt that Brees would have been held out like he was. I have no worries about this injury. He will not be affected by this injury during the regular season.
Montee Ball, RB, Denver Broncos: Had an appendectomy at the start of training camp. Sounds ominous, but don't be scared off. Nowadays, with laparoscopic techniques that barely leave a scar, recovery should be quick. I anticipate Ball will easily be ready and in shape by the start of Week 1.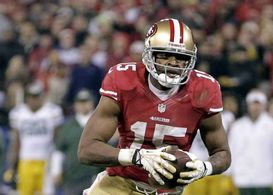 Look for a big season from Crabtree in 2014.
Michael Crabtree, WR, San Francisco 49ers: Returned to form after an Achilles rupture. This season should only be better with Crabtree at 100 percent. Achilles tears typically have full recovery by the second season back with no residual effects.
Eli Manning, QB, New York Giants: Despite offseason ankle surgery, he will be 100 percent. The procedure was arthroscopic and minor. Manning has already been full go and no residual issues are anticipated.
Jordy Nelson, WR, Green Bay Packers: Currently has a hamstring injury. It is not believed to be severe and there is no reason to believe it will prevent him from playing in Week 1 or the rest of the season.
Percy Harvin, WR, Seattle Seahawks: Missed almost all of 2013 after acetabular labral surgery. Harvin should not have any residual symptoms after his hip surgery. With solid health and fresh legs, there is no medical reason not to draft him.
Eddie Lacy, RB, Green Bay Packers: Dealt with an ankle injury at the end of his workhorse 2013 rookie season. Lacy did not require surgery and with an offseason of rest should be poised to have a healthy 2014 campaign.
Steve Smith, WR, Baltimore Ravens: Suffered a PCL tear near the end of last season, but Smith did return for the playoff game against the 49ers. Despite worries about a major knee ligament tear in a 35-year-old receiver, this type of injury should not affect him much this season.
Danny Amendola, WR, New England Patriots: Hampered by a groin injury all of last season. Amendola's medical history is filled with an assortment of injuries including the 2012 unusual sternoclavicular joint subluxation. His injuries appear to be effort related injuries. With a fresh start this season, his groin should be healthy. Let's hope he stays that way.
Jimmy Graham, TE, New Orleans Saints: Was dogged by plantar fasciitis last season. With an off-season to heal, Graham should be healthy. His medical status should not affect his fantasy draft position.
Randall Cobb, WR, Green Bay Packers: Suffered a compression type fracture in his knee from a hyperextension injury. Although he may have some long-term issues related to arthritis, this should not be an issue for the upcoming season.
Tony Romo, QB, Dallas Cowboys: Had surgery on his herniated disc and was unable to finish the season. Some rumors called this his second back surgery, but there is no hard evidence to corroborate that. With no permanent damage and an offseason of recovery, I believe the Cowboys plan in holding Romo out is purely precautionary. I believe that he will rebound well from the surgery.
Doug Martin, RB, Tampa Bay Buccaneers: Ended last season early to have labral repair surgery. With the increased rehabilitation time, Martin should not have health issues with his shoulder stability. The worry on drafting Martin is splitting carries, not his health.
Sam Bradford, QB, St Louis Rams: Ten months out from ACL surgery. His recovery has been smooth and reports were of an isolated ACL tear. With Bradford's pocket passer style, his knee should not hinder him much. Non-mobile quarterbacks have had good track record in their first seasons back. For example, Philip Rivers posted an all-time high passer rating in 2008 after his late season ACL surgery.
Cam Newton, QB, Carolina Panthers: Had offseason reconstructive ankle surgery to tighten ligaments. This is a more extensive surgery than a simple scope and his recovery has reflected that. The key is that there is no setback and he is on track. I believe he will be the same player moving forward when the regular season arrives, as recovery from this type of surgery is reliable.
Follow David on Twitter: @profootballdoc
Dr. David Chao is a former NFL head team physician with 17 years of sideline, locker and training room experience. He currently has a successful orthopedic/sports medicine practice in San Diego.