October 09, 2014 -
Dr. David Chao
Why all the Thursday night blowouts?
This season marks the start of a new television partnership that puts the first eight Thursday night games on CBS in addition to its previous home on the NFL Network. Through five weeks, these Thursday night contests have been decided by an average of 27.0 points per game.
Many are quick to blame injury and the inability to recover on short rest for the blowout results. This explanation simply doesn't make sense, as both teams are working with a short week. Ex-Pittsburgh Steelers running back Jerome Bettis, who played in his fair share of Thursday night contests, definitively discounted this as a possibility on ESPN based upon personal experience.
Looking at the health of teams does not provide an easy explanation. An analysis of players on injured reserve does not show a correlation. Dissecting the injury report categories of "out," "doubtful," "questionable" and "probable," does not show a reason for the lopsided games either.
Travel on short rest is likely not a big factor, as these games are purposely scheduled to avoid cross-country flights. In fact, the average flight time for the four short-rest games so far this season is 51 minutes. And remember, the New York Giants were the road team when trouncing Washington.
Uneven matchups cannot explain the uneven outcomes. All four blowouts matched divisional rivals against one another. The point spreads going into these games were not uneven and never reached double digits. Besides, why would the NFL purposely schedule homecoming-type blowouts for their early-season Thursday schedule featuring a new network carrier who is paying $275 million for just one season?
So if injury, rest and travel can't explain it, why all the blowouts?
I believe it simply has to do with Xs and Os.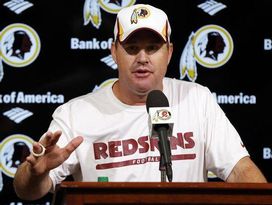 First-year coach Jay Gruden got blown out at home by the New York Giants on Thursday night, 45-14.
It's well known that teams on a short week don't have time to install a full game plan. That should put both teams at a disadvantage.
Maybe not.
Teams with established coaches and schemes in place have a distinct advantage over first-year staffs. The former have established multiple varying game plans and their players can draw upon previous experience. However, when it comes to the first-year coaching staffs, especially early in the season, full schemes are still being developed.
I believe this inequity gets unmasked in a short week.
The margin of victory for the last three Thursday night games was 35.0 points and first-year head coaches were on the losing end of each of them. This seems to be the only correlating factor that I can find.
I have no football coaching experience. But as a team physician for almost two decades, I am aware of the general workings of NFL teams. The game plan changes significantly from week-to-week. I have been told by NFL head coaches and coordinators that over 50 percent of the plays change based upon the opponent. New wrinkles are added each week.
Everyone knows that teams study opposing film and the tendencies must change to be successful. Even if a play is not completely new, there usually are new formations, motions or packages.
I have also been told that preliminary game plans for each opponent are formed in the offseason, with veteran staffs getting a jump on this preparation. First-year staffs are just being assembled and the base schemes are still being installed during the offseason.
I am not at all critical of any of the first-year coaching staffs. I am not questioning their qualifications. I am just noting that the task is much more difficult for them. Even the great Bill Belichick in his first year with a new team would likely have the same difficulties in a short week.
Magnifying the problem is that these short-rest games are being played early in the season. In years past, Thursday night games didn't start until later in the year. This at least gave a chance for first-year staffs and players to get used to each other and the new schemes. I believe that the blowouts will stop later this season as the veteran staff advantages dissipate.
The short rest is not causing the blowouts. The reason is the short preparation week affecting first-year staffs in the early season. We will see if my theory holds tonight as the veteran Indianapolis Colts coaches travel to face the first-year staff of the Houston Texans.
Follow David on Twitter: @profootballdoc
Dr. David Chao is a former NFL head team physician with 17 years of sideline, locker and training room experience. He currently has a successful orthopedic/sports medicine practice in San Diego.