Kevin Kolb. Stewart Bradley. Zack Follett. Matt Moore. Kevin Boss. Sergio Kindle. Hunter Hillenmeyer. Cory Redding. Jason Witten. Mario Manningham.
The Chinese calendar says 2010 is the year of the tiger. But as far as the NFL goes, this has been the year of the concussion.
Concussions are being noticed and talked about more than ever. And that has got to be a good thing.
Here is a look at how concussions are being perceived from the angles of head coach, general manager and player.
The head coach
Tennessee's Jeff Fisher: "We're as conservative and realistic as you can possibly be with concussions. We always take the extra time, and the league has done a great job of providing us with additional information. It's a serious injury that needs to be treated very, very delicately.
"If you're not sure if a player can return from one, that's what you have your inactive list for. It's designed for players who are going to miss some time, but not necessarily the whole year. But if you have a guy with multiple incidents or episodes and recovery time is taking a little longer, you would certainly have to consider injured reserve. We have not had one in which injured reserve has been an issue."
Cincinnati's Marvin Lewis: "How we deal with concussions really hasn't changed, other than having to go to an independent doctor. We had already been doing the pre-tests. Anytime someone missed time they would have to pass the post-test.
"They won't pass them on the test to come back the following week if they experience any kind of symptom, and they won't let anyone go back in a game. It's really out of my hands."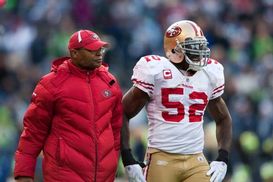 ICON49ers head coach Mike Singletary.
San Francisco's Mike Singletary: "We just try to tackle better. It's all in form tackling. That's basically what it is."
The general manager
"We are in new waters with concussions, and we intend on not taking any chances," said a general manager who requested anonymity. "There is no book on how to deal with this.
"The first thing we'll do is have a player who suffers a concussion take every test he's supposed to take. Obviously, if he has any signs of post-concussion syndrome he can't play. But even if he tests out OK, we still could shut him down if he is experiencing symptoms.
"We want to put the safety and health of the player first. Each player is different, and doctor's opinions on concussions can vary from doctor to doctor. There is no conclusive medical test that tells you everything you need to know. So you can't be too careful."
The player
"As we've learned more about it, we're becoming smarter about concussions," said Packers outside linebacker Clay Matthews. "We all saw what happened with Jason Witten in Dallas.
"As players we are taught not to show injuries or pain. It's almost like we're machines. A head injury is like anything else. We are going to battle through it. But there are long-term effects. As much as we hate sitting out, it's the right thing to do.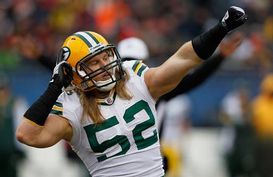 ICONPackers OLB Clay Matthews
"You think you just had your bell rung, no big deal. All of a sudden it starts to get a little blurry, a little fuzzy. You get dizzy. You don't remember everything. It depends on the grade of concussion. Even the minor ones, if you take a secondary hit it can be devastating.
"My last concussion was during spring practice at USC. I took a shot, and I wanted to get back out. They took my helmet from me. You want to be a warrior. But you can't hide it. You see the repercussions of it with Kolb, Stewart Bradley stumbling around. I can't take it lightly. I completely agree with the medical staff holding them out and going through the process.
"Hopefully we can continue to make helmets and pads that will help us out and we'll get smarter as the game progresses."