The new BCS Standings were released Sunday night, and Oregon sat atop the rankings for the first time in school history after beating USC on the road Saturday evening. Last week, Auburn claimed the top spot after former No. 1 Oklahoma fell to Missouri in Columbia. The Ducks, ranked No. 1 in both the AP and USA Today polls, host Washington next week.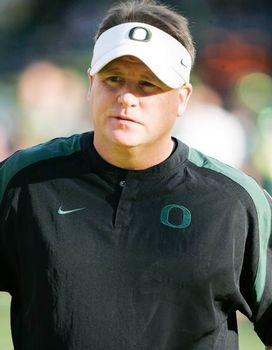 ICONChip Kelly's Oregon Ducks are on top of the BCS standings.
Auburn checked in at No. 2 after beating Ole Miss on the road this past weekend. The BCS national championship game pits the top two in the final BCS Standings.
Boise State, which beat Louisiana Tech last Tuesday night, fell again in the rankings. This week, the Broncos check in at No. 4. TCU, meanwhile, moved up to No. 3
Here is the BCS formula — how these rankings came about: Harris Interactive Poll (1/3) + USA Today Coaches' Poll (1/3) + Computer rankings (1/3)
Here is the top 10.
The BCS Standings
1. Oregon .9777
2. Auburn .9599
3. TCU .8911
4. Boise State .8824
5. Utah .7318
6. Alabama .7185
7. Nebraska .6869
8. Oklahoma .6849
9. Wisconsin .6740
10. LSU .6540
A few thoughts:
*This is the first time in BCS history that three non-AQ teams are in the top 5 of the standings at the same time (TCU, Boise State and Utah).
*Playing USC gave Oregon a boost in the computer rankings because of strength of schedule. That helped get the Ducks past Auburn this week. The Tigers will take a hit in the computers with their nonconference game against Chattanooga but they are a solid No. 2 in the standings.
*Boise State took a dive in both human polls—the USA Today coaches' poll and the Harris.
*TCU lost a little human support, as well, but its computer element remained strong and it will benefit from the game against Utah.
*Alabama continues to lurk, moving up one spot this week to No. 6. The Crimson Tide still has LSU and Auburn on the schedule, two potential big-time computer boosters.
Email dave.miller@nationalfootballpost.com or follow me on Twitter at Miller_Dave