Going into Thanksgiving weekend, the marquee game was Philadelphia at Chicago. The game lived up to its hype. In the first quarter the Bears jumped out to an early 11-point lead before the Eagles bounced back and looked like they were gaining control of the game. They had a 2nd and goal from the Bears 4-yard line with 2 minutes left in the half. A TD would have given them a 6-point lead at halftime and a big time of possession advantage. But the Bears defense, as it has done most of the season, came up with a big play getting an interception in the end zone and then returning the pick to their own 37-yard line. Six quick plays later, Jay Cutler threw his 3rd TD pass of the half to give the Bears a 21–13 lead at the half. That 14-point swing was the turning point of the game. Philly had to play catch up then and with the Bears defense dominating a comeback wasn't going to happen.
So far this season there have been three "hot" teams. First, it was the New York Giants, then the Eagles and now the Bears. How long the Bears can sustain their great play remains to be seen, but at this time of the year teams that challenge for playoff spots need to be healthy — and the Bears are very healthy. There are no key starters out at this time, so things look favorable for the stretch run.
In the Bears-Eagles game, there were a handful of first-year players that played roles in this game. Here is a look.
Chicago Bears
J'Marcus Webb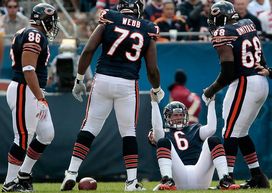 J'Marcus Webb is still raw, but he improves every week.
We have talked about Webb before and there is not much to add other than he improves every week. He still has a few breakdowns every game and when he does it's usually costly. On Sunday during one pas play he looked and moved inside leaving the outside lane free and the DE came off the edge untouched to sack Cutler.
Webb has tremendous potential but he is very raw. He started his college career at Texas and got a lot of playing time as a true freshman but some off the field issues caused him to transfer. He first went to a junior college and then West Texas A&M. Nothing against the West Texas program, but Webb was not going to get the coaching and be involved in a top weight program he would have had at Texas. This hindered his development and now he has to learn on the fly. He has the physical tools to be a very good NFL player and he has a position coach in Mike Tice that is excited about developing his traits.
But in addition to having some mental lapses in games he also has some physical lapses. He can get a little lazy with his technique or just not move quick enough to get the job done right, but I have seen consistent improvement in his play. He has one natural trait that no coach can teach or weight coach can help develop and that is his extremely long arms. Being a tackle and having to play on the outside, the long arms give him a natural leverage advantage that can be tough to overcome. Because his play keeps improving, he earns a B- for this game.
Major Wright
During the preseason, Wright looked like he was going to be a starter, but then the injury bug hit and he missed valuable time both in preseason and the regular season. In the last few weeks, Wright has gotten much more playing time. He isn't starting, but he is playing in a rotation with the two starters.
Wright has top natural talent. He has size, speed, agility and a great passion for the game. He does all he can to become a top player. Even though he played in a rotation he still was third in tackles on Sunday with 6. Major has very good instincts and range. He can have a tendency to give a bit too much cushion but with his transition and closing speed he can make up for it. In support he is very aggressive and a sure tackler. He enjoys laying a big lick on an opponent.
He had some real nice plays Sunday. On a reverse he played inside/out leverage very well and even though he didn't make the tackle, he took away the cutback lane. On another play he read a screen very quickly and was able to get to the play and stop it after just a short gain. He also came hard on an outside safety blitz and forced a bad throw with his pressure. It's plays like these that will earn him more playing time during the last third of the season. He earns a solid B for the game.
Philadelphia Eagles
Brandon Graham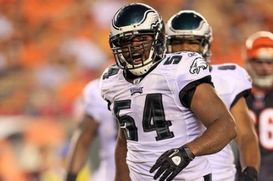 Brandon Graham started at left end because of the injury to Jaqua Parker.
Because of injury to Jaqua Parker, Graham got the start at left end against the Bears. Graham is undersized at 6-1, 265 pounds, but he has a big motor to go along with good natural power and speed. He did some nice things in this game. Early he got good penetration to force the back to go inside and get tackles for a loss. He got a sack when he came unblocked and had a couple pressures. He also got caught inside versus a Cutler scramble letting the QB get a sizeable gain.
His overall play versus the run is inconsistent. He gives ground to angle blocks, but shows consistent ability to hold his ground. He also showed good ability to shed a tight end block and make a stop for no gain.
His speed and explosiveness are his best attributes when pass rushing. He still needs to use his hands better to disengage from the blocker.
Overall, I would say that Graham had a better than average game. His lack of natural size will always limit him to an extent but he should become a player you can win with. He gets a B.
Trevard Lindley
Lindley also had to play because of injury to the starter. He is not a very big guy at 5-11 and 182 pounds. He has a lean frame and does not play with power. He lined up at left corner in this game and the Bears picked on him. He played to loose in coverage giving Bears receivers too much room to make moves and catches. There were a few plays when he wasn't within 3 yards of the receiver when the catch was made. He didn't show aggressiveness in run support either. Instead of attacking he waited for plays to come to him. As a tackler he will hit but he is not an explosive hitter and can give ground on contact.
Overall, not a good game for Lindley and he gets a C-.
Nate Allen
Allen starts at free safety and has played well all season. I would say this game was average. Early on he showed good pursuit speed to catch Matt Forte on a run but then a few plays later he was a bit late seeing Earl Bennett come across the middle and the result was a Bears TD. Like a lot of the Eagles players, he was having trouble with his footing at Soldier Field. This caused him to be a little more cautious in coverage and giving the Bears receivers to much cushion. In run support he is a good player who is aggressive and a good tackler.
The Eagles use Allen on some safety blitzes and he comes hard and shows the ability to redirect. Overall, Allen has ideal size and speed to be a top safety in the league. He also has top character and a great passion for the game so he will keep improving. He earns a B for this game.