Here's a look at three of my favorite picks from round seven…
Buffalo Bills: Justin Rogers, CB, Richmond (Selection #206)
He's not the biggest or fastest of corners, but Rogers is clean when asked to click and close, plays the football well and looks very comfortable in off/zone concepts. He's built more like a nickel back, but if given a chance to keep his eyes in the backfield and jump routes, the guy will be able to make a roster and contribute in an NFL secondary.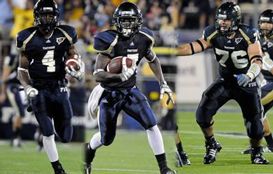 Former Florida Atlantic cornerback Anthony Gaitor
Dallas Cowboys: Shaun Chapas, FB, Georgia (Selection #220)
Not much is ever made about the fullback position. However, if Chapas can stay healthy, the guy should be able to mature into the Cowboys starting lead blocker this year. He's a strong kid who displays a pop on contact, sticks to blocks well and can catch the football in the pass game. Fullback is never a sexy pick, but if you can get a day one starter in the seventh round, the pick has to be looked at as a success.
Tampa Bay: Anthony Gaitor, CB, Florida International (Selection #222)
Like Rogers he's thinly built and looks more like a nickel. But Gaitor played in the slot almost exclusively at Florida Atlantic and is used to holding up in space, getting in and out of his breaks and tracking the football. Is still a little raw with his footwork and will lose balance at times. However, Gaitor displays natural cover skills and I think he's a great late round value who will make a roster and mature into a very good slot corner.
Follow me on Twitter: @WesBunting