The Philadelphia Eagles and head coach Andy Reid have to find upgrades at the linebacker position and look for help along the offensive line. With WR DeSean Jackson expected to see the Franchise Tag, let's take a look at some prospects that match the Eagles top needs heading into the draft.
PHILADLEPHIA EAGLES
2011 RECORD: 8-8
FIRST ROUND DRAFT POSITION: NO.15
TOP PRIORITY: LB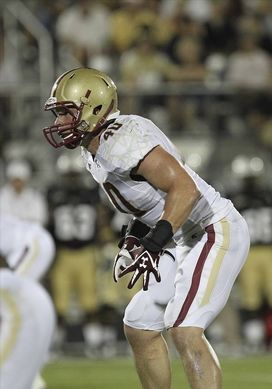 ICONBoston College LB Luke Kuechly.
Luke Kuechly ILB, Boston College: He's not the biggest, strongest or fastest of athletes. But he's instinctive, plays faster than he times, finds the football in all areas of the game and can really tackle. He's going to be a bit limited in coverage, but he's instinctive enough to play on third down in zone and should end up being one of the NFL's top tackling linebackers for years to come.
Dont'a Hightower ILB, Alabama: Looks like a potential impact caliber 34-inside linebacker who has the skill set to win inside vs. the run and create pressure on third down as a savvy rush guy as well.
SECONDARY PRIORITY: OT
Jonathan Martin OT, Stanford: He's got the NFL size, length and overall athletic skill set. However, he's not a natural anchor player and doesn't strike me as a guy who is ever going to be real physical at the next level. He can mirror in space, but struggles to stick through contact and isn't real heavy handed. Looks like a finesse tackle who will get over drafted because of athletic talent, but is going to have a hard time keeping the edge clean at the next level.
Andrew Datko OT, Florida State: He's a solid athlete who can bend, re-direct and block in space. However, he's had some struggles with power when trying to stay engaged and hasn't been able to stay healthy throughout his career. Nevertheless, in a weak offensive tackle class, he's one of the few prospects that possess the skill set to start in the NFL.
MID TIER PRIORITY: S, TE
Trenton Robinson FS, Michigan State: Is coordinated and can keep his feet under him, but looks tighter when asked to turn and run. Tackles well and looks like at best a low end starter who needs to play in tighter areas to be effective in coverage.
Brandon Taylor FS, Louisiana State: He can tackle in the box and in space, despite being a bit inconsistent at times. Displays some natural coverage ability and looks capable of maturing into tweener starter/nickel safety at the next level.
Chase Ford TE, Miami: Had a good showing at this year's East-West Shine game and for a guy at his size with his body control looks like a option you can draft late and try to mature into an every down type option. Has the frame to add weight and get much bigger.
Rhett Ellison TE, Southern California: Isn't an elite straight-line athlete or dominant in-line guy. However, has the ability to be successful in both the run and pass game at the next level. Doesn't look like a starter to me, but may be able to earn playing time early during his NFL career.
Click here to see the NFP Big Board.
Follow the NFP on Twitter: @FootballPost