One Last Ride On The Merry-Go-Rant
This brief diatribe (spliced into a potpourri column) has nothing to do with the great city of Indianapolis or the two iconic franchises (Giants, Patriots) playing on Super Sunday. It has everything to do with the mindless chatter you'll have to endure between now and Friday on Media Row.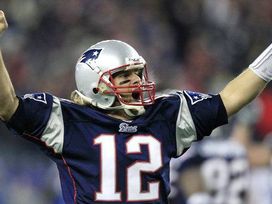 Patriots quarterback Tom Brady is always the top draw at Media Day.
The one black mark against Super Bowl Week used to be Tuesday's NFL Media Day, a tension-filled battleground pitting traditional sports and news media vs. clueless on-air talent from MTV, Telemundo or any other attention-seeking, non-sports network that could entice a bold employee (or hired gun) to 'propose' to an unsuspecting star like Tom Brady or Eli Manning — while donning a wedding gown. Or those who conduct semi-serious interviews with secondary players or assistant coaches … dressed in a clown suit or costume headgear that would make Massive Head-Wound Harry blush. But over time, both sides have learned to peacefully share that spotlight for one day — bringing us back to Media Row, the most organized hot mess of Super Bowl Week.
On paper, a summit of local and national radio/TV stations performing their jobs under one roof during Super Bowl Week seems like a noble pursuit. In fact, whoever hatched the concept of Media Row — sometime after the explosion of sports radio in the mid-1990s — probably deserved a raise many years ago. But Media Row, on the whole, has outlasted its usefulness, devolving into a contrived marketing showcase for five groups of interview subjects:
1. Current athletes shilling for name-brand deodorant, pet food or foot-powder companies — with little interest of discussing their careers or personal lives.
2. Former athletes rehashing great moments of Super Bowls past — while promoting their own proprietary take on bleu-cheese salad dressing.
3. A-list celebrities promoting bad movies coming out in July.
4. B-list celebrities promoting good movies that no one has time to see on Super Bowl weekend.
5. C-list celebs, aka reality-TV stars, keeping their 15 minutes of fame alive with well-timed walks through Media Row, before being hounded by show producers who are always desperate to fill air time in 5-minute intervals.
Disclaimer: I am blissfully aware of how most people view sports radio the other 51 weeks of the year — as a vast wasteland of pointless babble, canned jokes, thoughtless rants, shallow analysis and hourly formats that are painfully formulaic; and for the most part, they're right. But at least during the spring, summer and fall months in radio markets across the country, relaxed conversations organically spin into sparkling debates or classic comedic bits. However on Media Row, there's often little comedy and zero chemistry during these interviews … through no real fault of the radio host, who gets MAYBE five minutes with a subject, while delicately adhering to the draconian measures of all p.r. hacks:
1. Is my star being badgered with pointed questions that don't involve a Super Bowl prediction or his/her latest acting role?
2. Is Joe/Jane Radio Host trying to steal one extra second of their allotted five-minute window?
3. Is my client not getting ample time to endorse the deodorant company that's paying for his/her and MY flight, hotel, meals, expenses and tickets to exclusive parties during Super Bowl Week?
Bottom line: IF you're going to subject yourself to Media Row this week, and have access to the glorious TuneIn or I-Heart Radio apps for the iPhone, stick with hosts who gleefully share raucous accounts of one-star hotel stays, celeb sightings while trying to score dinner reservations at The Capital Grille, Harry & Izzy's or Morton's … or their most debaucherous tales from some of Indy's finest watering holes and/or adult-entertainment venues. At least they're trying to liven up four days of broadcasting misery with personalized stories of legendary fun — none of which occurred at a corporate event sponsored by anti-dandruff shampoo makers.
The Crystal Ball Rules All, Part I
Here's an updated list of my Top 60 fantasy footballers for 2012 (sans Adrian Peterson, Rashard Mendenhall or Peyton Manning). For argument's sake, let's pretend Peyton (neck surgery) sits out the season:
1. RB LeSean McCoy, Eagles
2. RB Arian Foster, Texans
3. QB Aaron Rodgers, Packers (my days of ignoring QBs in Round 1 are over)
4. RB Ray Rice, Ravens
Calvin Johnson, Lions
6. QB Drew Brees, Saints
7. RB Chris Johnson, Titans (a relative free pass from last year's debacle)
8. RB Ryan Mathews, Chargers
9. RB Jamaal Charles, Chiefs (could easily vault up the list with a healthy spring)
10. RB Maurice Jones-Drew, Jaguars (the Jags' inept playmakers fuel this middling ranking)
11. QB Tom Brady, Patriots
12. TE Rob Gronkowski 13. RB Matt Forte, Bears (Free Agent)
14. RB Fred Jackson, Bills
15. QB Matthew Stafford, Lions
16. RB Darren McFadden, Raiders (the biggest risk-reward candidate of the top 30)
17. WR Andre Johnson, Texans
18. RB Marshawn Lynch, Seahawks (no way Seattle lets Skittles walk in free agency)
19. WR Larry Fitzgerald, Cardinals (he'll probably be in the top 15 by August)
20. QB Cam Newton, Panthers (a must-have dynamo in keeper leagues)
21. RB Frank Gore, 49ers
22. WR Roddy White, Falcons
23. RB DeMarco Murray, Cowboys
24. WR Greg Jennings, Packers
25. RB Steven Jackson, Rams
26. RB Beanie Wells, Cardinals (may share the running spotlight with Ryan Williams)
27. TE Jimmy Graham, Saints
28. RB Ahmad Bradshaw, Giants (still bitter about his knucklehead effort against Dallas in Week 14)
29. WR Mike Wallace, Steelers
30. RB Roy Helu, Redskins
The Crystal Ball Rules All, Part II
… And here are the next 30, spilling over into Round 5 for 12-teamers:
31. QB Eli Manning, Giants
32. RB Michael Turner, Falcons (Jacquizz Rodgers is a must-handcuff for Turner owners)
33. WR Jordy Nelson, Packers (needs one more Prove It season in fantasyland)
34. QB Michael Vick, Eagles
35. WR Hakeem Nicks, Giants
36. WR Wes Welker, Patriots (Free Agent)
37. WR A.J. Green, Bengals
38. RB Trent Richardson, Rookie (Alabama)
39. WR Victor Cruz, Giants
40. WR Brandon Marshall, Dolphins (a safe ranking for Mr. Pro Bowl)
41. RB Darren Sproles, Saints
42. RB Reggie Bush, Dolphins
43. R
B Mikel Leshoure, Lions (the perfect fantasy back for Detroit's offense)
44. WR Percy Harvin, Vikings (my favorite unsung hero from last year)
45. RB Jonathan Stewart, Panthers (on the verge of a breakout — again)
46. RB Shonn Greene, Jets
47. RB Toby Gerhart, Vikings (assuming AP won't be his typically stellar self until November)
48. RB Isaac Redman, Steelers (someone has to benefit from Pittsburgh's renewed commitment to the run)
49. WR Miles Austin, Cowboys
50. WR Marques Colston, Saints
51. RB Michael Bush, Raiders (Free Agent)
52. QB Tony Romo, Cowboys
53. QB Philip Rivers, Chargers (a reputation fantasy pick)
54. TE Vernon Davis, 49ers
55. WR Dwayne Bowe, Chiefs (don't fall asleep on 2010's breakout receiver)
56. RB LeGarrette Blount, Buccaneers
57. RB Peyton Hillis, Browns (Free Agent)
58. WR Vincent Jackson, Chargers (Free Agent)
59. WR Dez Bryant, Cowboys
60. TE Antonio Gates, Chargers
The Next Wave
Quarterback: Matt Schaub, Matt Ryan, Ben Roethlisberger, Andy Dalton, Andrew Luck, Mark Sanchez, Joe Flacco, Josh Freeman
Running Back: Javhid Best, C.J. Spiller, Mark Ingram, Montario Hardesty, Ryan Grant, Willis McGahee and rookie Lamar Miller
Wide Receiver: Jeremy Maclin, Steve Smith, Antonio Brown, DeSean Jackson, Steve Johnson, Brandon Lloyd, Julio Jones, Mike Williams, Reggie Wayne, Pierre Garcon
Tight End: Jermichael Finley, Jason Witten, Aaron Hernandez, Brandon Pettigrew, Fred Davis, Dustin Keller, Jermaine Gresham
Super Prediction
Since 1970, the Super Bowl combatants from a particular year also met 12 times during that regular season — with the team seeking revenge on Super Sunday posting a 7-5 record. This stat, apropos of nothing, fits perfectly into my declaration of New England 31, N.Y. Giants 20. Enjoy the game!
Jay Clemons can be reached, day or night, via Twitter.