Recent history hasn't demonstrated a significant bias during the wildcard round of the NFL playoffs as it pertains to general classifications. Since 2009, home teams are an average 11-8-1 against the spread during the wildcard round, while favorites are just 9-10-1 ATS. During that same time span, overs have gone a modest 9-11.
So we'll have to dig a little bit deeper this week in the hopes of unearthing some little nugget of information that may provide an edge in one or perhaps all four matchups scheduled to take place beginning Saturday afternoon.
2014 SNAPSHOT
Home teams: 123-127-6 (.492)
Favorites: 120-130-6 (.480)
Home favorites: 81-88-4 (.479)
Home dogs: 42-39-2 (.518)
Overs: 120-135 (.470)
CLICK HERE to check out the current lines.
Arizona Cardinals (11-5, 4-4 road) at Carolina Panthers (7-8-1, 4-4 home)
When: Saturday, 4:35pm ET
Weather: High of 50 degrees, 70% chance of rain, winds 5-10 mph
Open: Carolina -4.5/39
Current: Carolina -6.5/38
Arizona in 2014: 11-5 ATS, 10-5-1 to the UNDER
Carolina in 2014: 8-8 ATS, 8-8 to the OVER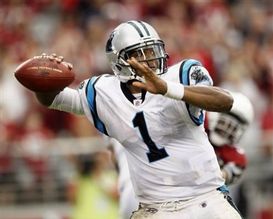 Newton and the Panthers are big favorites against an 11-win Arizona team on Saturday.
Analysis: Two teams heading in completely opposite directions as the Carolina Panthers have surrendered an average of just 10.75 points per game during their current four-game winning streak while the Arizona Cardinals have dropped four of their last six and haven't scored more than 18 points in a matchup since November 9. One look at Cardinals third-string quarterback Ryan Lindley will have public bettors sprinting to the windows to bet Carolina, but note that the Panthers' four-game win streak is a bit of a mirage, as those victories came against New Orleans, Tampa Bay, Cleveland and Atlanta, who combined to post a 22-42 record this season. The Cardinals can still play some defense and with the weather in Charlotte on Saturday expected to be messy, this should be an extremely tight affair. In addition, be advised that Carolina has scored more than 24 points in a game just four times this season and none of those performances came against a club with a top-20 defense.
Notable trends: Arizona is 9-3 ATS over its last 12 road games while Carolina is 1-5 ATS over its last six games played in the month of January.
The play: Arizona (we want +7 but will take +6.5) and UNDER 38
Baltimore Ravens (10-6, 4-4 road) at Pittsburgh Steelers (11-5, 6-2 home)
When: Saturday, 8:15pm ET
Weather: High of 41 degrees, 100% chance of rain, winds 10-15 mph
Open: Pittsburgh -3/47
Current: Pittsburgh -3/46
Baltimore in 2014: 7-8-1 ATS, 9-7 to the UNDER
Pittsburgh in 2014: 9-7 ATS, 9-7 to the OVER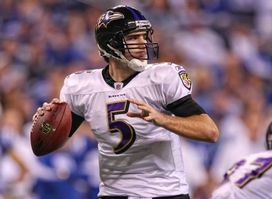 ICONCan Joe Flacco conjure up some more postseason road magic?
Analysis: 33.6% of Pittsburgh's 2014 offensive production may be on the sidelines for Saturday's showdown with division-rival Baltimore, as Pro Bowl running back Le'Veon Bell suffered a hyperextended knee in last Sunday night's 27-17 win over Cincinnati. Not only would this be a big blow to the Steelers' rushing attack (1,361 yards, second in NFL), but Bell also caught 83 passes this year and is a monster in pass protection, unlike 5-8, 173-pound backup Dri Archer, who could have some serious trouble against a Baltimore defense that ranked second in the NFL in sacks this season (49). Ravens signal-caller Joe Flacco has had an up-and-down 2014 campaign, especially when playing on the road, but the seven-year veteran is 6-4 career in the playoffs away from M&T Bank Stadium and knows what it takes to run the table in the postseason. Be advised that the weather forecast calls for rain and moderate winds in Pittsburgh on Saturday night.
Notable trends: Baltimore is 4-0 ATS over its last four road playoff games while Pittsburgh is 9-3 ATS over its last 12 playoff games.
The play: Baltimore (we want +3.5, will play at +3) and UNDER 46
Cincinnati Bengals (10-5-1, 5-3 road) at Indianapolis Colts (11-5, 6-2 home)
When: Sunday, 1:05pm ET
Weather: Indoors
Open: Indianapolis -4/49
Current: Indianapolis -3.5/49
Cincinnati in 2014: 8-7-1 ATS, 10-6 to the UNDER
Indianapolis in 2014: 10-5-1 ATS, 9-7 to the OVER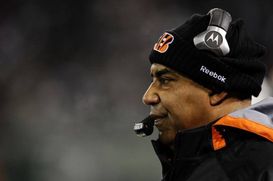 Marvin Lewis has never won a playoff game. Is this the year?
Analysis: The early money showed up in support of Cincinnati due to a variety of factors, one of which has to do with an Indianapolis team that has been walking on eggshells as of late. One look at the Colts' schedule shows an 11-win team that padded its stats with soft matchups against Jacksonville (twice), Tennessee (twice), Washington, Cleveland and the New York Giants, but came up short in marquee showdowns with Denver, New England, Philadelphia, Pittsburgh and Dallas. In addition, the Indianapolis defense ranked just 19th in scoring this season (23.1 pts/gm) and 18th against the run (113.4 yds/gm), which is a big concern when playing a Cincinnati team that ranked sixth in the league in rushing (134.2 yds/gm) with a whopping 567 yards coming via the ground game over the last three weeks alone. But how do you get behind a Bengals team that is coached by Marvin Lewis (0-5 lifetime in playoffs) and quarterbacked by Andy Dalton (0-3 lifetime in playoffs)? Not only that, but take note that Cincinnati is just 2-5 ATS over its last seven trips to Indianapolis.
Notable trends: Cincinnati is 5-1 ATS over its last six games following a loss while Indianapolis is 1-4 ATS over its last five playoff games.
The play: Cincinnati (+3.5). I'm calling this game "The Banana in the Tailpipe Special."
Detroit Lions (11-5, 4-4 road) at Dallas Cowboys (12-4, 4-4 home)
When: Sunday, 4:40pm ET
Weather: Indoors
Open: Dallas -7/48
Current: Dallas -6.5/48
Detroit in 2014: 7-9 ATS, 11-5 to the UNDER
Dallas in 2014: 10-6 ATS, 9-6-1 to the OVER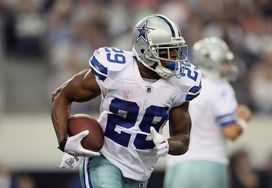 Murray and the Cowboys have been on fire ever since that Thanksgiving loss.
Analysis: Ever since they were drilled 33-10 at home by the Philadelphia Eagles on Thanksgiving, the Dallas Cowboys have been cooking with gas. Big D has ripped off four straight wins (4-0 ATS as well) by an average of 21.5 points per game with only three turnovers committed and 12 turnovers forced. All of this is due in l
arge part to the league's best offensive line which has paved the way for a rushing attack that ranks second in the NFL (147.1 yds/gm). On the flip side you have the Detroit Lions who, despite entering this showdown with 11 wins under their belt, went just 4-4 on the road this season and are now 8-20-1 ATS over their last 29 road contests. In addition, the Lions are 1-6 ATS over their last seven matchups against teams with a winning record. Detroit has a nasty defense, but the big problem is whether or not highly-paid "franchise" quarterback Matthew Stafford will finally rise to the occasion on the big stage, something the Georgia product has failed to do in each of his six NFL campaigns. Stafford has completed only 54.1 percent of his passes on the road this season, with nine touchdowns, six interceptions and a QB rating of 74.9.
Notable trends: Detroit is 2-5 ATS over its last seven games overall while Dallas is 4-0 ATS over its last four games overall.
The play: Dallas (-6.5) along with a Dallas (-.5) and Baltimore (+9) teaser.
Hit me up on Twitter: @JoeFortenbaugh