January 19, 2015 -
Dave Miller
2015 NFLPA Collegiate Bowl notebook
The 2015 NFLPA Collegiate Bowl took place on Saturday in Carson, CA, as Mike Martz's National team beat Mike Holmgren's American squad 17-0.
College football fans were able to see some of the nation's under-the-radar prospects one last time, while NFL personnel were able to further scout prospects ahead of the league's annual draft.
Let's take a look at some of the highlights from the showcase event at the StubHub Center.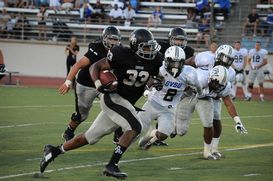 Terrell Watson was named the MVP of this year's NFLPA Collegiate Bowl.
— It's easy to make the comparison to Christian Okoye because of the Azusa Pacific connection (and the fact that he broke a lot of Okoye's records), but Terrell Watson may have a legitimate shot to stick in the NFL. The Cougars running back had a two-yard touchdown run for the National team, as the Division II star finished with nine carries for a game-high 55 yards en route to being named the game MVP. It was a good time to showcase his talents, as the competition Watson faced on a weekly basis was not too strong. Count Martz as someone who believes Watson could play at the next level after seeing him in workouts throughout the week. The converted defensive end is a big back that is raw but hungry to improve. This past season, the 6-2, 240-pounder rushed for 2,153 yards and scored 29 touchdowns.
— Brandon Bridge of South Alabama is an intriguing prospect as well. He completed 3 of 5 passes for 51 yards in limited action, but he has some good tools. The former Alcorn State signal-caller from Canada has very good size, a strong arm and nice mobility. He just happens to be very raw and must continue to work hard and push to improve his football IQ.
— Chris Conley of Georgia had a very nice day at receiver, leading the National team with 45 yards on two catches. He has a very good work ethic and is a solid route runner that has some big-play ability. He may end up as more of a possession receiver at the next level, but he may surprise because he has a good feel for the position.
— Michigan State product Marcus Rush will never win a contest dealing with football measureables, and that's okay. Because all the defensive end does is be productive, which he was on Saturday. The former Spartan played well for the National squad just as he did in the Cotton Bowl and almost every time he played in East Lansing. He notched just one tackle and a half-sack on Saturday, but he was strong off the edge and showed off his quickness and tenacity. You will never question his effort, and you can never discount a player who just comes off as relentless. He doesn't pass the eyeball test, but he has a chance to stick as a 3-4 outside linebacker if he can excel on special teams.
Other notes:
— Southern Illinois product Malcolm Agnew had eight carries for 53 yards, while Marcus Murphy of Missouri ran for 47 yards on three carries to lead the American team.
— Team American quarterback Cole Stoudt of Clemson completed 7 of 8 passes for 48 yards, while Marshall quarterback Rakeem Cato had 31 passing yards and 15 rushing yards.
— In last year's NFL Draft, 14 players that competed in this game were selected. Sixty-three more players that competed were not drafted but signed contracts with NFL squads.
Dave Miller, the college football editor for the National Football Post, is on Twitter @Miller_Dave.