February 09, 2011 -
Dave Miller
The real story behind Rodgers and his WWE belt
It was around 8 a.m. local time Saturday morning at their Dallas-area hotel when Aaron Rodgers' older brother, Luke, answered the door.
Greeting the brother of the Green Bay Packers quarterback was a security guard, who was holding a replica of the WWE World Heavyweight Championship belt. There was supposed to be a handwritten note attached to it, but the guard misplaced it. All he knew was that it was supposed to be delivered to Rodgers, who on Sunday evening would play in the biggest game of his life against the Pittsburgh Steelers.
(In a television appearance Monday on ESPNews, legendary grappler Ric Flair claimed to have sent Rodgers and the Packers two belts prior to the Super Bowl. While he may have done so, the belt delivered to Rodgers' brother was not from Flair. As posted yesterday, the belt reportedly came from Mike Dubajic, an intern for WSCR 670 The Score in Chicago who claimed to have purchased the belt on WWE.com for $375).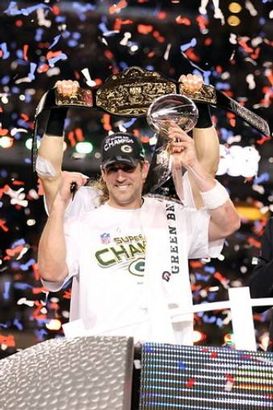 Clay Matthews had a big hand in making sure Aaron Rodgers showed off his championship belt.
Rodgers' brother thanked the guard, accepted the belt and went about his day. The Super Bowl, still more than 24 hours away, was the only thing on everyone's mind.
When the Big Game finally arrived, Luke and younger brother Jordan were in attendance. And so was the belt — safely in Luke's possession. Aaron, of course, went on to have an MVP day and lead the Packers to victory over Mike Tomlin, Big Ben and the Steelers.
With the podium set up for the team's postgame celebration, Luke and Jordan made their way toward the stage, where star linebacker Clay Matthews and Rodgers were celebrating with the Lombardi Trophy. Rodgers saw the belt in his brother's possession but did not want to don the gold. He was enjoying the moment quite well, but he isn't a showman. He goes about his business in a workmanlike manner.
That's where Matthews stepped in. Grabbing the belt from the quarterback's brother, the long-haired defender ceremoniously threw the gold strap over his signal-caller's shoulders.
The Packers were world champs in every sense of the word, and a classic moment was captured.
So where is the belt celebrating these days? It is said to be safely back in the Rodgers family home in California.
Where will it go next? Well, that's anyone's guess.
Email dave.miller@nationalfootballpost.com or follow me on Twitter at Miller_Dave
Want to work in the NFL? Click here to sign up for the NFP's "Chalk Talk at the Combine" Seminar February 25 in Indianapolis.