November 22, 2010 -
Joe Fortenbaugh
Enter the red zone
After a one week hiatus, Enter the red zone is back with a vengeance.
Before we get started, here is your motivational moment of the day…
Movie Videos & Movie Scenes at MOVIECLIPS.com
You are now entering the red zone…
From the 20: Vickadelphia
All eyes were on Philadelphia Sunday night to see what quarterback Michael Vick had in store for an encore to last Monday's historic performance at Washington.
Facing his stiffest defensive challenge of the season, Vick completed 24 of 38 passes for 258 yards with no touchdowns and no interceptions. However, the mobile signal-caller also picked up 34 rushing yards and a touchdown on nine carries in the Eagles' 27-17 win over the New York Giants.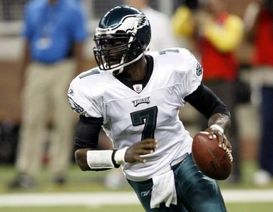 On Sunday, Vick aced his toughest challenge of the season.
It wasn't the type of game that will single-handedly bring home fantasy glory, but Vick demonstrated in Week 11 that he's a very effective and reliable fantasy quarterback no matter the level of competition he's facing. Hats off to the Big Blue defense who did a respectable job containing Vick by repeatedly dropping eight defenders into coverage while defensive ends Justin Tuck and Osi Umenyiora sealed to edges to prevent the NFL's most lethal dual-threat quarterback from getting outside the pocket and into open space.
Vick now embarks on a four-game stretch that will feature two games (at Chicago, at NY Giants) against defenses that rank in the bottom-six in fantasy points allowed to opposing quarterbacks, as well as two games against defenses (vs. Houston, at Dallas) that rank in the top-five in fantasy points allowed to opposing quarterbacks.
Game ball to Eagles cornerback Asante Samuel, who racked up two solo tackles, two pass deflections, two interceptions and one fumble recovery. This guy rarely disappoints when the lights are at their brightest.
From the 19: A lesson in heart
A man's true character is revealed when the chips are down and his back is against the wall. Look no further than Sunday's game in Cincinnati for a perfect example.
In the midst of a historically horrendous season, the 1-8 Buffalo Bills (more on them below) came back from a 31-14 halftime deficit to blast the Cincinnati Bengals 49-31 on their home turf.
Wide receivers Terrell Owens (3-63-1) and Chad Ochocinco (3-28-1) both found the end zone, but Cincinnati's defense game up 449 total yards and 35 second-half points to show that this team has clearly quit on head coach Marvin Lewis.
From a fantasy perspective, you can still ride the majority of the Bengals' offensive weapons on a weekly basis. But be cautious when evaluating the matchups, as you can never trust a team that quits on its coach, owner and most importantly, fans.
From the 18: Speaking of those red-hot Buffalo Bills…
Enter the red zone LOCK OF THE YEAR: Buffalo Bills UNDER 5.5 wins
The Bills have been the butt of many jokes in this column throughout the 2010 season, so it's only fair to give credit where credit is due. Right now, this team is playing some football.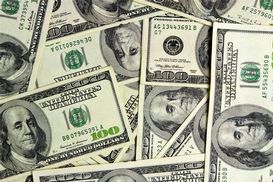 Are the Bills trying to destroy the lock of the year?
Wide receiver Stevie Johnson (8-137-3) has come out of nowhere to score nine touchdowns in 2010 (third in NFL) and signal-caller Ryan Fitzpatrick (21/34, 316 yards, 4 TDs, 2 INTs) now ranks 13th in scoring among fantasy quarterbacks despite starting just eight games this season. It's safe to say that these two are now must-start fantasy options every Sunday.
Even running back Fred Jackson (21-116-2) is getting in on the action and now looks like a solid RB2/flex play depending on the matchup.
Back to Johnson, this guy is a keeper league owner's dream. He's become one of the NFL's most productive wideouts this year and is going to be the subject of much debate next summer when your fantasy drafts roll around. A top-ten wide receiver next August? Why not?
As for the god damned Bills, this team clearly wants to make me sweat this bet out to the very end. Buffalo now must win four of their final six games to ruin the Lock of the Year.
Buffalo Bills upcoming schedule
Week 12: vs. Pittsburgh Steelers
Week 13: (speaking of quitters) at Minnesota Vikings
Week 14: vs. Cleveland Browns
Week 15: at Miami Dolphins
Week 16: vs. New England Patriots
Week 17: at New York Jets
Can they do it?
From the 17: Speaking of locks…
Who read the Week 11 Starts & Sits column that was posted on Friday? If you did, I hope you paid special attention to the recommendation regarding the Baltimore Ravens (-10.5, -13 at game time) and the Carolina Panthers.
Thanks to two fourth-quarter interceptions that were returned for touchdowns, Baltimore pounded Brian St. Pierre and the lifeless Panthers 37-13 (covered!). Quarterback Joe Flacco quietly threw for 300+ yards and one touchdown (Houshmandzadeh) while running back Ray Rice picked up 131 total yards and a touchdown on 25 touches.
Don't get too worked up over wide receiver T.J. Houshmandzadeh's two-catch, 79-yard, one touchdown performance. The guy has only hauled in ten receptions over the last six games.
But you can feel free to get excited about Flacco (11th highest scoring fantasy quarterback), who has a date with the Tampa Bay Buccaneers next weekend.
From the 16: So long, Brett Favre
In a scenario that couldn't have been scripted any better by Hollywood's best writers, quarterback Aaron Rodgers and the Green Bay Packers went to Minnesota on Sunday and put the final nail in Brett Favre and the Vikings' coffin.
ICONRodgers made it look like a video game Sunday in Minnesota.
Rodgers was brilliant, as Favre's former backup completed 22 of 31 passes for 301 yards and four touchdowns (QB Rating: 141.3) in the 31-3 rout.
Favre was awful, as the aging veteran completed just 17 of 38 passes (44.7%) for 208 yards with no touchdowns and one interception.
On a positive note for the Vikings (not really), wide receiver Sidney Rice made his 2010 debut on Sunday, catching three passes for 56 yards on ten targets.
On a negative note (yes, really), running back Adrian Peterson has rushed for only 123 yards with zero touchdowns over his last two games.
Game ball to Packers wide receiver Greg Jennings, who caught seven passes for 152 yards and three touchdowns on nine targets.
From the 15: NFP/FanDuel Salary Cap Challenge
Unless Chargers quarterback Philip Rivers manages to throw 19 touchdown passes on Monday night, it looks as if yours truly is going to be handed another ass-kicking in the NFP/FanDuel Salary Cap Challenge.
The good news here is that 54 of us went toe-to-toe on Sunday in a battle for cash, prizes that aren't cash and bragging rights.
The Salary Cap Challenge will be back in Week 12, so after you finish stuffing your faces on Thursday in honor of the Pilgrims and Indians, check back at the NFP for the link to next week's game.
From the 14: Speaking of ass-kickings
Pittsburgh 31, Oakland 3
Dick LeBeau's defense bounced-back from their Week 10 home loss to the Patriots by forcing three turnovers and holding the upstart Raiders to just 182 total yards and three points.
Ben Roethlisberger threw three touchdown passes (and ran for another) while Rashard Mendenhall and Mike Wallace both posted double-digit fantasy totals.
More importantly, the Steelers defense held big-play running back Darren McFadden to just 14 rushing yards on ten carries (1.4 YPC).
Game ball to me. Apparently when I attend Pittsburgh games (0-2 lifetime, including last week's loss to the Patriots), the Steelers lay an egg.
When I'm on the other side of the state, the Steelers win championships.
From the 13: Bradshaw & Boldin fumble away a win for Team NFP
Hat tip to Ken Daube of ESPN, who held on for a crucial 133.20-131.90 Week 11 win over the National Football Post in the 2010 NFP Fantasy Expert's League.
Opposite of a hat tip to Giants running back Ahmad Bradshaw and Ravens wide receiver Anquan Boldin, both of whom fumbled the rock on Sunday and cost me a win.
CLICK HERE to check out what's going down in the Expert's League.
From the 12: Big, easy win for New Orleans
Saints wide receiver Marques Colston was listed in last Wednesday's "20 players set to go streaking" column, and boy did this guy deliver the goods on Sunday.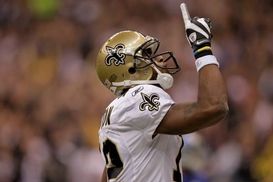 ICONColston went hot Sunday against a terrible Seattle pass defense.
After spending a solid portion of the season frustrating fantasy owners, the five-year veteran caught eight passes for 113 yards and two touchdowns on 11 targets in Sunday's 34-19 smash job of the Seattle Seahawks.
Expect the big-time numbers to continue for the Saints' No. 1 target as Colston's next two games (at Dallas, at Cincinnati) come against defenses that rank in the top-nine in fantasy points allowed to opposing wide receivers.
Game balls to Drew Brees (382 yards, four touchdown passes), Chris Ivory (99 rushing yards, one TD), Robert Meachem (50 yards, two TDs) and nobody from Seattle.
From the 11: Seriously?
Current NFC West Standings
Seattle Seahawks: 5-5
St. Louis Rams: 4-6
San Francisco 49ers: 3-7
Arizona Cardinals: 3-7
Congrats to the NFC West, a division with four teams that have combined for 15 wins through 11 weeks, which is one less than the 16 victories the Patriots (8-2) and Jets (8-2) have put up this season.
On Sunday, the 49ers got shutout, the Cardinals and Seahawks got blown out and the Rams stalled out.
Sadly, one of these teams is going to make the playoffs.
In that first playoff game, whichever team represents this division will be a double-digit home dog.
Gamblers will bet against them.
The gamblers will win.
From the 10: Week 11 Workhorse Running Back Report
Lets take a look at the 15 running backs that are recording the most carries per game this season:
1. Chris Johnson, RB, Tennessee Titans: 21.6
2. Adrian Peterson, RB, Minnesota Vikings: 21.2
3. Maurice Jones-Drew, RB, Jacksonville Jaguars: 20.9
4. Steven Jackson, RB, St. Louis Rams: 20.3
5. Rashard Mendenhall, RB, Pittsburgh Steelers: 20.2
6. Cedric Benson, RB, Cincinnati Bengals: 20.0
7. Michael Turner, RB, Atlanta Falcons: 20.0
8. Frank Gore, RB, San Francisco 49ers: 19.8
9. Arian Foster, RB, Houston Texans: 19.4
10. Darren McFadden, RB, Oakland Raiders: 18.6
11. Ahmad Bradshaw, RB, New York Giants: 18.5
12. Ray Rice, RB, Baltimore Ravens: 18.4
13. Peyton Hillis, RB, Cleveland Browns: 17.3
14. Knowshon Moreno, RB, Denver Broncos: 16.3
15. Thomas Jones, RB, Kansas City Chiefs: 15.6
Of those 15 aforementioned ball carriers, eight currently rank in the top-ten in scoring among fantasy running backs (Foster, Peterson, Hillis, C. Johnson, Gore, Jones-Drew, McFadden, Mendenhall).
From the 9: Sanchize, Big-Time Santonio Holmes and the Cardiac Kids
Bottom line: the New York Jets win football games.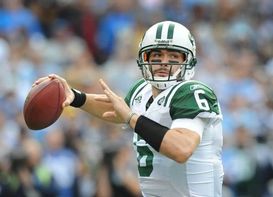 ICONSay what you want about Sanchez, but the dude wins football games.
This is not the BCS where style points matter. This is the NFL. All that matters is whether or not you won the football game.
For the third consecutive week, the Jets dug down deep and made the big plays when it mattered as New York came back to shock the freefalling Houston Texans 30-27 on Sunday.
Quarterback Mark Sanchez led another game-winning drive and finished the day with 315 passing yards and three touchdowns. Don't look now, but the Sanchize currently ranks 12th in scoring among fantasy quarterbacks.
Meanwhile, wide receiver Santonio Holmes (7-126-2) continued his hot streak for the ages. The veteran wideout has now caught 17 passes for 316 yards and three touchdowns on 29 targets over his last three games. It's safe to say this guy is an absolute must-start moving forward.
Game ball to Texans running back Arian Foster, who overcame an unfortunate death in his family last week to rack up 143 total yards and two touchdowns on the road against one of the NFL's best defenses.
From the 8: Highlight of the week
Are you kidding me?
From the 7: Week 11 Target Report
Lets take a look at the 15 pass catchers that have recorded the most targets through 10 games:
1. Terrell Owens, WR, Cincinnati Bengals: 116
2. Roddy White, WR, Atlanta Falcons: 116
3. Larry Fitzgerald, WR, Arizona Cardinals: 112
4. Reggie Wayne, WR, Indianapolis Colts: 110
5. Hakeem Nicks, WR, New York Giants: 101
6. Brandon Marshall, WR, Miami Dolphins: 99
7. Calvin Johnson, WR, Detroit Lions: 98
8. Chad Ochocinco, WR, Cincinnati Bengals: 94
9. Andre Johnson, WR, Houston Texans: 92
10. Marques Colston, WR, New Orleans Saints: 89
11. Brandon Lloyd, WR, Denver Broncos: 89
12. Santana Moss, WR, Washington Redskins: 87
13. Mike Williams, WR, Seattle Seahawks: 87
14. Stevie Johnson, WR, Buffalo Bills: 84
15. Danny Amendola, WR, St. Louis Rams: 83
Of those 15 aforementioned wide receivers, nine rank in the top-15 in scoring among fantasy wideouts (White, Owens, C. Johnson, Nicks, Lloyd, S. Johnson, Wayne, A. Johnson, Fitzgerald).
Also, three of them have the last name "Johnson."
You're welcome.
From the 6: Titans fans, it's time for you to run Vince Young out of town
On my way down to the Philadelphia-New York game Sunday afternoon I had a discussion in the car with my friends (believe it or not, I actually have a few) about the best football games we've ever attended in person.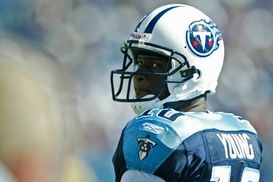 ICONVince Young's days in Tennessee look to be over.
My vote went to the 2005 Rose Bowl in which the Texas Longhorns defeated the Michigan Wolverines 38-37 on a game-winning 37-yard field goal. If you think back, that was the game where a talented quarterback named Vince Young threw for 180 yards and a touchdown while rushing for 192 yards and four scores en route to Rose Bowl MVP honors.
Young also accounted for 161 of the Longhorns' 166 fourth-quarter yards.
Flash forward to Week 11 in the year 2010 and a lot has changed. Without getting into too much detail, the Titans lost in overtime to the Redskins 19-16 on Sunday, but that was hardly the story. Instead, 27-year old quarterback Vince Young threw a temper tantrum leaving the field and launched his shoulder pads and jersey into the stands right before he got into a verbal confrontation with well-respected head coach Jeff Fisher.
Long story short, Young is no longer the starting quarterback in Tennessee and his NFL future is in serious doubt.
The only thing I have to say about this incident is that it's time for Tennessee fans to run Young out of town. The guy clearly can't handle the pressure of being a starting quarterback in the NFL.
Throw in the fact that he's got a career passer rating of 76.9 in 47 starts for the Titans and it's apparent he isn't worth the trouble.
Players make plays, losers make excuses and babies cry when they're upset (or when they soil themselves).
From the 5: Number 5 and the never-changing stat line
Donovan McNabb vs. Tennessee: 376 passing yards, 1 touchdown, 1 interception
Week 11 marked the fifth time in ten games that the Washington quarterback has thrown exactly one touchdown and exactly one interception. Donny Mac has thrown exactly one touchdown pass in eight of ten games this year and one or more interceptions in eight of ten games as well.
I only bring this up because every time I check out this guy's weekly stat line I feel like I'm in the f'n Twilight Zone.
A true model of consistency, McNabb currently ranks 17th in scoring among fantasy quarterbacks.
From the 4: IDP Update
Tackles
1. Jerod Mayo, LB, New England Patriots: 119
2. Chad Greenway, LB, Minnesota Vikings: 98
3. Stephen Tulloch, LB, Tennessee Titans: 96
4. London Fletcher, LB, Washington Redskins: 92
5. Patrick Willis, LB, San Francisco 49ers: 91
6. Paul Posluszny, LB, Buffalo Bills: 88
7. Lawrence Timmons, LB, Pittsburgh Steelers: 86
8. James Anderson, LB, Carolina Panthers: 85
9. LaRon Landry, S, Washington Redskins: 85
10. Donte Whitner, S, Buffalo Bills: 84
Sacks
1. Clay Matthews, LB, Green Bay Packers: 11.5
2. Cameron Wake, LB, Miami Dolphins: 9.5
3. James Harrison, LB, Pittsburgh Steelers: 9.0
4. DeMarcus Ware, LB, Dallas Cowboys: 8.5
5. John Abraham, DE, Atlanta Falcons: 8.0
6. Jason Babin, DE, Tennessee Titans: 8.0
7. Tamba Hali, LB, Kansas City Chiefs: 8.0
8. Osi Umenyiora, DE, New York Giants: 8.0
9. Chris Clemons, DE, Seattle Seahawks: 7.5*
10. James Hall, DE, St. Louis Rams: 7.5*
*Four others tied at 7.5 (Mathis, Orakpo, Suggs, M. Williams)
From the 3: Stat of the Week (First down efficiency)
First down efficiency is defined as the number of times a team gets four or more yards on first down divided by that team's total number of first down plays.
The five teams that rank in the top-five in the league in first down efficiency (NY Giants, Cincinnati, Green Bay, New England, Houston) have a combined 27-23 overall record (.540).
The five teams that rank in the bottom-five in the league in first down efficiency (Carolina, Detroit, Tennessee, St. Louis, Arizona) have a combined 15-35 overall record (.300).
Just a little nugget to reflect upon as you continue to mail it in this week in preparation for Thanksgiving.
From the 2: Shocker: New England and Indy play it close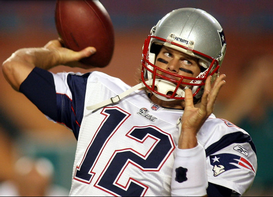 Brady did what was necessary to get the job done Sunday vs. Peyton Manning.
Did you know that in each of the last five meetings between the New England Patriots and the Indianapolis Colts, the winning team has won by four or less points?
Tom Brady (19/25, 186 yards, 2 TDs, 0 INTs) turned the tables on Peyton Manning (38/52, 396 yards, 4 TDs, 3 INTs) Sunday afternoon as the Pats took down the Colts 31-28 in another epic battle between two of the game's all-time greatest quarterbacks.
Game balls to BenJarvus Green-Ellis and Danny Woodhead, who both posted double digit fantasy totals. Hat tips to Wes Welker, who found the end zone for the first time since Week 2 and Reggie Wayne, who found the end zone for just the second time in his last eight games.
Side note: Colts quarterback Peyton Manning is now 0-4 this season when throwing 46 or more passes.
From the 1: Who ya got tonight?
Leave a comment below with your pick for who will win tonight's game as well as the total amount of points that you think will be scored (this serves as the tiebreaker). I'll email the winner on Tuesday and will send out some stuff courtesy of the good folks at Procter & Gamble.
You are picking against the spread and your comment should look as follows:
CHARGERS, 41
The Enter the red zone Monday night picks are currently 6-5 (we had the Steelers two weeks ago and were on hiatus last Monday).
Tonight, the 3-6 Denver Broncos travel to San Diego to take on the 4-5 Chargers.
Opening Line: -9.5/48
Current Line: -9/50.5
Philip Rivers for MVP! The Chargers have won two straight games (that's considered a hot streak for them) and are coming off the bye. Meanwhile, the Broncos are 1-3 on the road this season and have lost their last two away games by eight or more points.
Enter the red zone is going to ride the lightning and take the Chargers.
Who ya got?
Hit me up on Twitter: @JoeFortenbaugh
Win cash today playing fantasy football with the NFP and FanDuel.