May 03, 2013 -
Joe Fortenbaugh
Immediate impact required
The dust has finally settled on the four-month evaluation period known as the NFL draft. We are familiar with the prospects and we know where they'll be playing next season. The focus now shifts from what these young men have achieved to what they will be expected to produce.
Just because the 2013 draft class was derided by critics doesn't mean that this talent pool will be given any preferential treatment. These players are now employees of an NFL franchise. As a result, they will be subject to scrutiny by both the individuals who drafted them and the fans who will be cheering for them. Some will be under more heat than others. Here are ten rookies who can expect to encounter that pressure faster than the rest.
1. Dion Jordan, DE, Miami Dolphins: There's already enough pressure accompanying the honor of being a top-5 selection. But when a team trades up nine spots in the first round to acquire your services, the significance of that encumbrance multiplies. Quarterbacks and cornerbacks are provided a longer grace period due to the difficulties associated with adapting to their positions at the professional level. But the recent success of first-round pass rushers like Von Miller (11.5 sacks in 2011), J.J. Watt (5.5 sacks in 2011) and Jason Pierre-Paul (4.5 sacks in 2010) demonstrates that highly regarded sack specialists can make a faster transition from college to the NFL. Miami fans will be paying very close attention to Dion Jordan in 2013.
2. Eric Fisher, OT, Kansas City Chiefs: Because his "mean streak" was the reason Fisher was selected over battle-tested Texas A&M product Luke Joeckel. And because Fisher was the first draft pick made by new Chiefs general manager John Dorsey and head coach Andy Reid. Fisher not only needs to play well, he needs to outperform Joeckel.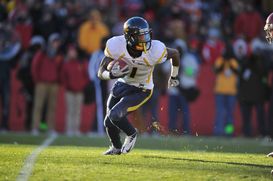 US PRESSWIREAustin needs to be the weapon that quarterback Sam Bradford has been in desperate search of.
3. Tavon Austin, WR, St. Louis Rams: The St. Louis Rams haven't had a wide receiver top 700 receiving yards in a season since Torry Holt rolled up 1,189 yards in 2007. That's a pretty significant drought. Austin won't be expected to set the league on fire during his first professional campaign, but the St. Louis faithful will be looking for signs that the West Virginia standout is the answer to their five-year problem at the position. Remember, the Rams traded up eight spots to land Austin. That means loftier expectations.
4. Dee Milliner, CB, New York Jets: The ninth-overall selection will be manning the position vacated by four-time Pro Bowler Darrelle Revis. That says it all.
5. Kyle Long, OT, Chicago Bears: With Notre Dame tight end Tyler Eifert and a host of other talented players still on the board, the Bears turned some heads when they opted to pull the trigger on former Oregon Duck Kyle Long. The coaching staff and front office are clearly comfortable with the decision, but Bears fans are not. Only the Arizona Cardinals (188) have surrendered more quarterback sacks over the last four years than the Chicago Bears (184). Long may be a raw prospect in need of some development, but that won't stop Bear Nation from demanding quick results from new head coach Marc Trestman's controversial first draft pick.
6. Tyrann Mathieu, FS, Arizona Cardinals: Mathieu will be facing more pressure off the field than he will on it. And in this regard, the 2011 Heisman finalist may be under more scrutiny than any other rookie in the 2013 NFL draft class. Remember, one slip up and Mathieu could be headed for the unemployment line. No other rookie will be held to a stricter standard.
7. DeAndre Hopkins, WR, Houston Texans: Hopkins won't be viewed as the last remaining piece to the Houston Texans' Super Bowl puzzle, but he will be expected to achieve something that so many receivers have failed to do in his shoes: Take some of the pressure off of Andre Johnson.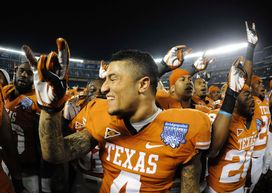 Vaccaro will be tasked with helping to turn around the league's worst defense.
8. Kenny Vaccaro, SS, New Orleans Saints: Only two teams in the NFL (Tampa Bay, New England) gave up more completions of 20+ yards last season than the New Orleans Saints (66). As always, the Who Dats will rely on quarterback Drew Brees and the offense to put notches in the win column next season. But as a first round pick, Vaccaro will be expected to help turn around one of the worst defensive units in league history.
9. Ziggy Ansah, DE, Detroit Lions: A boom or bust prospect who has repeatedly been compared to Jason Pierre-Paul, Ansah needs to flash some of that high upside during his first go-round in the NFL. He's a raw prospect in need of some polishing and as a result, will have some leeway under head coach Jim Schwartz. However, Ansah needs to make sure he shows progress on the field in 2013. Struggling to pick up defensive concepts while failing to make plays would be a very bad sign for this top-5 pick.
10. E.J. Manuel, QB, Buffalo Bills: The Buffalo Bills haven't had a decent quarterback since the days of Jim Kelly, so it won't come as a total shock if Manuel fails to light it up on Sundays this fall. In addition, with the generous learning curve afforded to rookie signal-callers, Manuel's bar won't be set all that high. But that is preciously why the Florida State product needs to hit his mark. Remember, Manuel was the draft's first quarterback selected and the only passer to hear his name called during the first round. People won't forget that.
Hit me up on Twitter: @JoeFortenbaugh