May 28, 2013 -
Joe Fortenbaugh
The Norv Turner effect
Ten seasons have passed since the Cleveland Browns last made an appearance in the postseason. During that time, the once-proud franchise has gone 52-108 (.325) during the regular season with just one winning campaign (10-6 in 2007). Needless to say, the city is ready for a new era in Browns football.
While it's no easy task to right the wrongs of a perennial basement dweller overnight, there's good reason for the Cleveland faithful to be optimistic about the 2013 season. Changes in ownership, the front office and coaching staff have signaled the beginning of a new chapter. Offseason acquisitions Paul Kruger, Desmond Bryant and Davone Bess provide much-needed roster upgrades. Rookie first round selection Barkevious Mingo (DE, LSU) brings hope.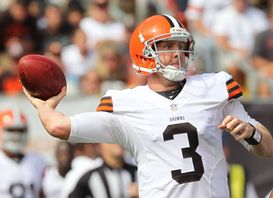 Brandon Weeden should expect to take a big step forward under the guidance of Norv Turner.
But there's another reason the city of Cleveland should be anticipating a step in the right direction in 2013 and it's one that is backed by favorable historical data. The hiring of former San Diego Chargers head coach Norv Turner as the team's offensive coordinator should provide an immediate boost to a Browns squad that ranked 25th in the league in total offense (314.2 yds/gm) and 24th in scoring (18.9 pts/gm) last season.
2013 will be Turner's 29th consecutive season in the National Football League and during that time the offensive guru has seen it all at the quarterback position. Turner has worked with aging veterans, journeymen, highly touted first round picks and future stars. He knows what it's like to win and he's familiar with what comes from losing. If the Cleveland Browns want to get the most out of 2012 first round pick Brandon Weeden, the team found one of the best guys in the business to aid in the quarterback's development.
Take a look at the following chart to see the changes that have taken place on offense during Norv Turner's first season with each team where he has been employed. The first year indicates the season before Turner's arrival, while the second year demonstrates the strides made from having Turner in charge of the offense.
YPA: Yards per attempt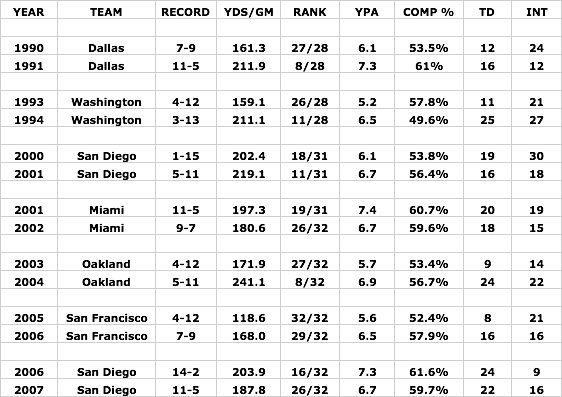 Turner's seven stops around the NFL have resulted in more favorable regular season records during his first year with the team four times. Passing yardage and yards per attempt average has increased in five of seven jobs, while TD/INT ratio has improved in six of seven stops.
Here's an in-depth look at what Norv Turner has accomplished at each location during his 28-year coaching career.
NORV TURNER'S RESUME
Dallas Cowboys (offensive coordinator from 1991-1993): Turner leaves his first NFL coaching gig (wide receivers coach in Los Angeles) to join a Dallas Cowboys team that features a third-year quarterback out of UCLA named Troy Aikman. The turnover prone signal-caller (36 interceptions through first 26 games) tosses just ten picks under Turner's tutelage while experiencing stat bumps in every significant passing category. The Cowboys go on to win two Super Bowls during Turner's three years with the franchise.
Washington Redskins (head coach from 1994-2000): Two years removed from a world championship, the Redskins poach Turner from Dallas to spearhead the transition from Super Bowl MVP Mark Rypien to rookie first round selection Heath Shuler. Washington wins only three games in Turner's head coaching debut, but the team's passing game jumps from 26th in the league to 11th with gains in yards per attempt average and touchdown passes.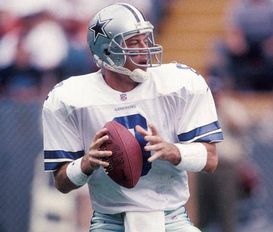 Hall of Fame quarterback Troy Aikman won two of his three Super Bowls under the tutelage of Norv Turner.
San Diego Chargers (offensive coordinator in 2001): The Bolts go from a 1-15 doormat to a five-win club that ranks 11th in the league in passing during Turner's only season as the team's offensive coordinator. The ridiculous interception total (30) recorded by Ryan Leaf, Jim Harbaugh and Moses Moreno in 2000 is reduced by 12 with Doug Flutie at the controls. San Diego experiences gains in yards per attempt average and completion percentage.
Miami Dolphins (offensive coordinator from 2002-2003): The first statistical setback of Turner's career took place in South Florida as the offensive guru had to make do with a quarterback depth chart that featured Jay Fiedler and Ray Lucas. Miami wins nine games and throws four less interceptions in Turner's first year with the team, but the franchise continues to struggle at quarterback in the post-Dan Marino era.
Oakland Raiders (head coach from 2004-2005): Oakland falls apart in the year following their trip to the Super Bowl as quarterback Rich Gannon appears in only seven games. Turner is brought in to jump start the offense and succeeds by winning one more game while overseeing a passing attack that goes from 27th in the league to 8th. Having scored just 16.8 points per game in 2003, the Raiders put an average of 20.0 points per game on the board in Turner's first season.
San Francisco 49ers (offensive coordinator in 2006): Rookie first round pick Alex Smith has a disastrous pro debut that includes only one touchdown pass and 11 interceptions (QB rating of 40.8) in nine games during the 2005 season. San Francisco wins just four contests and opts to hire Turner to speed up Smith's development. The first pick of the 2005 draft starts all 16 games in 2006 and experiences significant statistical bumps in every major passing category under Turner's guidance. The Niners win seven games and complete 57.9% of their passes.
San Diego Chargers (head coach from 2007-2012): Turner is lured from San Francisco to San Diego under the sole mandate that he succeed where predecessor Marty Schottenheimer failed: Win in the postseason. Turner succeeds, taking a 14-2 squad that was booted from the playoffs in their first postseason game (24-21 home loss to New England) to an 11-5 team that defeats Tennessee and Indianapolis before falling at New England in the AFC Championship Game. Quarterback Philip Rivers experiences a slight statistical regression under Turner, but goes on to appear in three Pro Bowls under Cleveland's new offensive coordinator.
There are no guarantees in the NFL. And while it's no secret that the Cleveland front office is still concerned about the long-term viability of quarterback Brandon Weeden, it shouldn't come as a surprise to anybody if Norv Turner's arrival results in a much-improved Browns passing attack in 2013.
Hit me up on Twitter: @JoeFortenbaugh