April 01, 2013 -
Erik Oehler
Character Guys Profile: Dominick Reyes
While most scouts attended the Stony Brook Pro Day March 22nd to see Miguel Maysonet, several came away impressed by the 2 defensive captains of the team that solidified the team's defense this year, Dominick Reyes and Jon Coats (both made 1st Team All-Big South). We previously interviewed Jon Coats, and last week, were fortunate enough to have the chance to speak with Reyes.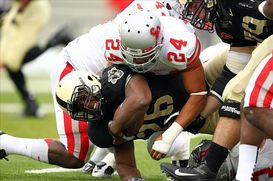 US presswireReyes brings down Army Black Knights running back Larry Dixon
Reyes isn't the Safety archetype. At 6'4", 220 lbs, he looks more like a small linebacker. But when you see him in coverage, he erases any doubt he's in the right spot. The team captain and defensive MVP, he played in all 48 games at Stony Brook the past 4 years, starting every game the past 3. He is now the all-time leader in tackles at Stony Brook and was voted 1st Team All-Big South in 2012 and 2nd Team All-Big South in 2011. His 75 tackles this year ranked 3rd on the team, a number that included 9 tackles for loss (never blitzed).
Reyes chose Stony Brook after a stellar high school career at Hesperia High School in California where he was voted All-Conference Defensive MVP, All-Area Defensive Player of the Year, All-San Bernardino County, Citrus Belt Area Athlete of the Year, and Gabrielson Fund Division 1 Male Athlete of the Year. After his senior season in which he had 10 INTs, 58 tackles, and 3 forced fumbles, he played in the Southern California Bowl and the High Desert All-Star Game. He had several scholarship opportunities at much bigger schools in the Pac 10, but what closed the deal for Stony Brook was the allure of New York City and the chance to play on the East Coast.
Below are some excerpts from my interview with Reyes, whose attitude and charisma impressed me as much as his highlight reel, also below.
What was it like growing up in Hesperia, CA? Did you grow up a Chargers fan? - I kind of grew up a 49ers fan, but as I grew older all my cousins were from LA so I became a Raiders fan. As I got a little older and started watching football more and I didn't follow any team I just like watching good games.

What is your family like? - I grew up with both parents. I have three brothers as well as myself. We all grew up real close, playing sports together, doing everything together.
How did you get into playing football? - My older brother started playing and it was awesome. We'd play anything that had to do with a ball; basketball, baseball, a lot of wrestling. That's how I got into it really, just because my brothers made me.
What was the first moment you thought you could do it professionally? - Towards the end of my junior year in college is when I started thinking about life and what I'm going to do after school and I just saw football as something that could be a real possibility. I started seeing that I have size. The reason it took me a little longer to realize it as a possibility was because I went to a small school and I knew I'd have to work a lot harder and improve a lot more.
Was there someone who kind of gave you that extra push and told you to pursue it? - The cornerback on my team, Davonte Anderson. I'd been talking to him and I wasn't really sure about it and he gave me the extra push like, "Dude you could definitely do this, I know a few guys in the league, and I've seen what it takes. You're really good and could definitely play." From there, I just started believing in myself more and more and more.
Is there one coach that had the most influence on you in your journey? - Jim Gush. He's a linebacker coach at Baylor now he was our defensive coordinator my redshirt freshman and sophomore year. Pretty much everything I know is from him. He was really patient with me. He pushed me and took me to new levels that I didn't think I could possibly achieve. I learned all my footwork from him. It's been a blessing.
What do you see as your biggest strength right now? - My biggest strength is my tackling ability. I've made a lot of tackles in my career and that's something that you can't really practice you just need game experience making actual tackles and being in weird situations and making actual plays. I feel like my experience there is my biggest strength.
Your tacking looks effortless on film. Is it as easy for you to bring players down as it looks? - Honestly it is, but I'd have to attribute a lot of my tackling skills to wrestling I was a pretty good wrestler in high school. I ranked in the state my junior and senior years. You just learn about body mechanics and how different angles help bring someone down, and obviously fighting with my brothers my whole life helped. I learned at a young age how to keep tempo with the ball and create opportunity. That's pretty much what it is, just waiting for the opportunity to strike.
A guy of your size, do you see yourself playing open field safety or do you envision taking the spot of a strong side linebacker in a three safety set? - Honestly I feel I could do both. It just depends on what the team needs. I feel I can do both if necessary.
What do you need to work on? - Speed. I was in the 4.6s but my goal for this is to be in the 4.5s. I train at Revolution Athletics and it's a great environment. I learned a lot and I feel I've gotten a lot faster. I was never formally trained how to run before this. For example, keeping your toes up when you run. When you drive off the ground and bring your knees straight up at an angle. I was pulling my hamstring first before I brought my hip flexor up and my cycle was taking a long time. I increased my foot speed a lot, too.
What did you go to school for in case football doesn't work out? - Information systems. When I picked my major, I knew football would last forever. A lot of guys went for sociology or history or something like that. I wanted something I know I can actually get a job from.
At the Stony Brook Pro Day, Dominick ran a 4.59.