September 19, 2013 -
Joel Corry
The financial implications of the Trent Richardson trade
The Cleveland Browns traded running back Trent Richardson to the Indianapolis Colts for a 2014 first-round pick on Wednesday in a surprising move. The Colts addressed a need that was created when Vick Ballard suffered a season-ending ACL tear in his right knee during practice last week. The Browns new front office appears to be hitting the reset button 17 months after the previous regime made Richardson the cornerstone of the franchise by selecting him with the third overall pick in the 2012 NFL draft.
Cleveland has five picks in the first three rounds of the 2014 draft, including two first-round picks, after the trade. In a draft that could be deep at quarterback if underclassmen Brett Hundley, Johnny Manziel, Teddy Bridgewater and Marcus Mariota declare themselves eligible, the Browns could be in a position to select a franchise quarterback with one of their two first-round picks.
The trade wouldn't have been possible without the 2011 Collective Bargaining Agreement drastically reducing rookie salaries at the top of the draft because Richardson's contract would have been too costly for the Colts. Richardson would have likely signed a five-year contract with a base value of $60 million (worth up to a maximum value of $68 million), including close to $40 million guaranteed if the system for compensating rookies hadn't changed. Instead, Richardson signed a fully guaranteed (without offsets) four-year, $20,489,796 contract under the new CBA.
The Browns are expected to sign Willis McGahee, who turns 32-years-old next month, to take Richardson's place in the backfield provided he passes a physical. McGahee was on pace for his second straight year over 1,150 rushing yards with the Denver Broncos in 2012 when a knee injury ended his season after ten games. He will likely sign a one-year deal for his $940,000 league minimum salary. Assuming McGahee signs a minimum contract, he will make $829,411 or the prorated amount of his minimum salary (15/17 of $940,000) if he is on the roster for the remaining 15 weeks of the regular season.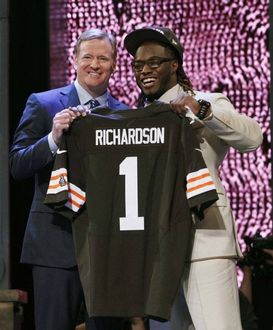 The Browns paid Richardson $13.8 million for 18 games of work.
Richardson made $13,887,125 from the Browns for the 18 games he was on their roster. $13,341,672 of Richardson's compensation is his signing bonus. He is counting $3,490,871 ($3,335,418 of proration from his signing bonus and $155,453 or 2 weeks of his $1,321,354 2013 base salary) on Cleveland's salary cap this year after trade. The trade gives the Browns $25.24 million in cap room, which is the most in the NFL, if McGahee signs for his league minimum. The Browns will have a $6,670,836 cap charge (or dead money) next year for Richardson from the 2014 and 2015 proration of his signing bonus.
The Colts get Richardson at $6,602,671 for practically three full seasons. To put Richardson's cost to the Colts in perspective, Shonn Green signed a three-year, $10 million deal (including $4.5 million in guarantees) with the Tennessee Titans to serve as Chris Johnson's backup. Richardson is counting $1,165,901, which is 15 weeks of his 2013 base salary, on Indianapolis' cap this year. He counts on the cap at $2,252,708 and $3,184,062 in 2014 and 2015, respectively. Since Richardson's guarantees don't contain offsets, the Colts can't recoup any of the salary owed to him from his next contract if they release him. The Colts have $2.07 million of cap room this year after the trade.
Ballard is the big loser because of his injury and its effect. It's unlikely that he'll approach the 814 rushing yards he amassed as a rookie during either of the last two years of his contract unless Richardson suffers a serious injury. The injury also has immediate financial consequences for Ballard. He has a split salary this year, which reduces his base salary from $480,000 to $303,000 for being on injured reserve for the last 16 weeks of the season. Ballard's total salary this year is $313,411 after the injury. To make matters worse, Ballard's 2014 base salary is tied to his credited seasons. A player earns a credited season with three or more games on the 53-man roster during a season. Ballard's 2014 base salary will be $495,000 instead of $570,000 because he isn't earning a credited season this year. Overall, Ballard's injury will cost him $241,589 in salary.
Both teams should be in great shape cap wise in 2014. The cap will be $125.5 million in 2014 if it has a similar percentage increase as this year. The Colts have $84.49 million in 2014 cap obligations after the trade with 38 players under contract, while the top 51 cap numbers count towards the cap during the offseason. Only the Oakland Raiders ($62 million with 33 players under contract) and the Chicago Bears ($80.5 million with 28 players under contract) have less money committed towards the 2014 cap. The Colts could have close to $30 million in cap room heading into 2014 free agency. The Browns rank seventh in fewest 2014 cap obligations at $103.3 million with 46 players under contract after factoring in Richardson's dead money. Considering teams can carry over their unused cap room from one year to the next, the Browns could have in excess of $40 million in cap room when the 2014 league year starts on March 11.
The Richardson trade could be a winning proposition for both teams but only time will tell. Indianapolis seems to have upgraded their ground game by acquiring the best running back prospect to enter the NFL since Adrian Peterson. Cleveland's ten picks in the 2014 draft should give them the ammunition to land a franchise quarterback and possibly a couple of other impact players.
Follow me on Twitter: @corryjoel
Joel Corry is a former sports agent who helped found Premier Sports & Entertainment, a sports management firm that represents professional athletes and coaches. Prior to his tenure at Premier, Joel worked for Management Plus Enterprises, which represented Shaquille O'Neal, Hakeem Olajuwon and Ronnie Lott. You can email Joel at jccorry@gmail.com.