November 17, 2011 -
Barry Dorey
Prospect of the day: North Alabama CB Janoris Jenkins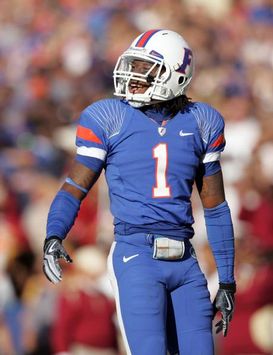 ICONJenkins made his mark in the SEC.
CB Janoris Jenkins: North Alabama (5-10, 185)

Possesses average height for the position with a thin, longer set of arms. Needs to continue to add a little bulk to his frame as he looks thin even at the DII level. Is an explosive off/zone corner. Has a tendency to get a bit fidgety in his drop in off man and likes to begin to open up his hips a bit prematurely. However, he's a very balanced individual with excellent foot quickness and he sinks his hips about as low as any corner in the draft when looking to drive on the football, generating an elite burst because of it. Showcases "plus" ball skills/coordination as well when asked to get his hands on the throw. Routinely extends his near side arm into the throwing lane which cuts down the angles and gives him a chance to make a play on the football.
Was used a lot more in press man concepts at North Alabama and to his credit looked comfortable near the line. He's does a nice job sitting low into his drop, extending the proper press hand, fluidly turning and running with the receiver, and quickly locating the football. His natural balance is still a major "plus" even in press man. Lacks the type of physicality to get a big bump on receivers, but is very coordinated snapping his head around and getting out of his breaks. Is a bear to try to separate from quickly. Now, his lacking physical make-up will allow receivers to create some separation with a subtle push on their comeback route and he doesn't have the kind of strength to shrug that bump easily. Isn't a real physical tackler either and his angles at times make you think he's not a real interested one either. However, he will breakdown on the edge, use his length well to wrap and will drag down bigger receivers. Takes better angles when alone on an island.
Does have some character concerns as he was kicked off the Florida football team in April following his arrest on misdemeanor marijuana charges and does have another prior run in with the law.
Impression: If he can put it all together off the field, he's got the ability to develop into a very good cover man in the NFL and despite his size he's going to be a really tough guy to separate from in just about any scheme he plays in.
Follow me on twitter: @WesBunting