September 08, 2011 -
National Football Post
Prospect of the day: Oklahoma State QB Brandon Weeden
The Breakdown…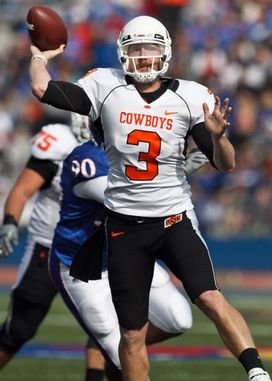 ICONWeeden is a better athlete than given credit for.
QB Brandon Weeden: No. 3 (6-4 218)
A strong, well put together quarterback with a live arm and the ability to make all the throws with ease. Is a former second round pick of the Yankees in 2002, but his baseball career ended in 2005 due to an arm injury. Enrolled at Oklahoma State in 2007 and took over as the starter in 2010. Plays in a spread and takes nearly all of his snaps from the gun. Displays sneaky athleticism for his size and exhibits a natural feel inside the pocket. Keeps his eyes down the field when he feels an outside rush, can maintain balance when stepping up and absolutely throw darts all over the field. However, gets too upright at times in his drop, causing him to struggles to quickly re-set his feet and really stride toward his target. Will fall off his fair share of throws when he feels pressure inside causing his accuracy and decision making to struggle because of it. When he does have more time does a much better job bending at the knees and really transferring his weight well, generating good torque from his lower half. Can really spin the football on all levels of the field and exhibits good accuracy and ball placement both in the intermediate and vertical passing game. Anticipates routes well down the field, snaps his head around quickly when working off play action from the gun and can fit the ball in tight areas on time with receivers. Also, displays "plus" touch vertically down the field, routinely drops the football into the outstretched arms of his target and looks comfortable using the same throwing motion.
Will drop his arm angle down a bit underneath and in the short passing game is where he gets lazy with his plant foot and his ball placement will struggle because of it. Is a smart kid who does a nice job recognizing defenses with his pre snap read and as the year went on did a better job looking off safeties and working through his progressions across the field. Gets a bit unbalanced with his footwork when working his way across the field because he gets upright at times, but should improve with more experience. Will throw blind when going back across the field and get himself into some trouble with interceptions because of it. Is a good enough athlete to throw on the move, isn't going to be dynamic by any sense in the open field, but can create time for himself when flushed from the pocket and scamper for additional yards.
An older prospect who will turn 28 years old in October.
Impression: His age will likely keep him from going as early in the draft as his talents deserve. But there isn't a throw this guy can't make and he has the skill set and mental make-up to mature into a potential starter with some time.