January 25, 2011 -
National Football Post
Senior Bowl practice notes: Day 2
A look at some of the top prospects and standouts from day two at the Senior Bowl.
He's not going to run real well and lacks the ability to consistently separate in man coverage, but Marshall tight end Lee Smith can really get after it in the run game. Smith was able to dominate at the point of attack today during run drills, pancaking Oregon LB Casey Matthews on one occasion and destroying Ohio State's Ross Homan on the other. He has a solid first step, gets out of his stance quickly and doesn't waste any motion unloading his strong punch into contact. Looks like a solid reserve-type tight end who will play for eight-plus years in the NFL.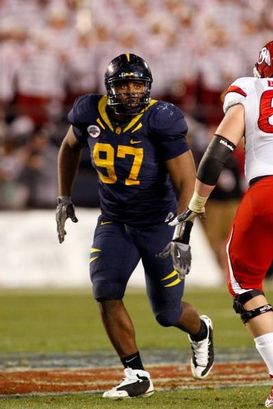 ICONCal DL Cameron Jordan could be on the rise.
I thought coming into the Senior Bowl week that California DL Cameron Jordan was the best senior prospect in the nation, and after a solid performance yesterday, the man took his game to another level today. Jordan was downright dominant at times as a pass rusher using his impressive initial burst, his violent/long arms and relentless motor to consistently slip blocks on contact and work his way into the backfield. He was effective both on the outside and lined up as a three-technique, and even played the run well at the point of attack inside. He was the one guy who I saw potentially making a move toward the top 10 with a dominant week and this was the kind of performance I was expecting from him.
However, I haven't been nearly as impressed with Purdue DE Ryan Kerrigan this week after his initial impression at the weigh in. He plays with a great motor and does use his hands well to slip defenders on his up and under move. But, he lacks the first step to consistently threaten the corner and doesn't play the run nearly as well as many make him out to. He did display a good pop at times today on his bull rush, but he gets a bit upright through contact when trying to disengage and he looks more like a high motor/counter pass rusher to me. And there is nothing wrong with that, but I don't think he warrants a top-60 draft grade.
Liked what I saw from North Carolina defensive back Kendric Burney today. He seemed a lot more comfortable sitting into his stance in off coverage, cleanly/compactly getting out of his breaks, snapping his head around quickly and making a play on the football. He did a nice job being patient in his drop, mirroring routes and closes well on the throw. Overall, it was a solid day for Burney who also did a better job than expected pressing off the line and turning to run down the field. I like the guy as a solid 3rd– 4th rounder who can end up maturing into a potential starter -– at worst slot guy -- with some time.
Took a good look at the safety class today on the North squad and the one guy I think might have more upside than any other prospect is Temple's Jaiquawn Jarrett. He looks like the most fluid of athletes at the position, can cleanly open up his hips and is smooth when asked to change directions. Needs some work with his footwork, as he isn't the most compact of defenders when asked to click and close and gets a bit overextended at times. However, in a very shabby safety class, Jarrett looks like an intriguing athlete who with some time could fight for some playing time in an NFL secondary.
Finally, Oklahoma safety Quinton Carter still looks a bit too stiff for me to think that this guy is a potential playmaking defensive back in the NFL. He has some snap to his game in run support, displays pretty good balance in his drop and overall ball skills in coverage. However, there isn't a real burst to his game when asked to redirect and close on the football quickly. I think he certainly has the ability to make a roster and play in the NFL, but he's not the type of blue/red-chip prospect many are making him out to be in my view.
Follow me on Twitter: @WesBunting