February 17, 2011 -
National Football Post
Top values after first round
When putting together my first mock draft of the season, the one thing that quickly became obvious was that there simply weren't enough spots in the first round to handle all the potential first-round prospects, which for teams picking in the early/middle half of the second round is a good thing. Therefore, we look at some of the potential top prospects who could end up falling outside of the first round and becoming good values for teams in round two.
Quarterback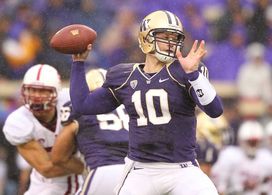 Locker seems like a much better value in round two.
Jake Locker: Washington
Despite his inconsistencies this year, he still possesses an impressive physical skill set and would certainly be worth the risk in the second round.
Christian Ponder: Florida State
If I was a team in need of a quarterback, targeting Ponder in the second round is the much better play than going with one of the juniors in round one.
Running Back
Ryan Williams: Virginia Tech
Displayed dynamic cutback ability in 2009, but was plagued by a hamstring injury this past year. If healthy he could end up being one of the best backs to come from this year's class.
Wide Receiver
Jon Baldwin: Pittsburgh
Is as talented as any wideout in this year's class, but character, passion and maturity are all issues that could cause him to fall.
Titus Young: Boise State
An explosive vertical threat who can blow the top off a defense and separate consistently out of his breaks.
Leonard Hankerson: Miami
Possesses a nice-sized frame, has done a better job catching the football this year and knows how to go up and make a play.
Tight End
Kyle Rudolph: Notre Dame
If he was healthy there is no doubt in my mind he's a first-round caliber tight end prospect, but because of the hamstring could end up being a real steal in round two.
Offensive linemen
Benjamin Ijalana: Villanova
I love his athletic ability. But, he does get a bit passive at times and coming from a small school could cause him to fall into a more comfortable second-round range.
Danny Watkins: Baylor
He's been as good as any offensive lineman in the country this year and is the best overall guard in the draft in my view. But his age (26) could keep him out of round one.
Stefen Wisniewski: Penn State
Because he's not a dominant power player or overly athletic, I think at best he goes in round two. But what you're getting is one of the most technically sound offensive linemen I've ever scouted.
Defensive linemen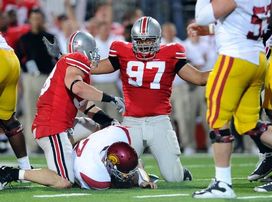 ICONHeyward would be a bargain early in round two.
Cameron Heyward: Ohio State
He possesses a naturally strong anchor, finds the football well and can defeat blocks in the run game. A real value if he can be had as a potential five-technique come the second round.
Stephen Paea: Oregon State
The knee injury he suffered at the Senior Bowl could definitely push him down draft boards a bit. However, he's an explosive, powerful lineman who plays low and could be a steal for a one-gapping team inside.
Corey Liuget: Illinois
I'm not as high on him as most, but he has some pass rush ability and the natural anchor to develop into a three-down lineman.
Jurrell Casey: USC
If Casey ever fully commits himself to the game, the guy could end up being one of the best defensive linemen to come out of this talented class.
Drake Nevis: LSU
I might have a soft spot in my heart for Nevis, but the guy plays the game with bad intentions and in my view possesses the best get off burst of any interior lineman in the draft.
Linebacker
Martez Wilson: Illinois
He's a long, gifted athlete with impressive fluidity and can rush the passer. I expect him to have a great showing at the Combine and make a run toward the back end of round 1.
Defensive back
Aaron Williams: Texas
A first-round talent with a gifted size/speed combo. Is pretty raw with his footwork off the line, but has the skill set to develop into a very good starting corner with some time.
Rahim Moore: UCLA
The one real wildcard at the safety position. Displays good range, instincts, fluidity and ball skills as a centerfielder and is going to run well at the Combine. Could go a little higher than most expect because of the weak safety crop.
Follow me on twitter: @WesBunting