July 14, 2010 -
National Football Post
What's Unga worth?
With the 2010 supplemental draft scheduled for Thursday, July 15, the National Football Post takes a look at this year's top prospect, BYU running back Harvey Unga, and breaks down his game, possible suitors and overall chances at the next level.
The measurables
RB Harvey Unga: BYU (6-1, 244)
2009 stats: 208 carries, 1,087 yards, 5.2 yards per carry, 11 touchdowns
Career stats: 696 carries, 3,455 yards, 4.96 yards per carry, 36 touchdowns
40-time: 4.65
Short shuttle: 4.51
Three-cone drill: 7.41
Vertical: 35 inches
Broad jump: 9 feet, 6 inches
Why he's in the supplemental draft/character concerns
Unga was dismissed from the BYU football team after breaking the school's honor code, allegedly for having premarital sex with his girlfriend, who gave birth earlier in the month. There are also concerns about his discipline and overall ability to work hard day in and day out. According to sources, he was never asked to push himself during his time at BYU and isn't a real self-starter.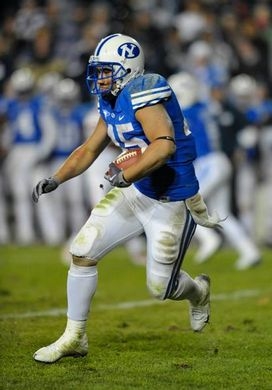 ICONUnga exhibits the power to push the pile and create yards after contact in the NFL.
The breakdown
A big, thickly proportioned back who carries his weight well for his size. Exhibits good musculature through his lower half and knows how to churn his legs through contact. Obviously isn't a real explosive back when asked to press the hole. But possesses an average first step and has the ability to get up to speed quickly. Exhibits good patience and instincts when asked to run between the tackles, picking his way through traffic and looks very confident and comfortable running the football inside. Does a nice job setting up blocks on perimeter runs as well. Lacks the speed to threaten the edge, but is patient, makes his one cut and finishes the run. Isn't real fluid and looks pretty tight hipped when asked to break down and quickly change directions laterally. Has a tendency to gear down when trying to dance and goes down pretty easy on contact. However, possesses good balance and exhibits much better feet than you would expect for a guy his size. Has the coordination to stick his foot in the ground, make a cut and powerfully accelerate up the field.
Now, he does attack the line of scrimmage a bit high and will expose some of his frame running between the tackles. However, he does a really impressive job dropping his pad level into contact once he recognizes would-be tacklers in front of him. Loves to lower his head, punish defenders and finish his runs. Displays impressive power through his lower body and can consistently run through arm tacklers and turn out tough yards after contact. Isn't going to run away from anyone in the open field and has only one gear to his game. But, because of his ability to break tackles inside, can be a threat to generate some 20-plus yard runs in the NFL.
Looks comfortable out of the backfield and knows how to catch the football and create a play out in the flat. Now, he isn't an elite receiver, will struggle to adjust to the football off his frame and isn't the most natural pluckers. Was split out at times in the BYU offense, but isn't a real impressive route runner when asked to separate from linebackers in man. However, he does have a bit of a feel of where to sit down into coverage and find throwing lanes toward the quarterback.
Impression
He's built like a fullback, but he strikes me more as a single-back type runner in the NFL. Isn't real dynamic and isn't a guy who I want starting for me as an every-down type runner in the NFL. But as a physical No. 2 guy who can win in short yardage and goal line sets and wear down opposing front sevens, he's your man.
NFP Grade
5.7 = Has a deficient area in his physical skills that CANNOT be overcome, but has been productive and can contribute as a backup and spot player only.
Potential teams of interest
Seattle Seahawks
With LenDale White no longer in the fold, adding a powerful, no nonsense type back like Unga makes a lot of sense.
St. Louis Rams
The Rams are one team who can't ignore any type of talent at this stage, and Unga would be a nice powerful complement to current starter Steven Jackson.
The price
If this were April and Unga was in the 2010 NFL draft, I would say he would go somewhere during the mid-to-late round range. However, because this is the supplemental draft involving teams with one final shot to land a player who can ultimately help improve their roster, I expect someone to slightly overpay for Unga's services. My guess is that he comes off the board for a fourth-round pick.
Follow me on twitter:@WesBunting
Ready for fantasy football? Click here to purchase the 2010 Total Access Pass/Draft Guide from the NFP.