June 16, 2013 -
Dan Pompei
NFP Sunday Blitz
It's Father's Day, a good day to visit with Monte Kiffin.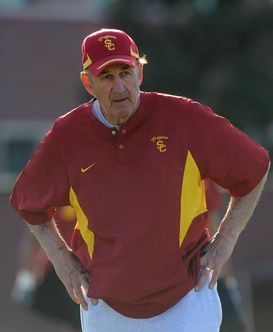 ICONMonte Kiffin knows what a good coach is all about.
The Cowboys defensive coordinator raised his son Lane to be a coach at the top of his profession. And Monte also has been a figurative father to scores of coaches. People don't often consider Kiffin when they talk about "coaching trees" because he always has been an assistant himself. But Kiffin's coaching tree is a virtual Giant Redwood.
Check out this partial list of coaches who Kiffin hired when he was with the Bucs, and Kiffin's recollections of hiring each:
*Herm Edwards. "We needed a secondary coach and Herm had worked with Tony Dungy under Marty Schottenheimer at one time, so Tony knew him well," Kiffin said.
*Rod Marinelli. "Rich McKay and Jerry Angelo mentioned Rod's name," Kiffin said. "They knew him from college scouting after following him at Arizona State, Cal and USC. When I met him at the combine, boy was I impressed."
*Lovie Smith. "We were looking around and around for a linebacker coach. John Cooper, who was the head coach at Ohio State, said, 'There is a good coach by the name of Lovie Smith.' We interviewed him at combine too. He had been a secondary coach. We had Herm to coach the secondary. But we felt Lovie was so good, he had something special, so we wanted him. I was going to kind of coach the linebackers and walk around, and have Lovie learn from me for one year. After minicamp, I said, 'Coach Dungy, he's ready. We don't have to wait.' So he took linebackers in 1996 from the get-go."
*Mike Tomlin. "We interviewed 15, 16 guys for the secondary job," he said. "Then we heard about a young guy at the University of Cincinnati by the name of Mike Tomlin. Rick Minter was the head coach. I had worked with him. I said, 'I heard you have a young coach who is under the radar.' He said, 'How did you hear about him?' I said, 'I've been snooping around.' So I called Mike, and I said, 'This is Coach Kiffin from the Tampa Bay Buccaneers.' He didn't believe it was me. He was outstanding in the interview. I took him out on the field. I call it the 'it factor.' Some guys just have it. You can feel it. Mike was 29 at the time."
*Raheem Morris. "The quality control coach on the Super Bowl team was 26 years old, Raheem Morris. When Mike [Tomlin] left, we moved him up to secondary coach because he was so good."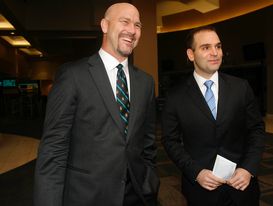 Monte Kiffin helped Gus Bradley get to the point where he became the head coach of the Jaguars.
*Gus Bradley. "We knew Joe Barry was going to leave in one year to go with Rod Marinelli, who is his father-in-law. So we hired a no-name guy from North Dakota State just to have him in place. I knew the coordinator there from when I was at Nebraska. He told me about a young guy named Casey [Gus] Bradley. We hired him as quality control coach. When Joe left, we moved him up. Then when I left the following year, Jim Mora Jr. the head coach of the Seahawks, called and asked if I had any good coaches. I said yeah, Gus Bradley. I said, 'If you interview this guy, I'll be shocked if you don't hire him.' One year later Jim was fired, and Pete Carroll, my good friend from way back, takes the Seattle job. Pete said, 'Do you know any good coordinators?' I said, 'Yeah, there is one right down the hall from you.' He said, 'The defense wasn't too good last year.' I said, 'Interview him, you'll be shocked at how good he is.'"
Kiffin is quick to say he really didn't hire these coaches. Tony Dungy and Jon Gruden did. But Kiffin was a big part of it, probably the driving force. Clearly, he can recognize greatness in an unproven coach.
What does Kiffin look for? "It's how you connect with your players," he said. "There are some really smart coaches who are great on the blackboard. But we use the term can you take it to the grass? How do you make your presentation, how do you communicate? You can know all the X's and O's, but can you get the guys to play hard? That's why I respect Lovie and Rod so much. You know how hard those guys played. That goes back to how much respect the players have for them.
"You also have to be a good listener and fall into what the head coach is looking for. You have to be able to adjust to them. I have to adjust to Jason Garrett now. I've never worked with him before."
Part of identifying great coaches is getting the interview process right.
"I think the biggest thing you have to do is not be in a big hurry," Kiffin said. "Sometimes people get so excited about hiring guys or getting a staff together. You worry about losing a guy to someone else. But you have to make sure you hire the right people, talk to a lot of people. You have to get as much information as you can. We would take them on the field, go through drills. Do you have some tape to show?"
The other element to this is Kiffin develops coaches. Clearly, he hired some special men. But he brought out the best in them and prepared them for greater responsibilities.
"He challenges you," Bradley told me. "Every time you're with him, have a notepad. You write things down. You go to your desk the next morning. There's a card with red ink. 'Gus make sure you work on these things. Take a look at play 52 of this game, tell me what you think.' It's never ending. He's constantly striving to challenge you to get better. I've carried it over to everywhere I've been."
Bradley, now the head coach in Jacksonville, carried over something else he learned at the feet of the master. "Monte Kiffin taught me it is a business, but it is okay to have fun," he said. "Focus doesn't mean rigid. It's OK to come into meetings every day with players and enjoy their company."
Kiffin knows how to get the best out of players. And he especially knows how to get the best out of coaches.
My Sunday Best: Father-Son Combos
It is a great gift for an NFL coach to be able to be able to give his son an entr