July 21, 2011 -
Barry Dorey
We have a (proposed) deal
We have a proposed NFL deal and re-opening of football, although labor pains have not ceased. Commissioner Goodell and NFL Owners announced a new ten-year collective bargaining agreement (CBA) – with no opt-outs – with the Players. However, in a day of twists and turns that is a microcosm of the problems of trust and communication in this long-running dispute, the Players did not reciprocate...yet.
Pending approval by the Players, let's take a look at some of the key terms, with instant analysis of deal points that may be in place for the next decade: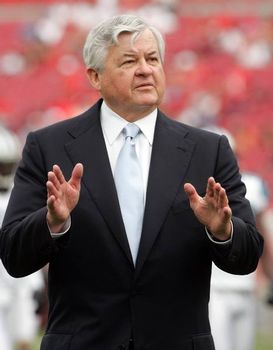 ICONOwners like Richardson were intent on changing the revenue split.
Revenue Split
Unlike the previous CBA – where $1 billion was skimmed off the top for credits and set-offs – the new revenue model will be based upon All Revenue (AR), beginning with an accounting after this season. Owners will receive approximately 52% and Players 48%, with true-up provisions for Owners to have a higher percentage in the event of certain revenue targets. The Players' downside protection is 46.5% with a requirement that their ten-year to not dip below 47%.

Also, for 2012 specifically, Players will receive:
• 55% of national media revenue
• 45% of NFL Ventures revenue
• 40% of local team revenue

Also, owners that spend on actual stadium investment will receive a credit of up to 1.5% of revenue each year.
Analysis: The Owners will have forged the change in the system they were seeking, albeit more limited than they had hoped. Coming off a net revenue share of 50/50, Owners were determined for change, initially hoping to reduce the Players' share by $1 billion. The final deal will result in approximately $200 million in positive change for them, with the savings growing in the future.
This was the Owners' top priority and they were able to extract significant monies, as well as a credit for stadium spending.

Salary Cap

Owners have agreed to a 2011 Salary Cap of $120.375 million with increases depending on the share of revenues each year.
Analysis: The amount allocated to salary and bonus money in the last capped year – 2009 – was $123 million (plus a $5 million one-time credit). While the number looks $3 million per team less than 2009, the Players have a $3 million "credit" this year to borrow against the future. In that sense, the Cap remains flat from the last capped year. With Owners desiring a different model, the Players were able to hold the line at roughly the same level as the last year of a Cap.
There are also $22 million of benefits – money taken out of negotiable dollars – including the Minimum Salary Benefit (allowing older players to be paid a higher cash number with a lower Cap number) and the all-important Player Performance Benefit, rewarding low salary players who log significant playing time.

Cash Minimum (Guaranteed Spend)

In 2011 and 2012, there is league-wide commitment to cash spending of 99% of the Cap.

In 2013-16 and 2017-20, this number drops to 95%. Also during these years, each team must commit to cash spending of 89% of the Salary Cap.
Analysis: This is perhaps the most player-friendly aspect of this deal. Previously there were Cap minimums but not cash minimums, requiring teams to collectively spend hard cash to the level of the Cap. To put it simply, this will require more spending on players. Teams will not be able to free-ride their way to Cap minimums only.
Minimum Salaries
First-year minimum salary will go from $320,000 to $375,000; second year minimum salary will rise from $395,000 to $450,000. All </span>minimum salary levels have gone up $55,000 from 2010 levels. The minimums will rise $15,000 per year from there.
Analysis: Approximately half of the Players in the league are playing under minimum salaries. These are healthy increases. This may be the unsung hero issue of the deal.

Rookie Compensation

All drafted rookies will sign four-year deals; all undrafted rookies can sign three-year deals.

For top ten picks in the Draft, Owners agreed to fifth-year options at an average of the top 10 veteran salaries at a player's respective position. Players selected 11-32 will be paid an average of the top 3-25 salaries at a player's respective position.
There will also be what is described as "anti-holdout" provisions.
Analysis: We have known for two years -- or at least since JaMarcus Russell became the poster child for what is wrong with the rookie pay system -- that rookies at the top of the Draft would be the sacrificial lambs of this deal, and they are. Beyond that, rookies in rounds 2-7 will not be affected much.
I am also told that these contracts will be far simpler than in the past, likely meaning that there will be limited and restricted use of escalators and "one-time" incentives that allowed rookies a "second rookie pool" that took advantage of the system.
Reduced contact
The future offseasons may look more like this locked-out offseason than previous ones! Offseason workout programs, OTAs and time at the facility will all be curtailed compared to the past. And training camp will feature less padded practices and contact.
Analysis: Players pushed hard for less hitting and reduced offseason work. They got it. Although coaches and evaluators will not like the limited time they see the players before August, this was an easy "give" by the Owners, especially with the focus on health and safety.

18-Game Schedule

This was a deal breaker for the Players, especially in light of an uptick in concussions. The proposed agreement delays an enhanced season until at least 2013 -- keeping the format to what the Owners call "16-4" -- where the addition of any extra games must be approved by the NFLPA.
Analysis: This was a priority issue for the Players, especially in light of the brutality of the game and the increased numbers on the injured reserve list. There appears to be an opening for the future, however, with the right compensation to the players.

Supplemental Revenue Sharing

Although the NFL may unilaterally implement revenue sharing mechanisms, the Players feel as though this was sprung on them last minute.

Though this is an owner-to-owner issue, the key is for the Players is to ensure that there is language included that mandates teams to commit their revenue sharing funds on player spending. A revenue sharing system with no earmarks on where to spend has little meaning to Players.
Recertification
This has become a highly divisive issue. In order to recertify, 50% + 1 of the players must vote in favor of reconstituting the union.
Owners want this vote to take place electronically so that Players can quickly agree to the proposed CBA. Players would rather proceed cautiously and know if they recertify too quickly, it can be used against them in the future. A compromise may be reached here.
Further, Players are agitated by what they feel is coercion on the part of Owners dictating the terms of recertification, alleging that this pressure violates federal labor laws.
Lingering Issues
Certain issues which remain – workers' compensation, injury protection, disability, benefits, personal conduct policy, drug testing – must be collectively bargained. This means that final resolution of these issues cannot occur until the NFLPA recertifies.
Additionally, the Players had specifically requested an opt-out clause at the 7-year mark. The Owners' proposed agreement contained no such provision.
The contractions have arrived; the baby will be here soon.
Much more to come...
Follow me on Twitter at adbrandt.