March 27, 2011 -
Greg Gabriel
The games of draft season
I used to tell people in the last few weeks leading up to the draft that the first thing I have to do when the draft is over is go to confession and beg for forgiveness for all the lies I told the previous two months. Not that I consider myself a dishonest person, but because in the two months from the combine to the draft there is more misinformation than information put out. Preparing for the draft is the most important part of a scouting department's calendar and the last thing a team wants out is how they feel about certain players. So it has come to become fact that at this time of the year there is more lying going on than truth telling and it's done by everyone in the business, from GM's to coaches, to scouts to agents. In an ideal world, you want to find out as much information as you can and give out as little as possible.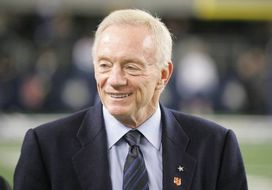 ICONJerry Jones said that he had already received offers on Dallas' top pick.
Earlier in the week, Dallas owner Jerry Jones said that he had already received offers on his top pick. I highly doubt that five weeks before the draft he has received offers. Teams don't usually start calling about trades until their final boards are set and that isn't until about a week before the draft. What Mr. Jones was really saying was his pick may be for sale and he was letting the other 31 clubs publicly know in case they were interested.
When Charley Casserly possessed a top-5 pick as GM of Washington and Houston, he was always the first guy to let teams know his pick may be for sale. Only he would do it in late January or early February by saying "I've already gotten 2 or 3 calls on our pick." Reality is, making that public statement is code for "call me if you're interested…I might want to move down."
When agents start telling the press "there is nothing wrong with my player, his injury has healed on schedule and he will be ready to work out in a few weeks" it is code for "I've heard my player may be dropping, I have to start damage control." In all fairness to the agent he is doing the best job he can for his client but he really doesn't know what teams think — he just maybe knows. Clubs seldom give out their medical information. The reason being is a) it's private and b) not all teams look at medical concerns the same way. One team may have a player as a risk while another team says he fine. It's what they are comfortable about and the history they have had dealing with that type of injury. Over the years I have seen players get drafted in the first two rounds that my club may have rejected medically. Some of those players have gone on to have rewarding careers while others have had very short careers.
Pro Days
Pro Days are famous for giving and receiving misinformation. Unfortunately for some clubs, there are many scouts that love to talk when they are on the road and you can always pick up good info because of that. When I was a scout for the Giants, our Director was the late Tom Boisture. Tom used to say to me, "Greg, you have two ears and one mouth…that means listen as much as you can and talk as little as you have to." I always took that to heart, so if a scout told me something that I felt was valuable, I would give him something in return but most of the time it was a lie. I would never talk about players we liked only about the players we didn't like. And I would always talk very favorably about them.
Agents
In the weeks leading up to the draft, I liked to call agents and talk about their clients. I would always ask them what they are hearing about their guys as far as how high they may get picked. Almost all of the time when they answer they will exaggerate what they think. If they feel their client is a solid 3 they may tell me everyone is telling him he's going in the second. Because I knew that was usually the case I may tell him that I think that's high and that I wouldn't take him before the fourth. It's not that I want to be dishonest with the agent, it's I know he will tell other clubs that my club likes this player as a fourth-round type. That's how they do business; it's how the game is played.
The press
The hometown media is always the worst. They want to know what you are doing all the time and why you are doing it. Unless you can REALLY trust a reporter, you can't tell them anything. This is a very competitive business and you can't let the press know what you want to do because of course they will write it. The only person I have ever seen tell the media exactly what he was going to do and then do it was the late John Butler, who was GM of the Bills and then the Chargers. While with the Bills, John would say we are going to take so and so and then no one would believe him. Then on draft day, that was the guy he drafted.
While I was with the Bears, I would change things every year so the media could not be certain as to why we were doing things. One year I may bring in for visits many of the players we were interested in and the next year not bring in any and then the next year only guys we may want as potential free agents. Of course then there were some years when you would bring in the big "smoke screen" candidate only to let other clubs "think" we were interested in that player. I felt you could never have a pattern on how you did business; you have to change from year to year especially when dealing with the draft. If I was ever asked about a certain player's injury, I would always say that it was a concern even if it wasn't. If that answer would throw off what a few clubs thought we may want to do then it was the right answer.
The bottom line is the only things that you can really believe is what you know to be true. And the longer I am involved with this thing the more I believe that the more experienced people running a draft the better off that team will be come draft day.
One last note: Back in the early 80's when ESPN started televising the draft, Paul Zimmerman of Sports Illustrated was one of their analysts. Paul would call the GM's of teams he was close to and ask them who they were going to draft in the first round. When those teams' turns came up Paul would say "they were going to take so and so because the GM told me that last night." When the team took another player Paul looked so disillusioned and would then say, "I can't believe it, they told me they were taking the other guy…why would they lie to me?" He found out the hard way that there are more lies than truths being told this time of year when it comes to the draft.