September 01, 2014 -
Dr. David Chao
Monday Morning MD
Roster moves dominated this past weekend's NFL headlines. As the preseason ends, teams scramble to reach the magic number of 53. Medical designations such as injured reserve (IR), injured reserve designated for return (IR/dfr), physically unable to perform (PUP) and non-football injury (NFI) are used to help teams reach their final active roster limits. A player may also be waived/injured, but the club gives up exclusive rights to the athlete.
In addition to the 53 players, there is now a 10-man practice squad used to develop players and help run the scout team. Every franchise's goal is to have 100 percent of these players healthy Wednesday through Friday.
The NFL rules for injured reserve are unique. Unlike other leagues, IR is essentially a one-way street from which there is no return. Take Major League Baseball as an example, where there is both a 15 and 60-day disabled list, which amounts to temporary and reversible injured reserve.
Pro football's solution for temporary injured reserve is allowing a bigger roster than can suit up each week. In other sports, the entire active roster can play in any game. In the NFL, only 46 of the 53 players may dress for a contest. This allows for up to seven players to be temporarily injured or unavailable to play without a team being undermanned and forced into a more permanent roster move. Admittedly, this cushion is often used for strategy and not just to allow recovery from injury.
In order to qualify for injured reserve, a player must be considered to have suffered a significant injury lasting at least six weeks. In other words, a mild ankle sprain does not qualify for IR.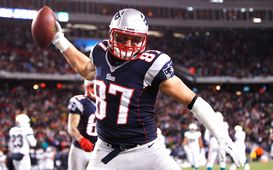 In 2012, the new category of IR/designated for return began. Each team can name one player that potentially could be brought back off of IR after eight weeks. The idea is that if a player suffers a serious injury early in the season, he could still return if he can get healthy and a team could utilize the roster spot in the meantime.
Physically unable to perform is another oft-used medically related designation that can free up a roster spot. There are two types of PUP, active and reserve. Reserve/PUP is for the regular season as it is the only type that saves a roster spot. This designation means the player cannot return for a minimum of six weeks, but needs to return by Week 12 with up to a three-week grace period to practice.
Reserve/PUP can only be utilized if the player started the preseason on Active/PUP. This is why some teams open with a player on Active/PUP (even if only for a day) in order to preserve this right to save a roster spot and return the player to action later in the same season if medically indicated.
Non-football injury is a similar designation to PUP except the injury did not happen during an NFL practice or game. This category accounts for all off-field medical issues including injuries that occurred in college prior to the NFL. For example, the 49ers placed running back Marcus Lattimore on NFI for a second year in a row due to the horrific knee injury suffered during his 2012 college season.
General managers routinely garner projected recovery information from the medical staff. During my time as a head team physician, I never made or suggested any medical roster moves but was often approached this time of year to provide information so top brass could determine the right medical designations.
Using IR, PUP and NFI lists to their advantage, clubs can retain rights to players without having them on the active roster. All teams employ these special medical related designations in order to get down to the 53-man active roster limits.
MMMD 1: Prognostic importance of Reserve/PUP designation
It is of obvious significance if a player is placed on PUP. What sometimes is more significant is who is not on the list.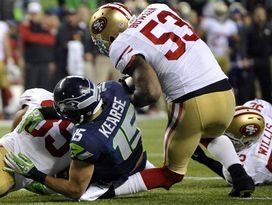 49ers linebacker NaVorro Bowman begins the season on Reserve/PUP thanks to this play.
Players on this list now include San Francisco linebacker NaVorro Bowman (ACL/MCL) and Oakland cornerback D.J. Hayden (foot). This means their teams feel they still need significant time to recover.
Forgoing the designation means their guy is ready, or at least on the cusp. Teams use a roster spot on the player expecting him to play immediately or feel he is close enough to be carried as one of the 53 on the active roster.
Significant non-members of the PUP list include Patriots tight end Rob Gronkowski (ACL/MCL), Broncos linebacker Von Miller (ACL), Cardinals safety Tyrann Mathieu (ACL/LCL), Giants linebacker Jon Beason (foot) and Dolphins center Mike Pouncey (hip). This doesn't mean these players will all play or be effective in Week 1, but it does mean there is optimism they will contribute soon if not immediately.
MMMD 2: Johnny Football with medical exemption?
Browns quarterback Johnny Manziel used a tinted visor during the preseason. Only clear shields are allowed in the NFL unless there is a medical waiver like the new rule banning grill facemasks.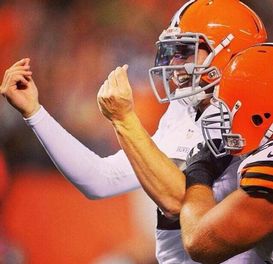 Team medical staffs assist players requesting tinted eyewear with the mandatory league approval process. For example, former Chargers running back LaDainian Tomlinson was famous for his league-approved dark tinted shield. (Due to patient confidentiality, I cannot discuss the specifics of his medical waiver).
Depending on the medical condition, the NFL would annually determine if tinted eye protection was allowed. Sometimes the waivers were denied. Even when approved, the darkness of the tint was dictated by the league office.
Since the NFL is extremely strict on uniforms violations, Manziel either has a medical waiver or is willing to pay the fine. Admittedly, his visor is only lightly tinted, but any amount of tint requires pre-approval.
MMMD 3: Media overreaction to two rookie WR injuries: Watkins and Bryant
Despite media worries over Sammy Watkins' ribs, the rookie from Clemson should recover quickly. Buffalo's first-round draft pick suffered a rib injury two weeks ago and re-aggravated it during the preseason finale. With well over a week to go before the first regular season game, I don't anticipate a big problem. Ribs tend to heal quickly and there are medical treatments to alleviate pain and protect against re-injury.
Media reports also questioned whether the Steelers would use the short term IR designation for wideout Martavis Bryant's AC sprain. With analysis of this injury, I feel it is extremely unlikely that he will have a prolonged absence nor need the speculated IR/dfr designation. Bryant is very likely to play as early as Week 1.
It will be interesting to see if media speculation from sources is more accurate or if insider knowledge of medical injuries wins out. Time will tell if these two wide receivers play in Week 1, but I am optimistic.
MMMD 4: Initial media reports on Glenn Dorsey incorrect
When 49ers defensive tackle Glenn Dorsey tore his biceps, prominent national reporters indicated his season was over and other news outlets verified the bad news.
Based on my orthopedic experience, I felt that a player with a distal biceps tear could return in the same season. I have treated NFL players that have returned to play in the same season after surgical repair. To me, when Dorsey got a two-year contract extension in the weeks after surgery, it was a strong indication that he could return this season.
Now the word from head coach Jim Harbaugh is that Dorsey will likely be back in the lineup sometime in 2014.
No one, including me, is perfect. However, I do try and base my opinions on sound medical principles and my direct NFL experiences as opposed to non-medical "sources" that can be misleading, even to the best of reporters.
MMMD 5: Should Wes Welker retire after his third concussion in a year?
This is the question that many in the media are asking. Many pundits have drawn their strong conclusions one way or the other.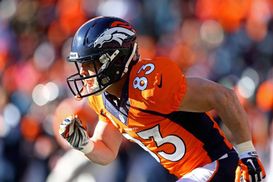 At the current moment, all indications point to Welker playing in 2014.
I feel any speculation in this area is entirely unfair to Welker, his family, the Broncos and the medical staff. None of us know the details on any his concussions. None of us know what symptoms Welker has or what his risk level is at the current moment.
I appreciate that outsiders may have Welker's best interest in mind, but it is unfair to speculate without knowing his medical information. Only Welker and his doctors know his real risk. If the media concern is about being as safe as possible, then the answer is to never start playing football in the first place.
Welker reportedly is not considering retirement. I hope that is the right decision for him. We should leave him alone as he consults his doctors to make the right call.
MMMD 6: Josh Gordon's one-year suspension fair?
Certainly Cleveland's star wide receiver has had his chances, as this fourth transgression is what led to his year-long ban. However, is it fair that the triggering failed test involves levels that would not be considered illegal in the Olympics?
The NFL-allowed marijuana level is currently ten times stricter than the Olympics and many are calling for change, which may finally be near. Unfortunately for Browns fans, any pending change won't help Gordon, even though he had a reasonable case to present.
MMMD 7: Shameless charity plug
Today's final topic is about a charity that is near and dear to my heart. San Diego Sports Medicine Foundation was formed in 2002 as a medical safety net to provide free care for injured kids. To date, it has performed over $1.5 million in surgeries and medical treatment.
Not every young athlete has access to medical care. A family at the poverty level can get access through state and county programs; however, a single mom struggling to make ends meet while working as a waitress with no health insurance does not qualify for aid. What happens if her son tears his ACL? That is where SDSMF steps in, as we don't believe kids should be penalized for their financial situation. Almost 100 free surgeries have been performed on injured high school athletes in need.
Over 2000 kids have been treated through the free Saturday morning injury clinics. As a prep athlete at Helix High School, Reggie Bush was treated through the free SDSMF clinics.
The 13th annual Taste at the Cove fundraiser takes place this Thursday, September 4. The Community Legend honoree is coach Steve Fisher. Past recipients include Tony Gwynn, Marshall Faulk, Trevor Hoffman, Junior Seau, Tony Hawk, Rodney Harrison and Kellen Winslow, Sr.
CLICK HERE to check out the silent auction.
MMMD extra: ACL surgery series – Week 33
As the regular season arrives, we continue to chronicle the ACL recovery of Patriots tight end Rob Gronkowski and Broncos linebacker Von Miller. Both players are on the active roster, but Gronk has not appeared in a preseason game and Miller played in only the third preseason game. We will soon see their Week 1 availability and performance.
Last week's big ACL news was Rams quarterback Sam Bradford re-tearing his reconstructed ligament. It was pointed out that in the first year, re-tear in the same knee is more likely.
With surgical advances, once you get beyond year one, it is more likely to tear the other knee ACL than the same knee. As a case in point, Eagles linebacker Travis Long tore his left ACL in the final preseason game. He tore his right ACL in 2012 as a senior at Washington State.
Hopefully Gronk, Miller, Bradford and Long won't have to worry about any future re-injury issues.
Follow David on Twitter: @profootballdoc