June 24, 2012 -
Matt Bowen
An inside look at Jon Gruden's game plan
Click here for the entire Inside the Playbook series
Previous Game Plan Breakdowns:
-Mike Shanahan
-Andy Reid
Let's continue talking NFL game plans with former Bucs head coach (and current ESPN analyst) Jon Gruden.Here are my notes from back in Washignton when I was playing for Joe Gibbs and the Redskins. Tendencies, formations, personnel, routes, etc. All posted from my defensive notebooks as we prepared to head down to Tampa to play Gruden's Bucs.
Redskins at Bucs (2005)
(Offensive tendencies compiled from previous four opponents)
Offensive I.D.
-Personnel
-Formations
-Run game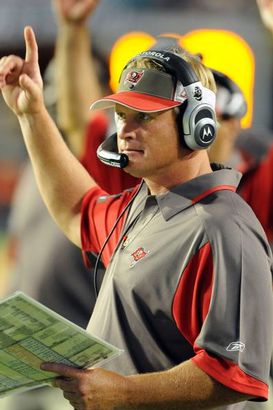 ICONGruden's game plan centers on pre-snap shifts and motions.
GRUDEN'S PERSONNEL GROUPINGS
-Regular (2WR-1TE-2RB)
-Pony (2WR-1TE-2TB)
-Ace (2TE-2TE-1RB)
-Posse (3WR-1TE-1RB)
-Houston (3WR-1TE-1RB)
-Jet (4WR-1RB)
-Heavy (1WR-3TE-1RB)
-Tank (1WR-2TE-2RB)
-Jumbo (3TE-2RB)
*Key personnel in breakdown: WR Joey Galloway (No.84), FB Mike Alstott (No.40)
OFFENSIVE TERMINOLOGY
X=Split End
Z=Flanker
Y=On the line TE
U=2nd TE in the game
W=Slot WR
H=4th WR/3rd TE in the game
R=RB
F=FB
SCREENS
-4 total screens
-Posse: 3x
-Ace: 1x
-No.84 aligned out of position=Screen alert
-Run screens in minus territory
-No.84 aligned in bunch formation=Alert "Bubble" screen
GADGETS
-Only two reverses
-No.84 motion to formation
-Tank (align in empty): WR motion to backfield=Alert WR Toss
"FIRST 15" TENDENCIES
-Shifts early followed by tempo
-Will try to get big names involved early (Galloway, Alstott)
-Will break tendency early to get it out of the way—and then go back to normal game plan
-Alert quick passes (Out, Hitch)
-Top Runs: Power O, Counter Strong
-No.84 will see 50% of targets
-Alert deep shots between 40's ("Yankee" concept)
1ST AND 2ND DOWN TENDENCIES
Rabbit=Run
Bird=Pass
PRO SETS
-80% run when they shift
-WRs in Nasty split=Alert Rabbit
-RB at 6-yards=Bird
-Split Pro=Bird
-FB in "chowed" alignment (outside leg of tackle)= Bird
-Far backs=Alert Bird
-Y (TE) movement=Alert Rabbit
SLOT SETS
-WR aligned 3-yards or tighter to tackle=Alert Bird
-WR with normal splits=Alert Rabbit
-WR motion, stops in core=Alert run away
-Near Slot=Deep ball
-WR Flip (with normal splits)=Alert Bird
-I Flip=Hitch route
DOUBLES
-Curl-Flat, Slant-Flat to TE side
-RB at 7-yards=Alert Rabbit
-Aligned or motion to stack look=Alert Bird
-Speed into boundary=Alert Bird
-"Vice" alignment=Flat-Outs/Yankee
UNIT/SPREAD/TREY SETS
-WR aligned tight to formation=Alert Bird
-Y to our right=Alert Bird (80%)
-Trey formation=Alert Bird
TWIN SETS
-"Divide" motion=Alert Rabbit
-Motion drifts to backfield=Alert Bird
-Motion out of the box=Alert Bird
-RB offset=Alert Bird
-Stack WRs= Alert Bird
3X1 SETS
-RB at 6-yards=Alert Bird
-"Waste" motion=Alert target to No.2
-RB offset=Dodge route, Slant-Flat
-Will run to open (weak) side
ORANGE SETS
-Alert to West Coast concepts
1ST AND 2ND DOWN RUN GAME
-O-Line will open up splits when they want to run the ball
-WR motion to core=Rabbit
-"Pony" personnel=Rabbit
-Shift to 2-back look=Rabbit
-Shift to 1 back look=50/50 run-pass
1ST AND 10/2ND AND 1-6
-Power O
-Counter OF
-Lead Weak
-Toss Strong
-Lead Draw
2ND AND 7-PLUS
-Draw
-Lead Weak
-Lead Strong
1ST AND 2ND DOWN DROPBACK PASSING
-Level Option
-Spot
-Boot
-Hi-Lo
-Options
-Split Hook
-Yankee
-Flat-7
-Hi-Lo Opposite
-Spacing
3RD DOWN TENDENCIES
-QB Under center=3-step routes/Rabbit
-5 runs: Alert Zone Dive
-Posse personnel=52%
-Houston personnel=22%
-Ball is going to No.84
-3rd and 11-plus=Alert Screens
-Stack into boundary=Level Option
-Houston Split=Middle Read
-Houston Split Stack=OVS, Split Hook, Spot
3rd DOWN TOP CONCEPTS
-3rd and 2-6: Hi-Lo, Spot, Level Option
-3rd and 7-10: OVS, Middle Read, Rail
-3rd and 11-plus: Split Hook, Yankee, 4 Verticals
3RD DOWN PROTECTION SCHEMES
3RD AND 2-6
-6 Man: 13x
-7 Man: 5x
3RD AND 7-10
-7 Man: 9x
-6 Man: 5x
3RD AND 11-PLUS
-7 Man: 9x
-6 Man: 5x
RED ZONE TENDENCIES
-62% pass
-Posse/Ace=Alert Bird
-No.84=Alert inside concepts
-Alert to Boots
-Concepts: Spot, Y-Shake, Whip Options, Boot
HIGH RED ZONE TENDENCIES
-Will motion to make us adjust
-Alert to double-moves
-3rd down=Hi-Lo, Zone Pass
-Concepts: Outs, Pump-Seam (No.84), Hi-Lo
GOAL LINE TENDENCIES
-8 plays: 6 runs=2 passes
-Jumbo: 7x
-Tank: 1x
-Runs=Lead, Lead G, Power O
-Run to our right: 4x
-Run to our left: 2x
-Alstott at TB=Alert Lead
-Pass=Play action Flat-7
CRITICAL PLAYS/SHORT YARDGAE TENDENCIES
-17 Plays: 13 runs-4 passes
- Alert to shifts-motions
-Tank: Alert Rabbit
-Big Wing=Alert Rabbit
-Jet: 999 route
-Alert to Crack Toss/ Perimeter runs
-WR over split=Alert QB sneak
-Posse Double Slot=Hi-Lo Whip
2-MINUTE TENDENCIES
-Posse: 75%
-Will use Ace/Regular personnel to stop pressure
-Protections: 6 Man (24x), 7 Man (9x)
-Jet 2x2, 3x1=Deep Ball
-Motion=Target No.84
-Runs: Zone, Power O
2-MINUTE TOP CONCEPTS
1. Zone Pass
2. Slant-Flat
3."999"
4. Hi-Lo
5. Split Hook
4-MINUTE TENDENCIES
-Start using shifts at 6-minute mark
-True 4-minute starts at actual 4-minute mark
-Tank=Power O, Lead
-3rd down=Bird (Spot, Hi-Lo)
BACKED UP TENDENCIES
-Runs: Power O, Lead, Crunch, Zone
-Passes: Zone Pass, Spacing, W Post, Hitch, Sticks
- Personnel: Regular, Tank, Posse, Houston, Heavy
-Heavy/Tank=High Rabbit alert
-Posse/Hou ston=Bird
-Regular: 50-50 run-pass
"GOTTA HAVE IT" PLAY
-Spot Route
Follow me on Twitter: @MattBowen41