January 05, 2011 -
National Football Post
NFL Draft 2011: Our top tight end prospect
With news coming late Tuesday evening that Notre Dame tight end Kyle Rudolph has decided to throw his hat into the ring and enter the 2011 draft, the tight end group now has a new leader at the position in my view.
Rudolph didn't have the year many expected in 2010, missing the second half of the season with a hamstring injury that forced him to undergo surgery in October. He finished the year with 328 yards and three touchdowns in only six games, but when on the field, the guy's impact was most definitely noted by just about every defense he faced.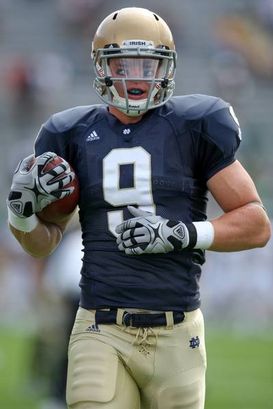 ICONRudolph can win for you in both the run and pass game.
When breaking Rudolph down the first thing you can't help but notice is the guy's overall size and physique. At 6-6, 265 pounds, the kid looks like a miniature offensive tackle at times. He's a long-armed athlete with a big, strong set of hands in which he uses extremely well in both the run and pass game. When taking a look at him last year as more of a traditional "on the line Y," Rudolph did a nice job coiling up into his stance, kept his pad level down and extended his arms well off the snap in the run game while keeping his base under him through the play. He did get a bit ahead of himself at times, especially when asked to block in the pass game, and would lose balance lunging into blocks at times. However, he displayed impressive coordination and strength when asked to stick to blocks in space on perimeter runs and really did a number on some talented defensive ends last season sealing them from the action when asked to get his feet around and set the edge.
He strikes me as a guy who you can certainly win with in the run game at the next level and has the type of power, flexibility and violent/heavy hands needed to hold his own vs. NFL-caliber defensive ends early on in his NFL career.
However, what might be even more impressive about the guy's game are his overall movement skills in the pass game for such an imposing physical specimen. I love the fact that the guy possesses the type of bend and short-area quickness to cleanly side step defenders off the snap, keep his base down and take a positive first step into the pass game. He loves to work his inside jab step in order to free himself off the line and quickly/cleanly is able to get into his routes. He possesses a good first step and plays quick in tight quarters. Does a nice job using his strong hands with linebackers who want to get physical, using his length to keep himself clean before suddenly changing directions, using his size to box out underneath and then plucking the football off his frame. Plus, he showcases good fluidity for his size when asked to run the sharply breaking routes underneath, using a subtle head fake to set off a defender in man coverage before initially gaining a step and separating back out of his breaks.
Now, the guy doesn't have elite straight-line speed down the field and will start to lumber when trying to run away from a defender in the open field — like any 6-6, 265-pound athlete. However, he does have the necessary straight-line speed to certainly threaten the seam down the field and go up and make a play on the football. He also does a nice job changing gears in order to set up defenders and loves to work the double move, looking outside and selling the out, before cleanly turning up the field and making a play high pointing the football.
Overall, this is a big, very impressively put together kid who can win for you consistently at the next level in both the run and pass game, and that type of tight end is becoming harder and harder to find. Rudolph has experience both with his hand on the ground and playing off the line as well. And I not only think this is the best tight end prospect in the 2011 NFL Draft, but he's the one guy who can come in and start for a team during his first season and could end up maturing into a potential Pro Bowl-caliber option at the next level.
There are some concerns about his hamstring at this stage and how his rehabilitation from surgery will affect his postseason workout schedule, which could ultimately cause him to fall slightly come draft day. But when he's healed up and ready to go, I expect him to contribute to an offense early in his career and mature into a very good starting tight end in the NFL.
Follow me on twitter: @WesBunting