After a weekend of relative normalcy in the world of college football, the National Football Post presents its third Bowl Projections of the season.
The Bowl Championship Series standings weren't shaken up too much this past weekend, with LSU and Alabama taking care of business. Arkansas, however, saw its national championship aspirations end at the hands of LSU. So this version of the Bowl Projections has been tweaked to reflect all of this past weekend's results.
As usual, teams are competing for a limited number of BCS berths, more glamorous bowl games and, in some cases, a berth over a fellow six-win team.
Keep in mind:
• After the No. 1 and 2 teams from the final BCS standings are placed in the title game and replaced by teams from their conferences in the respected bowl games, the BCS at-large selection takes place. The order for 2011-12 is Fiesta, Sugar and Orange.
• For many bowls, committees are not obligated to choose in order of conference standings. So ACC No. 4 does not necessarily mean the team with the fourth-best record in the ACC. Ticket sales, fan travel, etc. go into a lot of these matchups. And conference politics likely will be in play for outgoing Big 12 members Texas A&M and Missouri.
• The highest-ranked non-AQ gets an automatic BCS berth if it finishes in the top 12 of the final BCS standings. But a second one does not get an automatic spot, so Boise State, TCU, etc. could be shut out if Houston remains unbeaten. However, the Broncos and Horned Frogs could be eligible for at-large berths.
• It appears that there are going to be more bowl-eligible teams this season than actual available bowl slots. Expect some teams to be unhappy because they weren't granted postseason berths. However, Miami (FLA) deciding it will not participate in a bowl game does open up a spot for one team, possibly a squad from the Big Ten.
* Replacement team for a conference that does not have enough bowl-eligible teams.
** The Champs Sports Bowl can select Notre Dame instead of a Big East team once in the four-year period stretching from 2010-13.

*** Replacement because of two SEC teams being in the championship game.
BCS bowls
Jan. 2 Rose: Wisconsin (Big Ten champ) vs. Oregon (Pac-12 champ)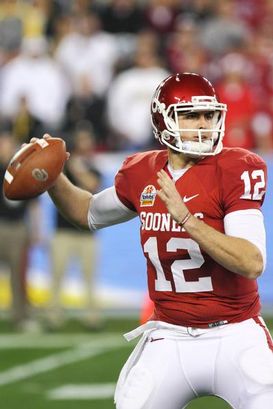 ICONIf Landry Jones and the Sooners can down the Pokes, they could be headed back to a BCS bowl game.
Jan. 2 Fiesta: Oklahoma (Big 12 champ) vs. Stanford (BCS at-large)
Jan. 3 Sugar: Michigan (SEC champ***) vs. Houston (BCS at-large)
Jan. 4 Orange: Virginia Tech (ACC champ) vs. West Virginia (Big East champ)
Jan. 9 BCS national championship: LSU (BCS No. 1) vs. Alabama (BCS No. 2)
The other bowls
Dec. 17 New Mexico: San Diego State (MWC No. 4) vs. Temple (Army*)
Dec. 17 Idaho Potato: Utah State (WAC) vs. Toledo (MAC No. 3)
Dec. 18 New Orleans: Louisiana-Lafayette (Sun Belt No. 1) vs. Illinois (C-USA*)
Dec. 20 Beef 'O'Brady's: Tulsa (C-USA) vs. Pittsburgh (Big East)
Dec. 21 Poinsettia: Boise State (MWC No. 2) vs. Louisiana Tech (WAC)
Dec. 22 Maaco: TCU (MWC No. 1) vs. Arizona State (Pac-12 No. 5)
Dec. 24 Hawaii: Nevada (WAC) vs. Western Kentucky (C-USA*)
Dec. 26 Independence: Air Force (MWC No. 3) vs. Wake Forest (ACC No. 7)
Dec. 27 Little Caesars: Ohio (MAC No. 2) vs. Northwestern (Big Ten No. 8)
Dec. 27 Belk: Louisville (Big East No. 3) vs. N.C. State (ACC No. 5)
Dec. 28 Military: North Carolina (ACC No. 8) vs. Western Michigan (Navy*)
Dec. 28 Holiday: California (Pac-12 No. 3) vs. Baylor (Big 12 No. 5)
Dec. 29 Champs Sports: Notre Dame (Big East No. 2**) vs. Florida State (ACC No. 3)
Dec. 29 Alamo: Washington (Pac-12 No. 2) vs. Kansas State (Big 12 No. 3)
CONTINUE TO PAGE 2 FOR MORE BOWL PROJECTIONS
NFP's Introduction to Scouting Class is now registering for our Winter sessions! Save $200 if you register before December 20th! REGISTER NOW!